Multifaceted production group represents major confluence of inspiration sources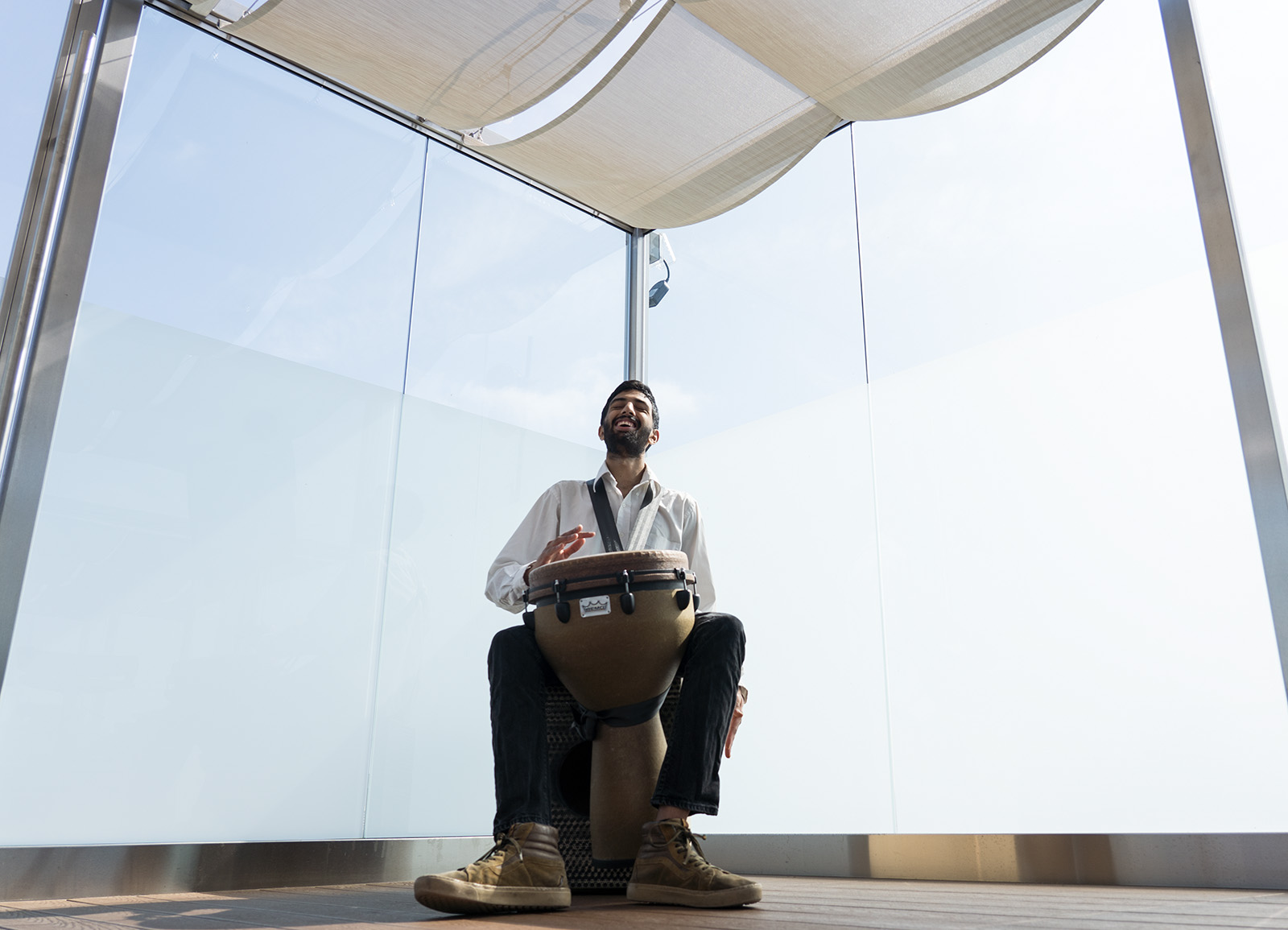 Ram Eshwar Kaundinya, a fourth-year cognitive science student, wrote "Water Lily," which he will perform on the Pauley Pavilion stage alongside other members of the group Confluence for Spring Sing. Kaundinya will play the djembe and cajon in the performance. He plays tabla as well, and has a background in Indian classical music, which he said he tried to incorporate in the piece. (Elise Tsai/Daily Bruin)
Spring Sing 2019
Friday, May 17
Pauley Pavilion
Prices vary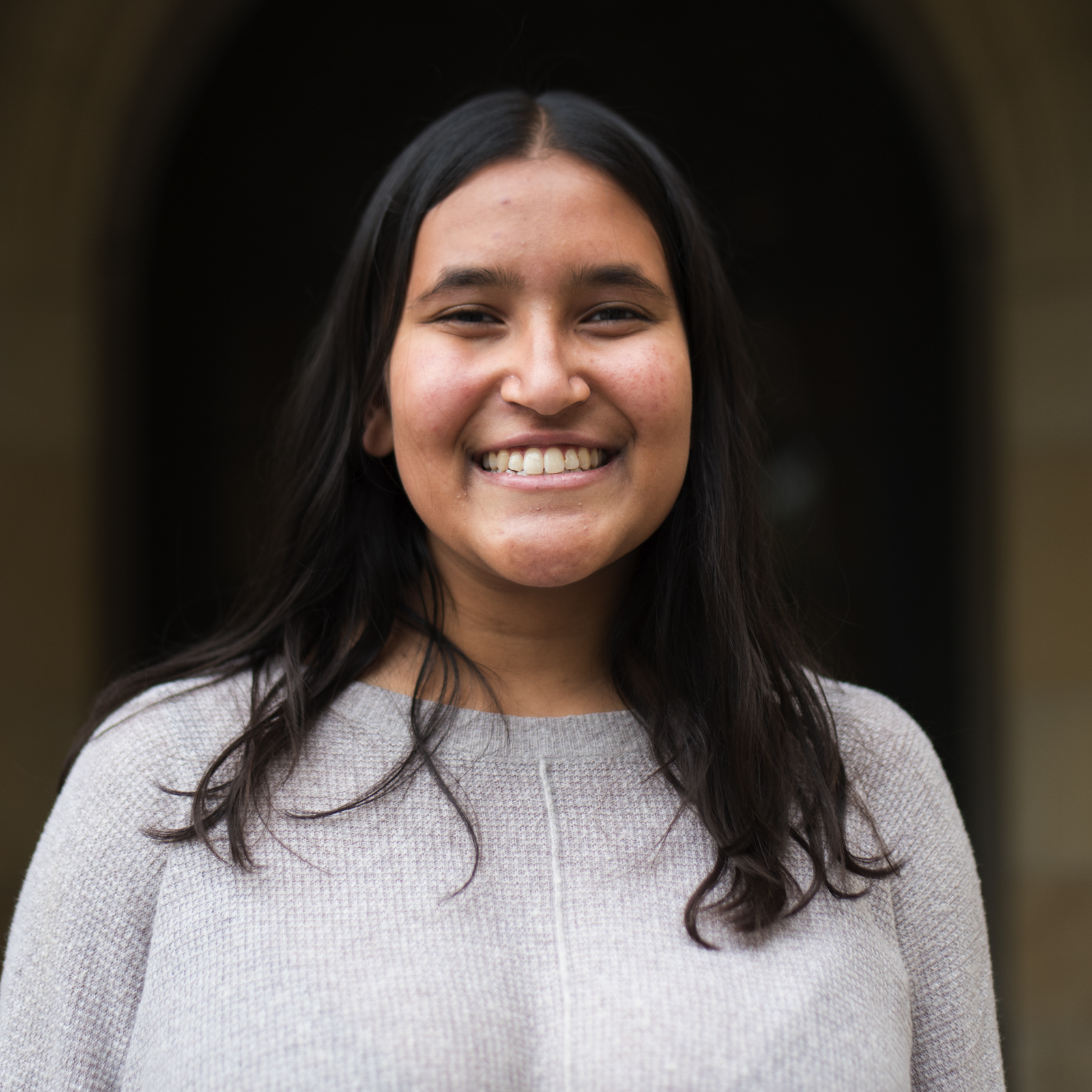 Ram Eshwar Kaundinya said he has no intention of competing at Spring Sing.
Fourth-year cognitive science student Kaundinya will play percussion instruments alongside other members of Confluence – a group consisting of four more musicians and a tap dancer. While most Spring Sing acts exclusively feature either musicians or dancers, Confluence merges both the event's band and dance categories, which renders them unable to compete in the judges' voting process. But Kaundinya said he does not have competition in mind; rather, he hopes to showcase multiple musical influences through his original song "Water Lily."
"It comes from my experience as (an) Indian American," he said. "It really became about … what (it) means to not be restricted or stuck into thinking that you are only Indian American, or you're only an Indian classical musician, or you're only a jazz musician."
He will be playing the djembe and cajon – percussion instruments from West Africa and Peru, respectively – on the Pauley Pavilion stage. However, Kaundinya is also well-versed in playing tabla, pairs of drums typically used in Indian music. He said his first exposure to music was through the Indian classical genre, in part because his elder sister is a Hindustani classical vocalist. But as a lifelong California resident, he said he was increasingly exposed to other music styles as well; one of his favorite CDs growing up was the Lion King soundtrack.
Composing "Water Lily" last summer allowed him to incorporate multiple different musical styles, such as jazz, in addition to rhythms from Indian classical music. By incorporating various instruments, Kaudinya said he hopes to explore how music can extend beyond labels or single cultures.
"I wanted to find a way that I could express my ideas that do come from my experiences as an Indian musician, but (reflect) who I am as a whole," he said. "That's where that composition came from."
The song's melodies come from musical folk traditions originating in North India, he said, like interlocking rhythmic styles. In "Water Lily," the time signatures fluctuate from a common 4/4 to a 7/4, eventually reaching 9/4 – nine beats per measure that is divided into only four.
Theo Lee, Confluence's pianist, said musicians tend to subconsciously infuse elements from their own musical backgrounds into their stage performances. Within the group, the saxophonist, the drummer and Lee all have strong jazz backgrounds, which finds its way into their music styles. And within the jazz genre, each of them brings their own style to the piece; he said he incorporates his experiences playing classical and church music, which have an extremely different sonic quality from Indian classical tunes.
Learning about different cultural influences and each of the band member's backgrounds interested Michelle May, a fourth-year dance student. May, the group's tap dancer, said "Water Lily" consists of some styles she was not familiar with, as well as those she knew well, like jazz. Tap dance has had a long-standing history of accompanying jazz music, she said, which is one of the genres that will carry over into Confluence's performance.
May said she felt it is important to incorporate jazz elements into the composition because it is personal to her as a tap dancer, similar to how Kaundinya incorporated his own background. By including varying percussive sounds like jazz music, he said "Water Lily" highlights how all the group members of Confluence can come together.
"The music you compose really gets to be powerful and meaningful if you're writing it with the people who are playing it (in mind), because those people are able to have their say, to connect to it," he said. "The piece I make for these people has to have space for each one of those people."
Incorporating elements of Indian classical music as well as other genres may introduce attendees to a new type of music, Kaundinya said. The different styles will bring a joyous energy to the stage, he said, which stems from the influences that are not seen in the audience members' everyday lives.
"I think … all these different things coming together (in) one place is what's going to be, what I want to bring to that platform," he said. "We can come together in one place musically … and (as) human beings as well."
Jain is the PRIME director for the 2020-2021 school year. She was previously the PRIME content editor during the 2019-2020 school year and an assistant Arts editor for the Lifestyle beat during the 2018-2019 school year.
Jain is the PRIME director for the 2020-2021 school year. She was previously the PRIME content editor during the 2019-2020 school year and an assistant Arts editor for the Lifestyle beat during the 2018-2019 school year.