How Katelyn Ohashi became the star of a sport she nearly despised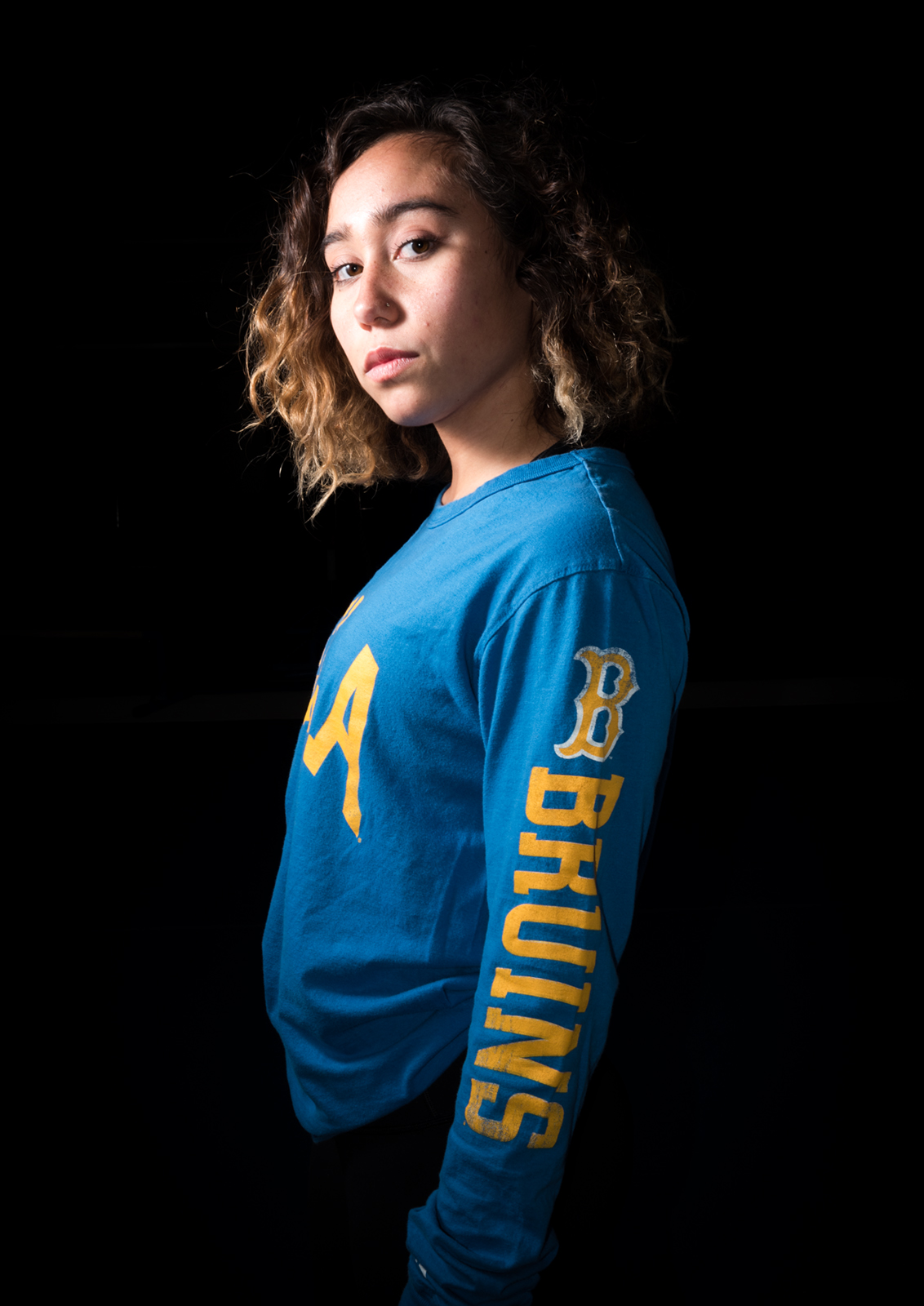 UCLA gymnastics senior Katelyn Ohashi was the all-around champion at the 2013 American Cup prior to becoming a Bruin. But while competing, she had to fight through two torn shoulders and a fractured back. (Niveda Tennety/Daily Bruin)
Joy.
That is on senior Katelyn Ohashi's face as she grins and dances throughout her floor routine. Her teammates beam as she tumbles through the air and the crowd cheers with every completed skill. Ohashi's smile only widens once she finishes.
"(Ohashi) just has so much joy and love when she competes," said junior Felicia Hano, a teammate of Ohashi's. "I don't think anyone else could have portrayed that the way she did and I don't think the audience would have received it in the way that (they did when) she performed."
But it was not always that way.
Before Ohashi came to UCLA, she was well-known in the gymnastics community as the all-around champion at the 2013 American Cup and the last gymnast to beat Simone Biles in the event.
However, Ohashi had two torn shoulders and a fractured back, even while competing. The then-15-year-old gymnast also faced pressure and body shaming from fans, which Ohashi shared in a video by The Players' Tribune. This culminated in Ohashi retiring from elite level gymnastics and deciding to pursue something different: collegiate gymnastics.
"If I would've left at my all-time high after winning 2013 American Cup, I would've looked back at the sport and absolutely despised it," Ohashi said. "When people are like 'Oh, is it worth it to be at the top? Is the Olympics worth it? The medals worth it?' No, because I would've absolutely hated it."
Ohashi said that switching to the collegiate level allowed her to gain a new perspective on gymnastics over time, and that she now knows her past struggles were worth it as she was able to rekindle her love for the sport.
But starting at UCLA, Ohashi was not the viral star she is in 2019. It took over a year before she could find solace in the sport.
"I had been broken when I was at the top of the world and considered great, so I just didn't want to go back to that place," Ohashi said. "I would say (it) probably (took until) my sophomore year of college. Being able to look at the audience and just really feel at home (was) really cool."
That second year, during a team meeting, Ohashi told her team that she did not want to be great again – something that shocked her coach.
"What went through my head was an out-of-state scholarship's about $60,000 a year, so the first thing I thought was 'What am I paying you $60,000 a year for?'" said coach Valorie Kondos Field. "I've always felt like a lot of student-athletes don't realize this is a job and you're getting paid to do a job. So my thought was, 'If I'm getting 50 or 60% – it was probably like 60% of her ability – why was I paying her 100% of her contract?'"
But Kondos Field let Ohashi's words settle in. The coach said she knew she had to help the gymnast mend her relationship with the sport that had interwoven so much pain with success.
"She explained that she didn't want to be great because everything associated with being great was miserable for her, and at that moment I got it," Kondos Field said. "I needed to help her find her 'why' because her 'why' previously was she was super talented, she was expected to learn the hardest skills in the world, she was expected to compete with near perfection, and she was expected to win. Well, that made her miserable, so let's find a new 'why.' Her 'why' became just loving the sport."
Kondos Field said it took about a year and a half for her to find that trust with Ohashi. As the season progressed, the coach began to nudge the gymnast toward a leadership role on the team.
Kondos Field added that was one of the toughest personal moments she had with Ohashi. The coach saw something in Ohashi the gymnast could not.
"I say (to her), 'You are a leader because people naturally follow your lead,'" Kondos Field said. "'You're extremely charismatic. People like being around you, they want to hang out with you (and) they want to be like you, so they're gonna do what you do."
Ohashi did eventually step into that role, which she said prepared her for the world outside of gymnastics.
The gymnast began her rise to stardom after her floor routine went viral at last year's 2018 NCAA championships. The routine garnered a 9.950 and over 90 million views on social media as well as the NCAA floor exercise co-champion title.
This year, Ohashi's floor routine during UCLA's second meet went viral after Ohashi posted a perfect 10, becoming the most-watched sports video so far this year over 117 million views. In total, the senior captured a total of six perfect 10s on floor in 2019.
As her fame grew, Ohashi utilized it to spread awareness about mental health, body shaming and sexual assault, among other topics. Ohashi discusses these topics on her blog, "Behind the Madness," which she started her sophomore year.
"I started to write (it) with one of my friends, a manager on the team, and we were just looking around and there was so much negativity around us that it was kind of just like, there's so much to be grateful for that we take advantage of," Ohashi said. "So we started writing it and my favorite parts (are that) none of it started like 'Oh, this is gonna help people,' like we were just talking and hearing all the feedback that I've gotten, just really positive things."
Ohashi said she plans to continue blogging after graduating and hopes to expand her platform to different mediums to reach more people, such as through a YouTube channel and a book.
Because the blog is tied in so closely with Ohashi's experiences as an athlete, she said the lessons she has learned from the sport will continue to be influential even though her gymnastics career has ended. Ohashi added that the takeaways from being a competitive athlete go beyond gymnastics as well.
"There's two takeaways," Ohashi said. "Discipline, because I think any sport gives you discipline and knows how to teach you how to keep pushing through adversity and hardships. Another thing would be is using my voice. I think (gymnastics) really stifled it for awhile and then coming out on the other side and being able to use my voice has taught me to take ownership of my life."
Hano said that Ohashi's guidance has inspired her, especially because the junior is set to take on a leadership role next season.
"One of (Ohashi's leadership tactics) is speaking her mind even when things are a little bit uncomfortable," Hano said. "That's something I'm learning to do especially now being a senior and I think that's something (I'll carry) with me for the rest of my life."
Kondos Field, who is leaving UCLA alongside Ohashi, said Ohashi's legacy goes beyond gymnastics.
"Her platform now isn't about gymnastics," Kondos Field said. "Gymnastics has given her the platform to speak out about anti-bullying, about the effects of body-shaming, about why people choose to stay in abusive relationships. She single-handedly has brought more joy to this sport probably than any other gymnast."
Segal is currently a Sports reporter. She was previously a contributor on the gymnastics and women's volleyball beats.
Segal is currently a Sports reporter. She was previously a contributor on the gymnastics and women's volleyball beats.