Film explores Chinese culture, generation gap between immigrant parents and kids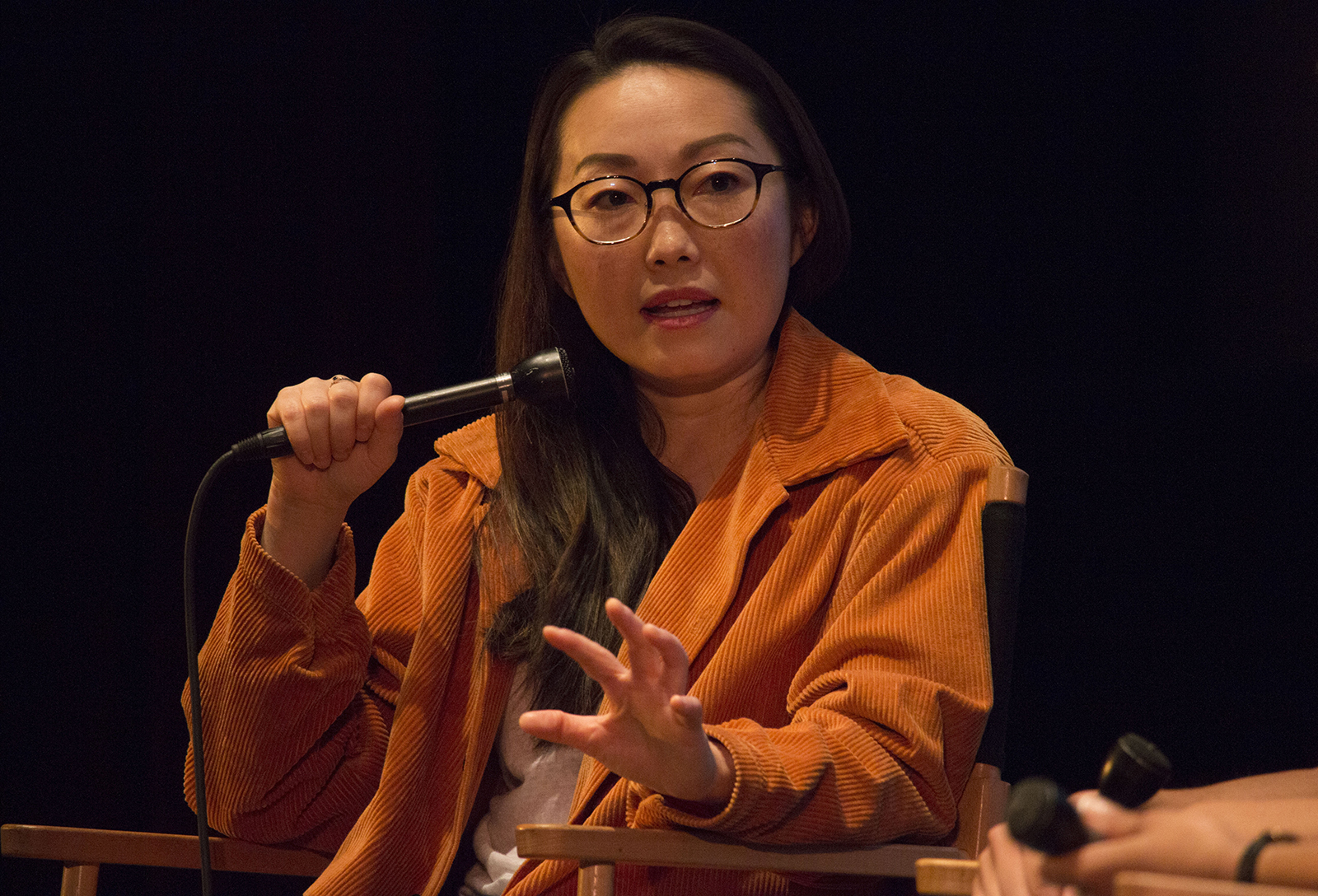 Lulu Wang spoke during a screening and Q&A of her film, "The Farewell." The writer and director said she incorporated her family members into the A24 film, which debuted at the Sundance Film Festival. (Courtesy of Adam Karp)
This post was updated April 14 at 10:52 p.m.
When Lulu Wang first pitched a film about the real-life story of her Chinese family, no one would finance it, she said.
She set it aside for years and waited until she received the right offer, which led to a Sundance Film Festival debut, an A24 backing and a July 12 release date.
"The Farewell" writer and director attended a Bruin Film Society Q&A following a screening of her film Monday evening at the James Bridges Theater. The film depicts a family that, upon learning its matriarch Nai Nai has cancer, concocts a fake wedding to bring everyone together to say goodbye. Wang said the film is extremely close to her, as it reflects the emotions she faced when she learned of her own grandmother's illness.
"I wanted to make this movie because as I was going through the experience … I never (knew) if I should laugh or cry. I'm like so frustrated, but then the next second, I'll start laughing. I wanted to make this film to capture the proximity of the grief and the humor."
Sammi Tsui, a third-year psychobiology student, said she was drawn in by the trailer because her family also experienced a similar scenario. Tsui's grandmother in China developed cancer, and her relatives hid the cancer diagnosis. "The Farewell" allows Chinese people to engage in their culture without tailoring it to western standards, Tsui said.
"The movie doesn't specifically talk about Chinese culture, but it makes people understand it by giving you clues," Tsui said. "This is really new because I feel like sometimes, … (Chinese people) have to assimilate to other cultures, so this movie is really refreshing."
[RELATED: Panel discusses rise of Asian-American visibility, continued need for progress]
Movies like "The Farewell" are important because they provide an authentic perspective about a culture that not everyone may be familiar with, said Kanak Das, a second-year psychobiology student who attended the event. Specifically, the movie is written and directed by a Chinese woman, and so she said she feels it is empathetic and true to the culture.
BFS events coordinator Kevin Yang, a fourth-year political science and economics student, echoed the same sentiment as he praised the film's primarily Chinese dialogue in an introduction before the screening.
"This film is really incredible and we're so excited to show this for you especially because it's 80% in Mandarin. Representation isn't just about what you see, but also getting used to what you hear on screen," Yang said. "Movies like this can really help push that conversation forward."
When it came to perfecting the translations in the script, Wang said her parents were very helpful. She said she would first think about the dialogue in Chinese, but then write it in English on the page, as she can't write in Chinese. The hired translator then converted the English into Chinese. But when Wang had her parents read over the script, she said they felt it sounded inauthentic to their family, and adjusted the dialogue accordingly.
Though the story starts in New York, the majority of it takes place in China as Billi, played by Awkwafina, travels to her homeland along with her parents. Billi is reluctant to keep the secret from Nai Nai, as the two are extremely close. These deep familial bonds are a narrative focal point, Wang said, as the family wrestles with their conflicted feelings about telling Nai Nai the truth.
In addition to Wang's parents, other family members also contributed to the film. The actress who played Nai Nai's sister is Wang's real-life grandaunt, Hong Lu. Wang said the production team underestimated the budget for the Chinese actors because they didn't realize how expensive and in demand they were, which meant they had to cast nonactors. Wang said she faced some ethical concerns, as she didn't want Lu to relive the pain and trauma, but said the role nonetheless became therapeutic for her grandaunt.
Moreover, she said she aimed to highlight the generational gaps between immigrant parents and their kids, which can be seen in arguments between Billi and her mother about her career and personal goals. This closely resembled Wang's own experience, specifically as a Chinese woman wanting to pursue film and not disappoint her parents in the process, she said.
"I think every mother and daughter has a complicated relationship, every parent fears whether their child is going to succeed or not," Wang said. "But there is this additional pressure when your family sacrificed everything for you, and you somehow have to validate those sacrifices."
[RELATED: 'Booksmart' screening, Q&A with Olivia Wilde opens up dialogue on female friendship]
Regarding the difficulties of being an Asian female director, Wang said she no longer has to make compromises on her artistic vision. She said she told the story that would become "The Farewell" on the podcast "This American Life" in 2016. Having the hosts ask her how she felt about this emotional experience with her family was striking, as she said Hollywood producers would have only discussed logistics and marketing strategies.
Shortly after the episode aired, she received offers from several producers, including from Disney. However, Wang said most offers distorted the story, including one which pitched the film as a Chinese version of "My Big Fat Greek Wedding," where Billi is the one getting married. Wang said she turned down these big offers, as they weren't true to her vision.
"With this film I said 'No' more than I said 'Yes,' which is really difficult when you are (a woman) and a minority, and you feel like you're never going to get those opportunities," Wang said. "But because this is my second film and such a personal story to me, I was like, 'I'd rather not make the film if I can't make it the right way.'"