Club boxer Chloe Beverina rises to success, ends season with national championship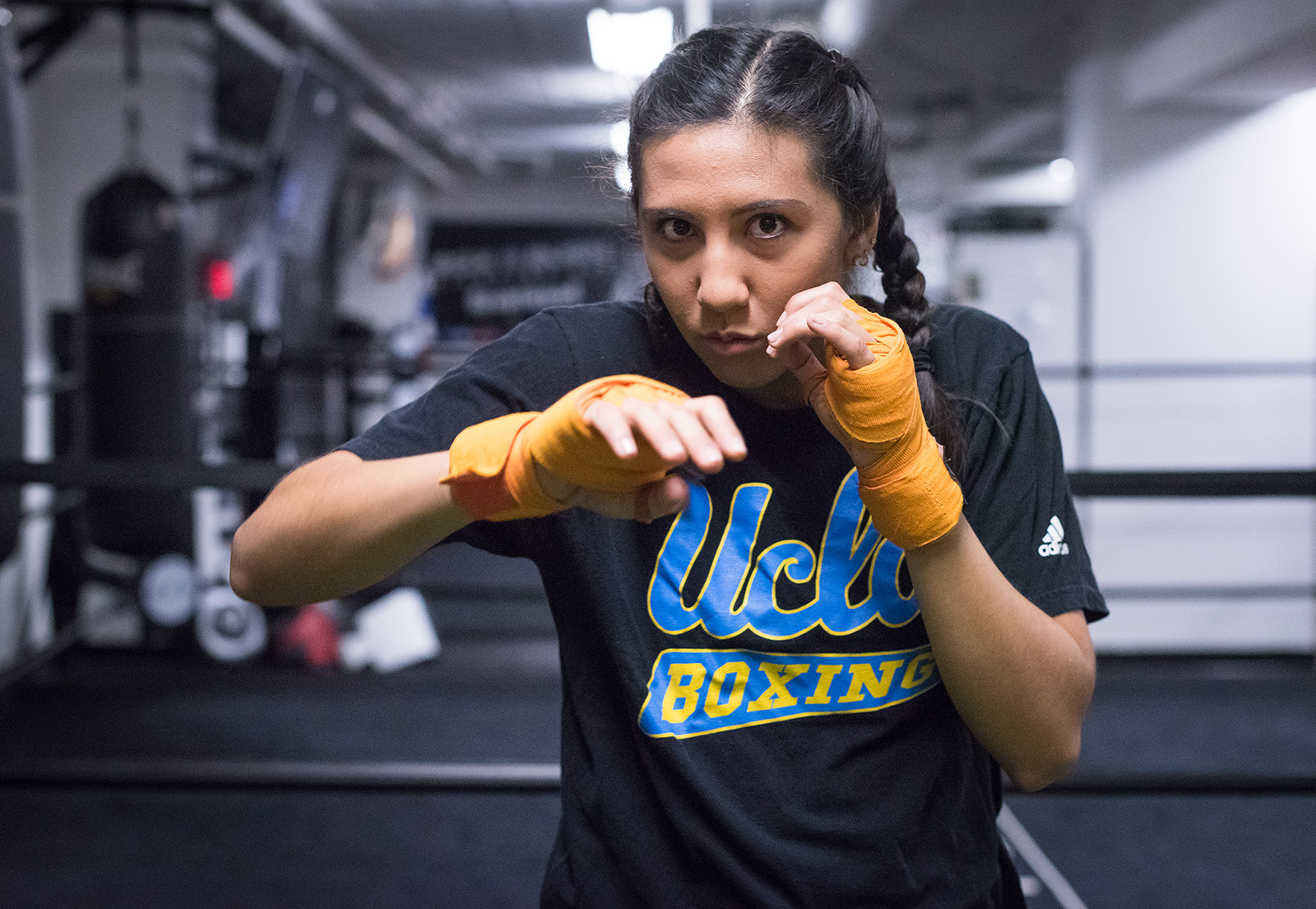 Second-year economics student Chloe Beverina played soccer before coming to UCLA last year, but she won the National Collegiate Boxing Association national championships in April. (Daniel Leibowitz/Daily Bruin staff)
Correction: The original version of this article incorrectly stated that Beverina's parents flew from Falls Church, West Virginia. In fact, her parents flew from Falls Church, Virginia.
This post was updated on May 15 at 10:18 a.m.
Chloe Beverina's first few minutes in a boxing ring went like how most peoples' would've gone.
Stepping onto the canvas at Rise Athletics LA boxing gym with her all-black ASICS, the second-year economics student did more flailing than punching in her first sparring session. UCLA club boxing coach and cornerman Tony Gonzalez – who founded the club in 2008 – was forced call Beverina's first fight after two minutes.
"(My opponent) just obliterated me," Beverina said. "I had no clue how to defend myself and was just throwing random punches. She got me three times in the temple with the same punch, and every time I remember (thinking), 'What am I getting myself into?'"
Gonzalez chuckled to Beverina after he waved the fight. He knew it was all a part of the process.
"Yup. You got a taste," Gonzalez said.
But Beverina came back for more.
Attending practices at the John Wooden Center on Tuesdays and Thursdays, Beverina said she wanted to make it clear to Gonzalez that practicing was not her endgame.
"(Gonzalez and I) were both able to be very upfront and honest with each other about dedication and where he thought I was in the process," Beverina said. "Right away I wanted to get to the point where I fight."
Beverina quickly distinguished herself from the other boxers in Gonzalez's class with her height – standing 5 feet, 9 inches – and footwork and agility she acquired from years of competitive soccer.
Gonzalez said the tools to dominate were there, but nothing could've caught Beverina more off guard than what he said to her prior to the first meaningful bout of her boxing career.
"I remember (Gonzalez) holding down the rope for me and me getting out of the ring and (him) looking at me and shaking his head," Beverina said. "(He) said, 'You're going to be a national champion one day.'"
At Rivals in the Ring – a black-tie matinee event hosted at the Los Angeles Athletic Club – Beverina said the butterflies were still there as she entered the ring to Eminem's "Till I Collapse." While doing mitt work with Gonzalez before the match, she could barely catch her breath.
"(Gonzalez), I feel weak," Beverina said. "(My opponent) is going to hit me as hard as she can. I'm so scared."
But Beverina said the real fear set in once she saw her Cal State Northridge opponent, Maria Ortega, warming up with glove work.
Ortega was a southpaw – something Beverina had never encountered before.
As a right-handed dominant orthodox, Beverina was forced to adapt her game. Beverina said her jab was obsolete against a southpaw – a left-handed dominant boxer – who could easily block the punch.
"We knew this after (Rivals in the Ring), but my jab was one of my biggest strengths," Beverina said. "It's my go-to and the way that I win. But when there's a southpaw? Nope. That's not going to work on this person."
The bell went off and Beverina left the blue corner to meet Ortega at center ring.
"I remember when the first punch landed," Beverina said.
Then a variation of Rock 'Em Sock 'Em Robots ensued on both sides.
"I got rocked in the face so many times," Beverina said. "Basically, the way I see it is your first fight is a brawl … technique is out the window. Every single punch was a haymaker."
Beverina said she was gassed after rounds one and two. But her jab made its appearance in the opening seconds of round three with Ortega taking three consecutive blows to the face, securing Beverina's first collegiate victory.
Three months later, in December, Beverina received a text from Gonzalez while she was in Australia on winter break, directing her to prepare for the postseason.
Beverina started a 13-week cutting regiment to slim to the 147-pound weight class. Tracking every meal she ate and every exercise she performed, Beverina came home to the Alpha Delta Pi sorority house after practices to relish in her one treat: an orange and a chocolate-chip-cookie-dough-flavored One protein bar.
In addition to eating the same breakfast of oatmeal, a vanilla protein Yoplait yogurt and one cup of berries every day, Beverina started attending the gym Gonzalez works at in Santa Monica – Box 'N Burn – Mondays, Wednesdays and Fridays every week.
"There was two or three days where it was really rough and I cried and I called my mom and said, 'I don't know how I'm going to do this,'" Beverina said. "This is for a goal, so every workout I was pushing myself to the limit."
Beverina coped with a list of guilty indulgence foods she planned to devour once the National Collegiate Boxing Association nationals ended. Ranging from chocolate-covered pretzels sold at Ackerman Union to Cajun fries and biscuits sold at Popeyes, there was no shortage of temptations.
Following another victory, Beverina's next obstacle was a bout with Washington's Christina Tun Zan at the NCBA Western Regional Championships hosted by UCLA on March 16. Beverina's height and reach of 66 inches measured similar to Tun Zan's, but Beverina's jab was landing and Tun Zan was bleeding after absorbing what Beverina said was the biggest punch of her life.
"When (the jab) hit … I've never felt a feeling like that before. It was euphoria," Beverina said.
With her 4-0 record, Beverina, Gonzalez and fellow fighter Dylan Mahood road tripped to the NCBA nationals in Reno, Nevada to contend for the national championship.
Beverina's route to the national championship would require one fewer match than the other two competitors in the 147-pound weight class, eventually facing Jeanette Steerman from the United States Naval Academy.
UC Davis boxing coach Joel Stern assisted Gonzalez and his program throughout the season and said Steerman, who is 5 inches shorter and stockier than Beverina, utilized a bull rushing strategy that pushed Beverina up against the ropes and prevented her from getting punches off.
"Having to deal with that pressure with someone right on top of you when that's not your comfort zone and have to fight out of it, that took a lot of will power on (Beverina's) part," Stern said. "In all her fights before Nationals, she's been able to impose her will and her game plan on the other fighter."
Beverina eventually won on a 4-1 split decision but said she lost a substantial amount of energy in the process. And ahead of her stood Eba Obiomon from the U.S. Military Academy – an institution that mandates all of its cadets take boxing classes.
Gonzalez said he has witnessed the quality of boxers Army churns out.
"(The Army is) always in shape, they always come forward and they're really good boxers," Gonzalez said. "The whole point was to get (Beverina) to settle down and remind her she deserved to be there and remind her she belonged here."
Beverina had added pressure with her parents flying in from Falls Church, Virginia to watch their daughter vie for the national title. Meanwhile, Beverina's Alpha Delta Pi sorority sisters watched the livestream at home.
"I'm the type of person that shows up in high-pressure situations," Beverina said. "I don't want to go to the national championship and lose and hype it up – 'Hey everybody, watch me!' – and then to lose?"
At their Silver Legacy resort casino hotel room, Gonzalez and Beverina prioritized attacking Obiomon's chest and to avoid headhunting to assure contact to counter her rolling capabilities.
In round one, Beverina only landed 11 clean punches on Obiomon – 26.2% of the total punches thrown by her in the round.
"We get done with the first round and I think, 'I kind of lost that (round),'" Beverina said. "(But) I know how she fights now. I know this is a very fair match."
In between rounds one and two, Gonzalez told Beverina to throw the 6-3 combo consisting of a right uppercut and left hook to take advantage of Obiomon leaving her chin open.
"I remember (Gonzalez) telling her to reinforce the combination – it's called the 6-3," Stern said. "What that punch did, it allowed (Beverina) to score on the inside as (Obiomon) came in on her and when it hit her, it would freeze the woman."
With 36 seconds left in the second round, Beverina landed 15 punches compared to Obiomon's four, including a three-punch sequence – a jab, cross and hook – that prevented Obiomon from following her around the ring.
Beverina followed through with a similar performance in the final round with three straight jabs in the final 20 seconds which Gonzalez said left little doubt in his head.
"As soon as that final bell rang, I knew we had it," Gonzalez said.
Beverina walked back to the corner where Gonzalez echoed the same statement he uttered to her just eight months ago.
"(Gonzalez) pulls off my headgear and the bandana and he looks at me and says, 'You just won the national championship,'" Beverina said.
Beverina ran outside of the ring and into Gonzalez's arms.
"This is all you," Beverina said. "This is yours."
Beverina won on a unanimous 5-0 decision and gifted Gonzalez the women's team third place award.
"I was his first national champion. All the coaches know I'm his fighter," Beverina said.
Lavalsiti joined the Bruin as a junior transfer in 2018 and contributed until he graduated in 2020. He spent time on the softball, women's basketball, cross country and track & field beats.
Lavalsiti joined the Bruin as a junior transfer in 2018 and contributed until he graduated in 2020. He spent time on the softball, women's basketball, cross country and track & field beats.