Studio 22 hosts sixth First Take Film Festival, screens broad range of movie genres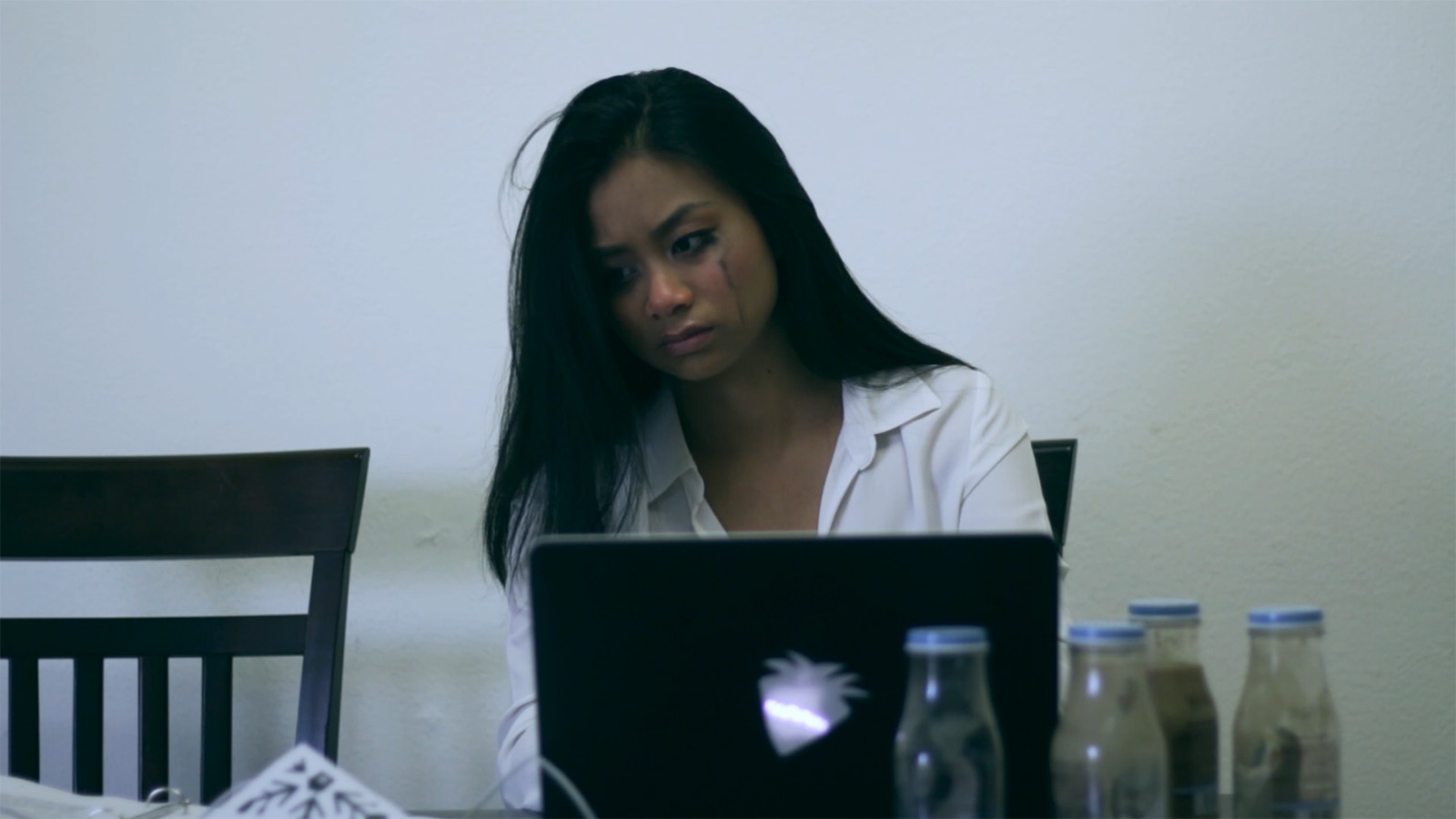 Second-year communications student Jasdy Perillo stars in "CHILL," a short thriller inspired by the fears women often experience when using convenience apps, which will be featured in Studio 22's First Take Film Festival. (Courtesy of Alan Luong)
"First Take Film Festival"
Tuesday, May 14
Northwest Campus Auditorium
Free
There's no time for a refill during these short films, but at least the popcorn will stay hot.
Studio 22 will present 16 short films during its annual First Take Film Festival on Tuesday in the Northwest Campus Auditorium. Held to the constraint of a five-minute maximum, the short films featured in the festival span different genres, including technological thrillers and abstract forms.

"How Do Birds Fly From Right to Left"
Sometimes the best path is not always the right one.
Writer and director Tom Larramendy, a foreign exchange physics student, said his film "How Do Birds Fly from Right to Left" is a drama that comments on the stress of choosing a career path. The lead character, Miles, leans on his girlfriend, Lucy, as he nears the moment when he must decide to pursue either neuroscience or the arts.
Gustav Fiere, a foreign exchange political science student who plays the lead role, said Miles is emotionally stunted and lacks direction. Miles' melancholy demeanor is contrasted by his upbeat girlfriend, Lucy, played by Amaya Lehingue, a foreign exchange political science student. While Miles is consumed by frustrations concerning his future, Lehingue said her character urges him to focus on the positive aspects of life.
Since Larramendy is considering pursuing a career in film instead of physics, he said the film reflects the turmoil he felt while tackling his decision. Although he's confident in his ability to find work as a physicist, Larramendy said being accepted into the festival convinced both him and his family that filmmaking is more than a pipe dream.
"I'm in a stage of my life where I want to switch (to) filmmaking. … But you wonder if it's a good choice or not to switch, to go back from zero," Larramendy said. "So the point of the movie is: How do you switch from security to happiness?"
[RELATED: Upcoming student film tells a ghost story centered on childlike innocence]
"The Act of Seeing"
Sight aids myriad tasks, but it also
could be an activity by itself.
Unlike films relying on a narrative, third-year film student Arta Barzanji wrote and directed an experimental piece about the experience of sight, with an emphasis on screens. Barzanji said "The Act of Seeing" provokes viewers to think deeply about their use of sight by depicting a man's tearful engagement with a color-streaked screen.
"We're always looking at stuff … the TV screen, computers, on a bus, in Ubers. The act of viewing is always there, but of course, (we) never really think about it," Barzanji said.
Frank Demma, a second-year theater student, plays the film's sole character – a man who sits on a couch watching a screen. In order to convey an engaging experience during his motionless role, Demma said he fed off the emotional range of the classical music score.
Cinematographer Brian Cesson, a third-year film student, has limited experience with experimental film, but he said the simplicity and slow pace of Barzanji's piece allow for more intense focus than in a mainstream film. By slowly zooming the camera onto Demma's face for two minutes, Cesson said the audience is forced to actively engage with their vision of the shot, while also analyzing Demma's experience with the screen.
"When you hold on a shot for a very long time, especially when no one is really doing anything, you really start to focus," Cesson said. "Your attention is captured and you really start to focus on the smallest things."
[RELATED: Weekend-long film festival features preservation of classic Hollywood films]
"CHILL"
The wrong delivery man can suddenly make apps like Uber Eats and Postmates not so convenient.
Writer Samantha Mallari, a fourth-year international development studies student, said "CHILL" is a thriller inspired by the fears women often experience when using convenience apps. As the lead character struggles to find work, she becomes increasingly dependent and ultimately consumed by an app called Chill that can deliver anything from food to a date, Mallari said. While Mallari originally intended the film to be a comedy, she said a thriller better conveyed the tension she feels when using delivery or rideshare apps.
Although director Mitchell Zia, a fourth-year economics student, does not face the same concerns regarding safety and harassment as his female counterparts, he said he played on concerns regarding privacy and location sharing to build suspense. Zia said Mallari assisted him during the directorial process to ensure a consistent female perspective.
"Even though this (film) depicts a scary experience of vulnerability that women have to go through … it shows that we're not alone in this experience," Mallari said. "The fact that we can relate to these security concerns shows that we can join in solidarity and empower each other."