New symposium blends narratives of riots, city planning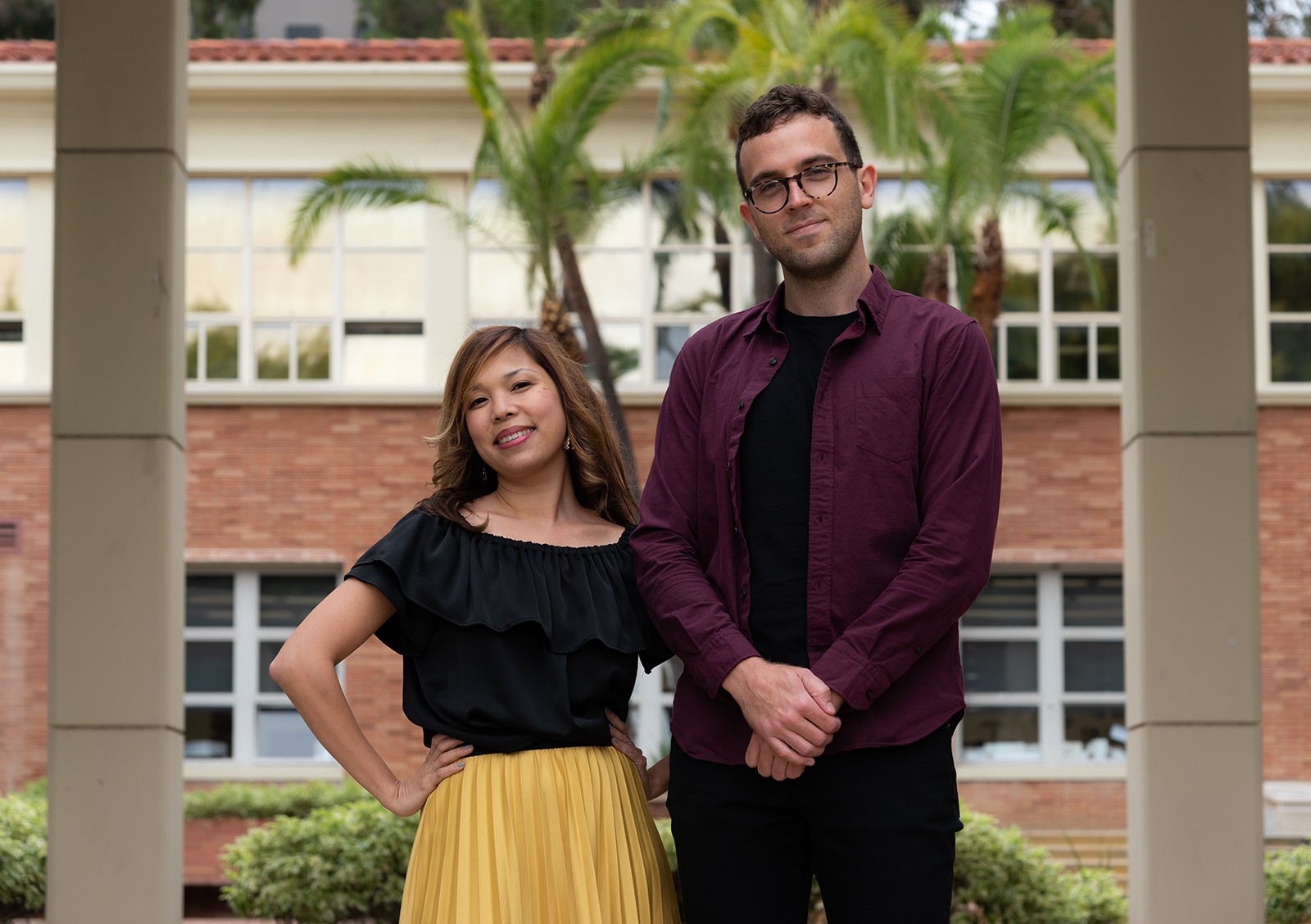 English graduate student Jacqueline Barrios and Urban Humanities Initiative alumnus Gus Wendel worked worked to create a symposium featuring over twenty works – including one highlight project exploring riot-impacted neighborhood of South LA. (Daniel Leibowitz/Daily Bruin staff)
"Urban Humanities Alumni Symposium"
May 24-26
Decafe, Perloff Hall, UCLA
Free
This post was updated on May 15 at 4:42 p.m.
Jacqueline Barrios used a Charles Dickens novel to retell the history of the 1992 Los Angeles riots.
Using the 1780 Gordon Riots in London as depicted in Dickens' "Barnaby Rudge," the English graduate student taught her high school students from the James A. Foshay Learning Center to explore their riot-impacted neighborhood of South LA. Students collected sounds including background noises from the city and interviews with community members. Barrios' curriculum was eventually transformed into an exhibit titled "LA 1992/London 1780: Sounding Out the Crowd," which will be on display May 24 at the Salon 02 symposium in Perloff Hall.
The Salon 02 symposium will span three days with exhibits May 24, panels May 25 and a picnic May 26, all centered around the word "plan," which conventionally encompasses listing out actions to achieve goals, Barrios said. Organized by alumni and current students in the Urban Humanities Initiative, the symposium aims to showcase interdisciplinary, collaborative work while challenging the concept of a plan, the co-organizer said. Barrios' project is one of many that will be hosted at the Salon as a whole.
"When I say plans are normative, they are meant to organize a whole bunch of diverse energies into some material reality. But we know from our studies that plans go awry," Barrios said. "What we're asking people to think about is how do we continue to live with plans and how do we – people who live in cities, make cities – how can we challenge that."
[RELATED: UCLA lecturer compiles centuries of LA perspectives in 'Dear Los Angeles']
In the panel "Mapping the Plan," panelists will discuss how maps can disrupt plans, such as gentrification, and challenge the status quo, said Gus Wendel, an Urban Humanities Initiative alumnus, event co-organizer and panel moderator. Policies that facilitate gentrification will transform neighborhoods. But a map that adds information to data sets about eviction rates, for instance, can slow the process by informing planners' conversations or sparking action from advocacy groups, Barrios said.
"(It's) rethinking how city planners can take into account aspects of narrative and how they plan cities," Barrios said. "A short story might have sensuality or sensory experiences of a city – how does that factor into city planning?"
In Barrios' exhibit, side-by-side panels will display headsets containing her students' sound recordings of South LA – especially areas impacted by the 1992 riots. Panels adjacent to the headsets display pictures of the London riots, said Kenny Wong, who worked with Barrios on the exhibit.
When looking down from a certain angle, the panels reveal only pictures of the Gordon Riots. The other perspective reveals bystanders at a billowing cloud of smoke on Vermont Avenue during the LA riots, added Wong, a graduate student of architecture and urban design and regional planning. By adding in perspective to the display, activities that ensue from a riot no longer seem clear-cut, he added.
"I like putting them in conversation with each other because one is … bodies upon bodies, mayhem happening. But this other scene of Los Angeles … it's not just a newsreel of people looting, the tragic loss of life," Wong said. "That was my way of offering a counter-reading of what to think of the riots today especially with these students that are living in the area where it happened."
[RELATED: Architects discuss building around urban environment, natural terrain]
Although riots disrupt plans, Barrios said, they also grant insights into the formation of counterplans, like they did in 1992. At the time, South LA faced strict policing, racial segregation and a history of economic disinvestment, she said – the riots served as a measure to curb this inequitable treatment.
In addition to the panels, the exhibit includes CDs created by Barrios' students and a map of downtown and South LA. For the collection of CDs, students recorded sounds, burned them onto a CD and created the album art. A group of students, for example, recorded interviews with their teachers about the killing of 15-year-old Latasha Harlins during the riots. Titled "The Last Remembrance," the CD keeps Harlins' memory alive through the various stories and forces people to consider how such memories reveal her significance within her community, Wong said.
For the physical map, students documented areas where they recorded sounds, where damages were publicly reported during the riots and where community members recalled memories of the riots, Wong said. It connected feelings, thoughts and conversations regarding the riots to a particular location – the James A. Foshay Learning Center, which is situated at the center of reported damages, he said.
"I'm sure it became of this way of relating, realizing your relationship to where all this stuff happened," Wong said.
Through her exhibition, Barrios said she aims to emphasize that learning and planning is associated with communities. Not only can the Gordon Riots be used to study riots today, but also to uncover a community's knowledge, she said.
"I think part of the project is illustrating that (the students') voice and production is the only reason why we should study Dickens in the first place," Barrios said. "(It gives) them the opportunity to be storytellers of their historical moments."