LGBTQ dance group to raise awareness for AIDS in 26-hour Dance Marathon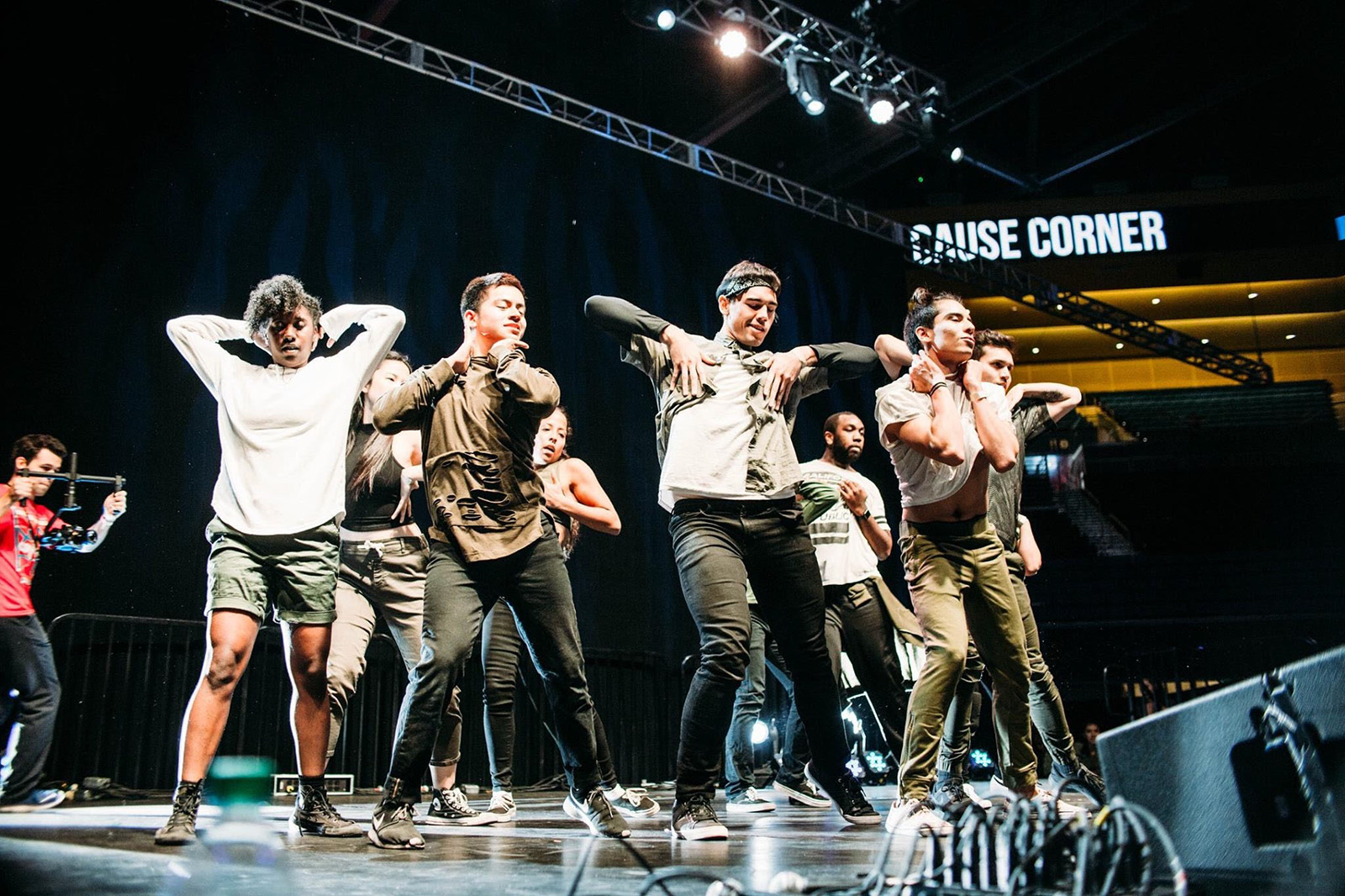 LGBTQ dance group Taste The Rainbow will perform Saturday at the 26-hour Dance Marathon to raise funds and awareness for HIV and AIDS. Members of the group hope to stand in solidarity with patients of the virus and express their sexualities freely without adhering to heteronormative standards within the sphere of dance. (Courtesy of Rico Davis)
In 2017, tens of thousands of people in the queer community were affected by HIV in the United States. This weekend, Taste The Rainbow, an LGBTQ dance group, will take the stage to dance for a cause that has troubled their community.
TTR will perform Saturday during the 26-hour Dance Marathon, an event that aims to raise money and awareness for those affected by pediatric AIDS. Phoebe Glick, a second-year chemistry student and the internal director of TTR, said the group's goal is to keep audience members energized and moralized as they stay on their feet for the entirety of the marathon. Glick said the group members want to stand in solidarity with children affected by HIV.
"Dance Marathon is also something that is really special to us because we are queer and AIDS has had such a history with our community, so it is important to take steps to combat it and to get awareness out," Glick said. "It's just really important that everyone is talking about HIV and AIDS and how to deal with it so that we are less at risk."
[RELATED: Dance Marathon 2018]
TTR will perform some hip-hop pieces and more feminine-queer pieces that defy heteronormative expectations of dance performances, said Jazlyn Ocasio, an alumna and the external director of TTR. The audience can expect routines performed to openly queer songs like "Let's Have A Kiki" by Scissor Sisters.
Founded in winter 2016, TTR aims to provide a safe space where queer dancers can dance without the expectations that arise from a primarily heterosexual environment. Female dancers who want to dance with more stereotypically masculine choreography are encouraged, nonbinary dancers aren't restricted to pieces built around a specific gender and typical boy-girl partnerships aren't held as a standard, Ocasio said.
When fourth-year Spanish language and cultures student Alicia Arellano-Perez was asked to yike, she expressed her discomfort regarding the hypersexualized and feminine dance move to the director. The director was more than willing to alter the dance moves and respect her comments, she said.
"I've danced with other dance groups before, but it was never like this. All the leadership is very understanding and very open-minded," Arellano-Perez said. "That is another reason why I stay in this dance group."
But the freedom to express one's sexuality isn't the only reason students join TTR, Ocasio said. The group's involvement in the Dance Marathon will create awareness for HIV and AIDS, which will raise unity across communities to help fund research and treatments for the virus.
"It is not something that a lot of people know about. It is not something that people choose to educate themselves about. AIDS is not necessarily a topic that people are comfortable talking about," Ocasio said. "For me, this event is a lot about visibility, being in solidarity and supporting the cause."
[RELATED: Dance allows student to embrace identity, find support from community]
TTR, along with its goal to build a safe and supportive environment for dancers, hopes to eradicate the silence and invisibility of sexual health within the queer community. Ocasio said she feels comfortable talking about her sexual health and relationships with other TTR members, among other topics that are sometimes left out of conversations. She also said the reluctance of society to talk about children affected by the virus resembles society's lack of response during the AIDS crisis, especially in the queer community. Glick said initiating conversations about the virus is an important step in creating and funding a cure.
"The more we talk about AIDS, the less dangerous it becomes," Glick said. "Less stigma means more unity."