LPPI study shows increased Latino voting in 2018 midterm elections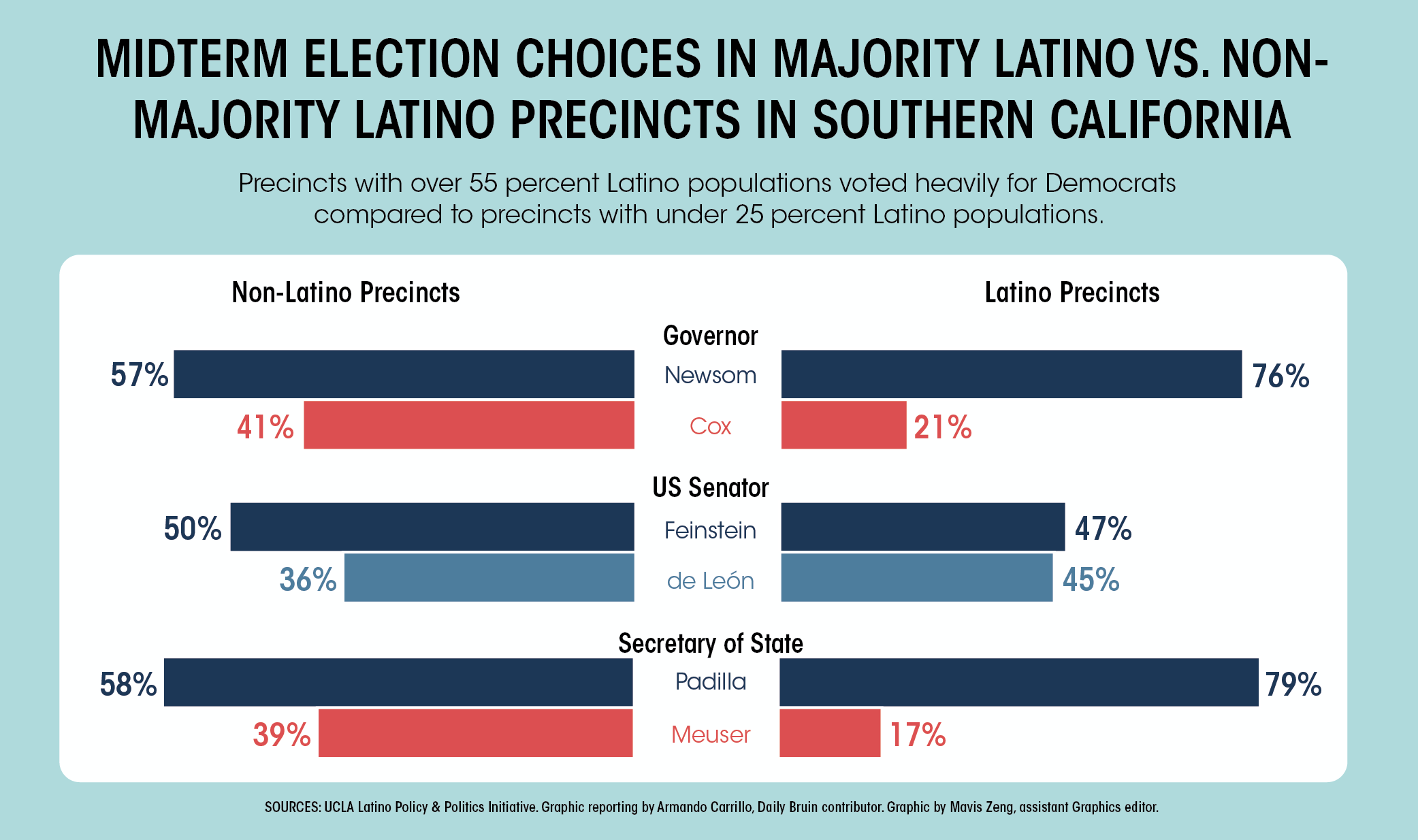 (Mavis Tasaka/Daily Bruin)
A new UCLA study found people in Latino-majority areas voted at a higher rate in the 2018 midterm election compared to the 2014 election.
The UCLA Latino Policy and Politics Initiative released a report Nov. 19 analyzing Latino participation in the 2018 elections. Founded in 2017, LPPI is a think tank designed to do research and community advocacy work for the Latino community and other communities of color, said Gabriela Solis, an LPPI policy fellow.
The study looked at data from precincts in six states in order to assess Latino participation and their preferred candidates in highly contested races.
Since 2004, Latinos have been the fastest-growing eligible voting population in the U.S. while the white eligible voting population has slowly declined. Latinos are currently the third-largest voting population and tend to vote at lower rates than whites and blacks, according to U.S. Census data.
Bryan Wilcox-Archuleta, a senior research fellow at LPPI and doctoral candidate in political science, said precincts with more Latinos had the largest increases in voting rates from 2014 to 2018, suggesting Latinos were more likely to vote in this election.
Wilcox-Archuleta said the six states analyzed in the report were chosen based on their large Latino population and the importance of the electoral races in those states. He added the analysis was limited to counties that were able to provide immediate precinct-level data.
The study analyzed precincts in California, Arizona, New Mexico, Georgia, Florida and Texas. The analysis for California focused on three counties that make up 42 percent of its population: Los Angeles, San Diego and Orange County.
Angie Gutierrez, a senior research fellow at LPPI and doctoral candidate in political science, said people in Latino-majority precincts tended to vote for Democratic candidates at higher rates than people in non-Latino precincts in six California statewide races.
Gov.-elect Gavin Newsom earned 19 percent more votes in Latino-majority precincts than in non-Latino precincts. U.S. Senate candidate Kevin De León earned 9 percent more. Lt. Gov. candidate Ed Hernandez, Secretary of State Alex Padilla and Attorney General Xavier Becerra earned 21 percent more votes. Insurance Commissioner-elect Richard Lara earned 26 percent more.
In Democrat versus Democrat races, incumbent Diane Feinstein kept her seat in the U.S. Senate by surpassing Kevin De León by two percentage points in Latino-majority precincts and outperforming him in non-Latino precincts. Eleni Kounalakis won the lieutenant governor seat despite Latino-majority precincts preferring Ed Hernandez.
Gutierrez added Latinos helped Alex Villanueva edge incumbent Jim McDonnell in the race for LA County sheriff because Villanueva won a large share of the vote in Latino-majority precincts. An incumbent had not lost the race for LA County sheriff in more than 100 years.
Gutierrez said the goal of LPPI's research was to establish an accurate narrative on how Latinos voted in the midterm elections.
"A lot of the narrative on Latino voters, especially in the 2016 election, wasn't necessarily accurate," Gutierrez said. "They were saying that Latinos were not voting or were voting for candidates that, honestly, we did not think was actually accurate."
Gutierrez said the narrative on Latino voters may not be accurate because the media use exit poll data, which can be flawed due to the fact that researchers either do not interview in Spanish or do not target precincts where Latinos are likely to be.
Wilcox-Archuleta said Latinos were influential in other key electoral races, such as the U.S Senate race in Texas.
"(Beto O'Rourke) had really high support among Latinos, so although O'Rourke didn't win, he got a lot of support," Wilcox-Archuleta said. "He came within three points of Ted Cruz and a lot of that support was generated from the Latino population."
O'Rourke received an estimated 80 percent of the Latino vote in the six Texas counties that were analyzed.
Wilcox-Archuleta said he thinks more people voted in the election as a result of their disapproval of President Donald Trump's administration.
"Latinos, like other groups, are very responsive to what's happening, and when they feel they can make a difference electorally, and they're unhappy with the status quo, they will make those changes," Wilcox-Archuleta said.
Maria Salvador, a fourth-year political science student, said she thinks Trump's rhetoric and policies on immigration, such as the separation of families at the border, likely motivated Latinos to vote.
"Many xenophobic things have been happening or have been more exposed than before," Salvador said. "I feel like that had a lot to do with (Latino motivation to vote)."
Salvador added she thinks Latinos voted because Trump is trying to enact strong propositions and is backed by a Republican-led Congress. She said she thinks greater outreach efforts helped get the message out to vote.