Women's basketball loses three straight games in Paradise Jam tournament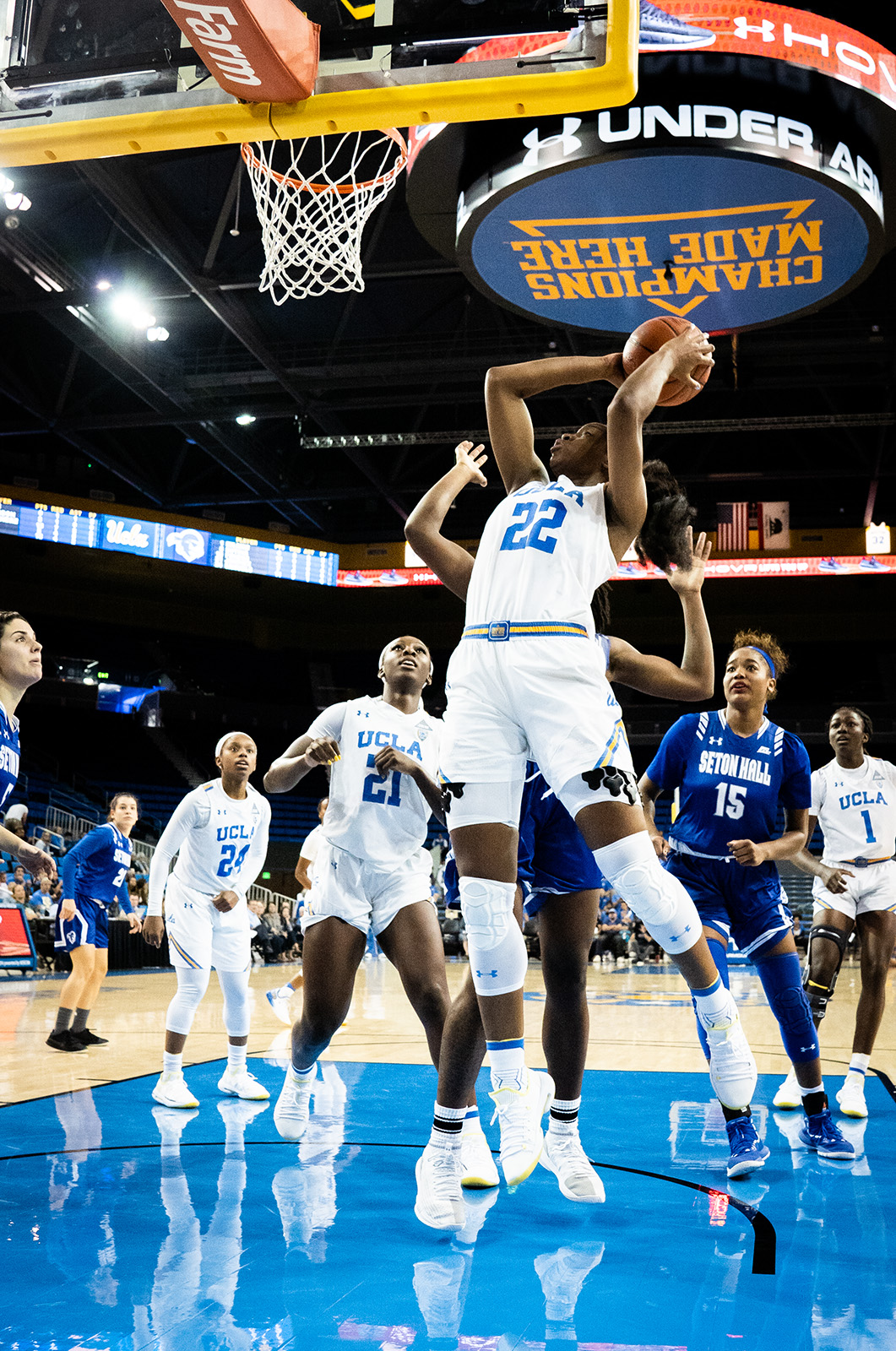 Although UCLA women's basketball fell in all three games of the Paradise Jam, senior guard Kennedy Burke earned Paradise Jam Tournament All-Star honors, logging 55 points, 19 rebounds, eight steals and five blocks in the three contests combined. (Elise Tsai/Daily Bruin)
The Bruins were tasked with making a second-half comeback in all three games of the Paradise Jam.
UCLA women's basketball (3-4) exchanged a three-game winning streak for a three-game losing streak at the U.S. Virgin Islands Paradise Jam this weekend with losses to North Carolina (5-2), Kentucky (7-0) and No.17 South Florida (5-2).
UCLA's 83-49 loss to North Carolina (5-2) on Thanksgiving Day was its largest to an unranked opponent under coach Cori Close and the largest margin of defeat since UCLA faced No. 2 Connecticut in an 86-50 rout in 2014.
The Bruins shot a season-low 26.2 percent from the field in its matchup with the Tar Heels. Close said the reason behind the poor shooting was the lack of cohesiveness on offense.
"I was disappointed in our effort, togetherness and concentration," Close said. "When adversity hit, we didn't choose to get closer together. We acted individually instead of collectively."
Outside of senior guard Kennedy Burke, the rest of UCLA's starters were a combined 4-of-26 from the field.
The Bruins entered halftime facing a 14-point deficit – the most they've trailed a team this season. UNC's lead peaked at 41 points during the fourth in a quarter that UCLA scored just seven points – the lowest in a quarter this season.
"UNC had solid pressure that disrupted our offense," said senior guard Kennedy Burke. "They forced us to take shots that we weren't really hunting for."
In contrast to its performance against UNC, UCLA shot a season-high 51.7 percent from the field in its 75-74 overtime loss to undefeated Kentucky.
Sophomore forward Michaela Onyenwere went to the line with her team down one with 21 seconds left in the game, and she tied the game on her first attempt. She missed the second, but followed through to grab the rebound and score a putback to give UCLA a 66-64 lead.
"We do certain free throw situations every single practice that put us in positions to get those offensive rebounds," Onyenwere said. "We executed it well, and then I ended up getting the rebound and went up for the tip in."
Onyenwere surpassed her career-high in points she set last week versus Georgia, scoring 28 against Kentucky. The former Pac-12 All-Freshman Team member also had eight boards, two blocks and two steals.
Kentucky guard Rhyne Howard followed a missed shot of her own to send UCLA into its first overtime game of the year.
A shooting foul with 3.1 seconds left by senior forward Lajahna Drummer allowed the Wildcats to beat the Bruins by one point.
Burke said the team needs to concentrate on improving its shooting at the free throw line after missing 16 free throws against Kentucky.
"(Free throws) are important for our team because free throws and defense win games," Burke said. "As a team, collectively, we have to better focus with our free throws because they do matter."
In UCLA's 60-56 loss to No. 17 South Florida, it shot 19 percent in the first half and ended the game with 50 missed field goals.
Close said the complacency in its shot choices factored into the outcome of the game.
"The problem is, as soon as we started missing shots, we began to settle for jump shots and they weren't going in," Close said.
After the Bulls outscored the Bruins 25-9 in the second quarter, UCLA trailed USF 31-18 at halftime.
UCLA strung together another comeback behind senior guard Japreece Dean's 11 second-half points, and it trailed USF by three points with 1 minute, 38 seconds left in the game. However, the run fell short.
The Bruins' offensive spottiness and lack of confidence in the Virgin Islands has drawn concern from Close.
"We're having a hard time finding any flow in our offense," Close said. "You can see the questioning in their brains and there's not a decisiveness into what we're running. Offensively, I never thought we'd be in this position right now at this time of year."
Lavalsiti joined the Bruin as a junior transfer in 2018 and contributed until he graduated in 2020. He spent time on the softball, women's basketball, cross country and track & field beats.
Lavalsiti joined the Bruin as a junior transfer in 2018 and contributed until he graduated in 2020. He spent time on the softball, women's basketball, cross country and track & field beats.