Online thrifted clothing platform offers affordability, convenience to students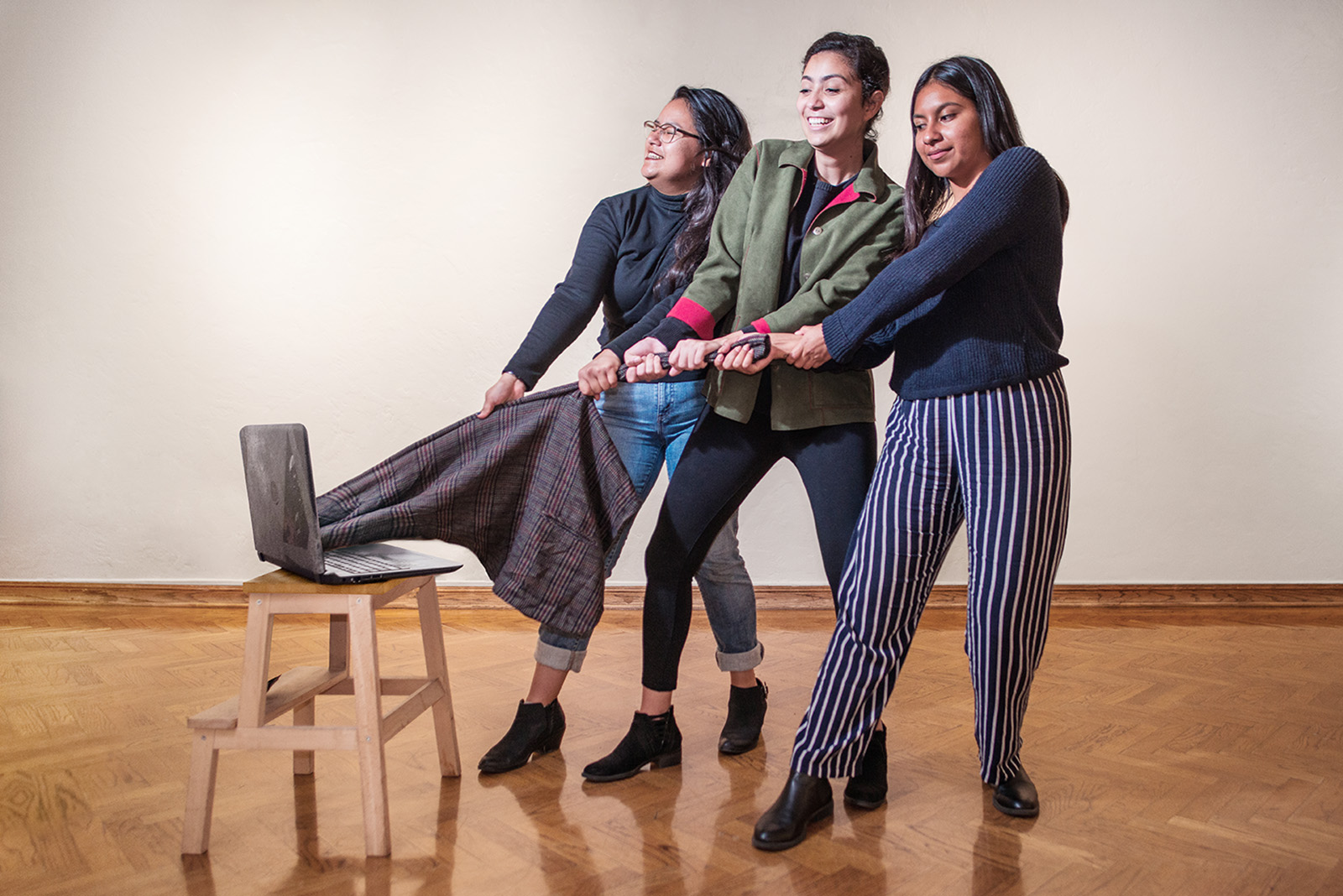 Third-year political science student Myrka Vega, fourth-year international development studies student Maria Amaya Morfin and third-year Spanish student Terii Sanchez (left to right) collaborated to start 1997 Thrift, an online thrift store. Students may order their items via Instagram, pay through Venmo and then pick up their purchase on Bruin Walk.
(James Schaap/Daily Bruin)
Myrka Vega thrifted for clothes out of necessity growing up.
Now, she thrifts out of enjoyment, sharing her hobby with the UCLA community through an online thrift store she founded with friends.
1997 Thrift launched Nov. 16, with UCLA students Myrka Vega, Maria Amaya Morfin and Terii Sanchez at the lead.
Morfin, a fourth-year international development studies student, said the concept of the store is simple: The group purchases clothing from various thrift stores in the area, currently offering one of each piece, with the goal of finding styles that cater to all UCLA students.
They then post the pieces onto 1997 Thrift's Instagram account. Students can purchase the clothing by sending a direct message to the brand's account, paying via Venmo and arranging to meet one of the founders to pick up the clothes on Bruin Walk. Morfin said they are planning to keep the majority of the prices of their items under $10, with exceptions going up to $20 at most.
Vega, a third-year political science student, said they wanted to create a convenient and affordable way for students to buy thrifted clothes where they can pick up the items on campus rather than going out to thrift stores.
"1997 Thrift is catered towards UCLA students. We care about how much they're paying for things – we also care about the convenience because we're all busy," Vega said. "You open up Instagram, you see a piece you like and message you want it, it's easy, it's on your phone, you don't have to go out anywhere."
Morfin said the idea for 1997 Thrift came to her unexpectedly when she was scrolling through Instagram with Vega at the La Gente Newsmagazine office, where they both work. She had always admired Vega for her shopping skills and sense of style, believing they could collaborate on a venture like this, she said. While the idea came to her in October that year, Morfin's passion for thrifting started years ago when her mother and sister purchased secondhand clothes for financial reasons.
At the time, there was a stigma associated with thrifting because people were shamed for their inability to afford brand new clothes. But some of her most complimented outfits have incorporated used clothing, she said. Vega's favorite apparel tends to be secondhand – thrift stores don't follow seasonal trends and offer one-of-a-kind pieces unlike most retail stores, which usually sell homogenous items. 1997 Thrift's Instagram account features items such as a patterned dress for $8, neutral tops for $7 and a yellow blazer for $20.
Vega said thrifting has become more popular in recent years, parallel with the gradual entry of secondhand clothing stores like Plato's Closet and even Goodwill into the mainstream. Sanchez, a third-year Spanish student, grew up wearing clothing passed down from her sisters back when used clothes were not as normalized as they are today. However, she believes the growing acceptance of thrifting supports 1997 Thrift's message.
"Making thrifting trendy … just makes it better for people to feel open about buying whatever they get," Sanchez said. "What we're trying to do is make people feel comfortable with shopping and not feel insecure financially or about how they look because we want to be inclusive."
Sanchez said she's excited to see UCLA students interacting with their service and believes that 1997 Thrift provides an easier way to shop than traditional thrift stores. Vega knows how busy college students are, she said, and how difficult it can be for them to find time in between classes, work and extracurricular activities to go out to various malls and thrift retailers. But since browsing through Instagram is already ingrained into most students' routines, Vega is proud to offer a more efficient shopping method that caters to demanding student schedule.
Not only is 1997 Thrift more convenient, Morfin said, but it's also more environmentally friendly and sustainable as thrifted items are recycled clothing.
Miriam Hoffmeier, a third-year biology student, purchased a beige tank top for $7 from the online retailer after hearing about it from a friend. Aside from finding her purchase cute and affordable, she also appreciated how 1997 Thrift made shopping for sustainable clothes more convenient.
"I think that in this day and age accessibility is key," Hoffmeier said. "1997 Thrift has been able to make being thrifty and sustainable more accessible to the younger generation by using a social media platform."
Morfin said they are hoping to branch out soon to add accessories such as hats, bags, wallets, shoes and eventually men's apparel. As the brand expands, Vega said keeping the same price range is important to her, and she is committed to ensuring every UCLA student has the opportunity to afford the store's items.
"We forget that clothing is important – it's not just keeping you clothed from the outside. It's also how you can express yourself. Just because you are low-income doesn't mean you shouldn't be able to express that," Vega said. "You should be able to be who you are, regardless of the price point."