The Quad: A look into how UCLA's admit rates have changed in light of increasing applicants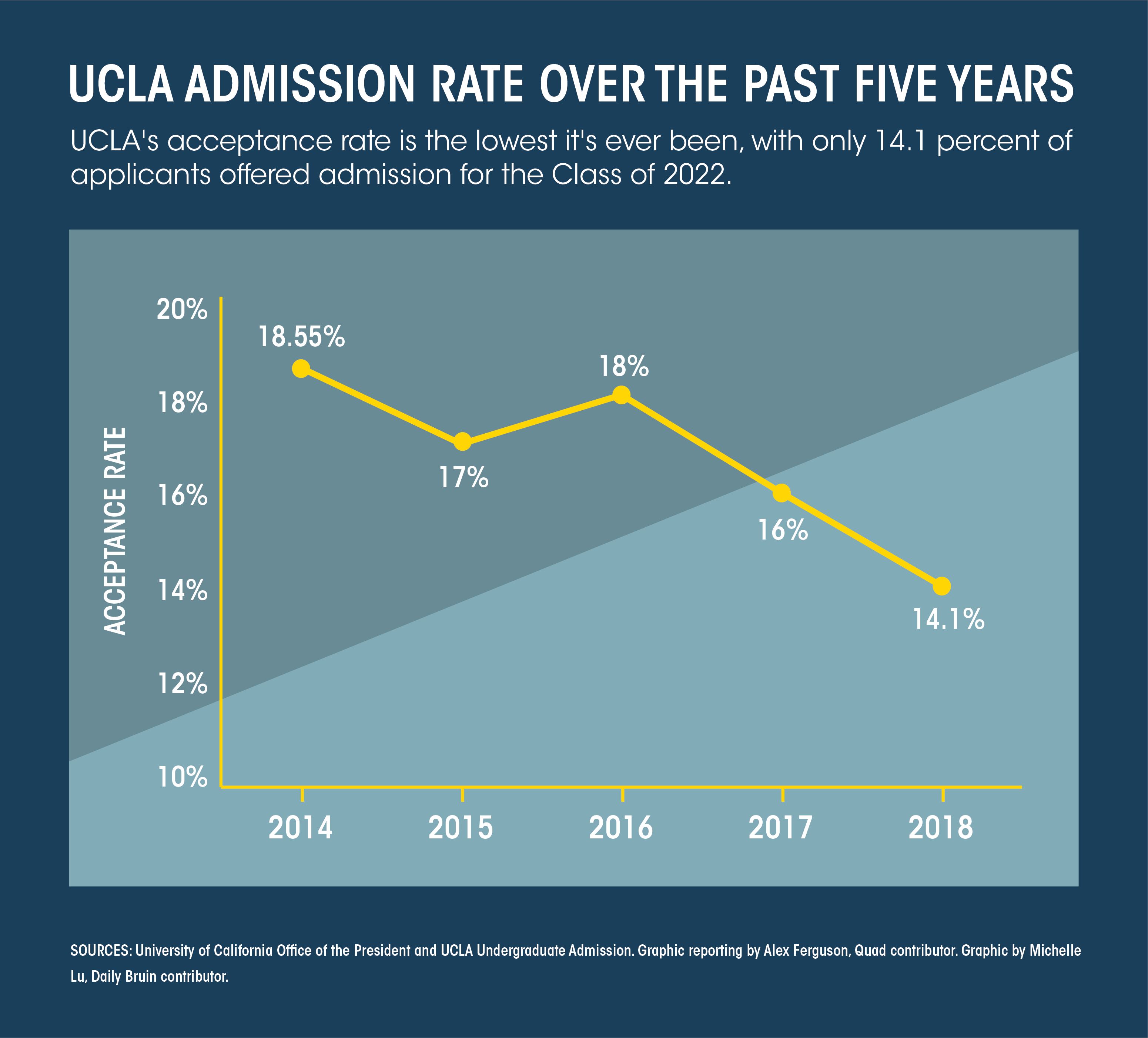 (Michelle Lu/Daily Bruin contributor)
UCLA's acceptance rate has dropped 4.4 percent over the past five years.
UCLA had yet another record-breaking number of applicants in fall 2018. Though new admits' excitement has surely turned into midterm stress by now, the admissions process for fall 2018 proved to be one of the most competitive cycles in the University of California's history. As high school and community college students submit their applications to campuses across the UC, The Quad takes a look at recent years' admissions trends.
The in-state freshman admit rate at UCLA continues to decline: In 2016, the in-state admit rate was 17.7 percent, dropped to 14.6 percent in 2017, and then continued to drop to 12.2 percent this year. The out-of-state admit rate continues to stay nearly stable at about 22 to 23 percent of out-of-state applicants admitted in the past three years.
UCLA remains the most selective UC campus: UCLA's overall 2018 freshman admit rate comes in at 14.1 percent, whereas UC Berkeley's is 15.1 percent. UCLA passed up UC Berkeley as the most selective UC in 2017, when UCLA's acceptance rate was 16.1 percent, while UC Berkeley's rose briefly to 18.3 percent.
Given the increasingly competitive nature of the UC admissions process, it's no surprise that admits are also increasingly impressive: more than 25 percent of admits graduated high school with over a 4.0 GPA.
Though the UC pledged in 2015 to increase California resident enrollment across all campuses by 10,000 over three years, this year it is exceeding that goal with an estimated 15,000 resident undergrads expected to enroll. Even with the UC-wide increase in enrollment of Californians, the odds of admission to UCLA remain significantly lower for in-state freshman applicants. The chances of admission to UCLA increased by approximately 10 percent if you were applying as a freshman out-of-state student in 2017.
If students apply as transfers, however, their prospects may look a bit brighter. UCLA offered admission to 27 percent of in-state transfer applicants versus 9 percent admitted from out of state in fall 2017, showing transferring from an in-state college is becoming an increasingly viable option. UCLA is only second to UC Davis in enrollment of transfer students: in 2017 UCLA enrolled 3,167 transfers, while UC Davis enrolled just 194 more.
About 93 percent of transfer students admitted to UCLA in 2018 came from California community colleges, where articulation agreements with UCs ensure course rigor meets UC standards. UCLA offered admission to students from 109 out of 114 California community colleges.
These statistics not only give information about numbers of students admitted, but also the trends of admitted students. Out of the California residents admitted as freshmen, 30 percent come from minority groups that have been historically underrepresented at UCLA: 23 percent are Chicano/Latino, 6 percent are African-American and 1 percent are American Indian. Not only is ethnic and racial diversity at UCLA relatively strong when compared against other Universities nationwide, but socioeconomic diversity also remains high, 30 percent of Californian freshman admits come from low-income families, and 30 percent would be the first in their families to earn a college degree.
As for transfer students, 52 percent of those admitted are first-generation college students, and 56 percent come from low-income families.
Although there has been a lot of controversy due to shutting out an increasing number of Californians each year, the numbers show us UCLA continues to attract and educate perhaps some of the most racially and economically diverse talent, both in-state and across the globe.
Though UCLA's acceptance rate is the lowest it has ever been, the opportunities the university can give students will surely continue to draw as many, if not more applicants each year, which, in turn, will perhaps bring the acceptance rate even lower. Such a climate of opportunity and selectivity has become a magnet, drawing greater interest among applicants who seek the promises of a global community more than the 284 days of sunshine they are also sure to get.