Professor designs escape rooms with logical solutions to magical scenarios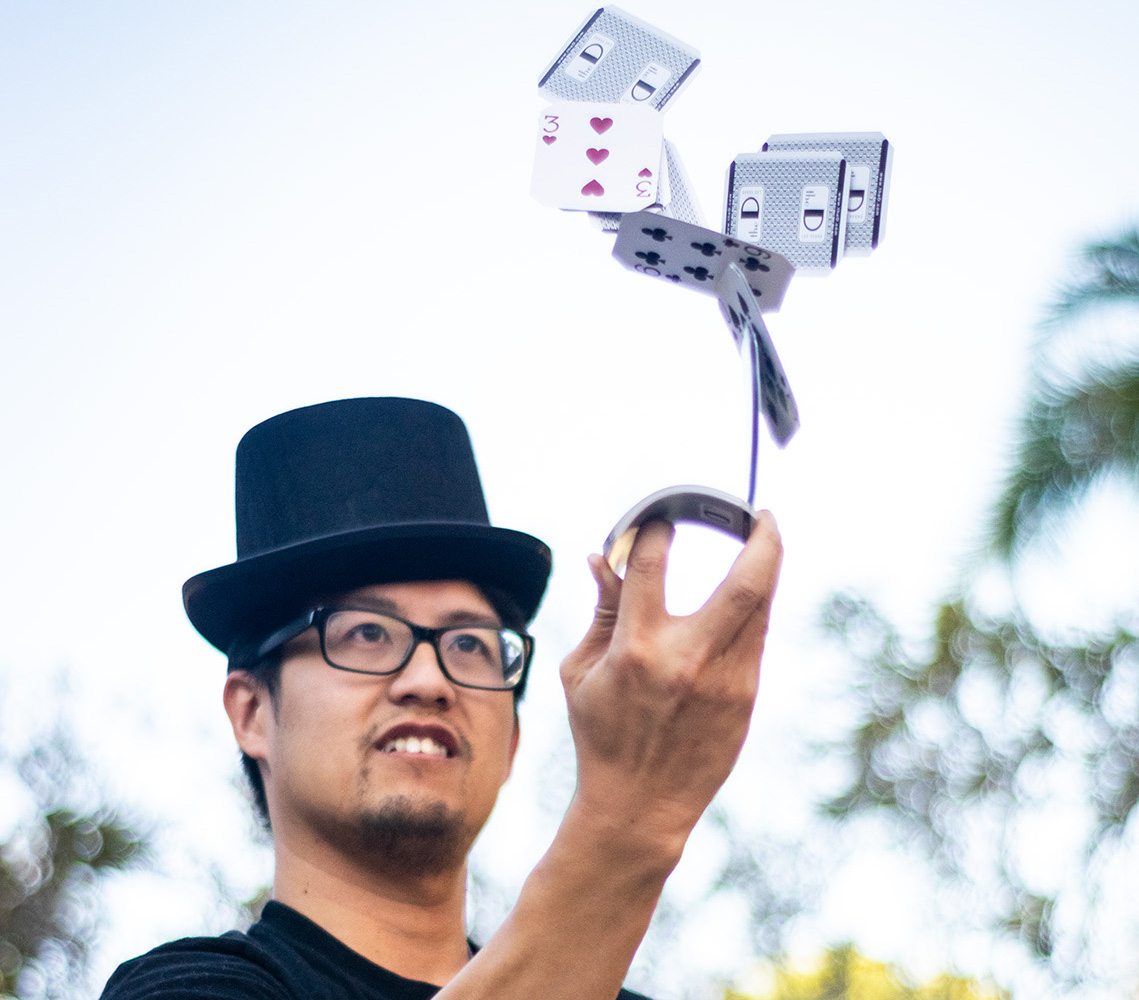 Biochemistry professor Hung Pham created UNLOCKED, an escape room based in Irvine, with four friends. The escape room delves into fantastical realms of magic while encouraging participants to utilize logical reasoning, he said. (Emily Ng/Daily Bruin)
Magic and logic clash in the UNLOCKED escape room, tricking the mind alongside the eye, said Hung Pham.
Based in Irvine, UNLOCKED was created in January 2016 as the pet project of UCLA biochemistry professor Pham and four friends, all enthusiasts of the budding escape room trend. Having completed over 30 escape rooms before opening its own, the group settled upon the theme of stage magic, in part because of co-owner Tony Dao's professional background as a magician at The Magic Castle. While Pham designed most of UNLOCKED's puzzles, Dao masterminded the room's conception from a magician's standpoint. UNLOCKED forces its players to think outside the box, while simultaneously diving into the fantastical realm of magic, Pham said.
"We try to make the room as immersive as possible by telling a story, so as you go along you're doing things for certain reasons and not just mindlessly solving puzzles," Pham said. "You're solving the puzzles because they mean something and they're something you might actually use in the real world."
Pham said escape rooms have become a cultural phenomenon because they act as a real-life adventure played out with companions of your choice, vamping up the fantasy worlds of childhood into an activity that adults can partake in. Typically, players will enter in teams of two to 10 people to navigate the room together under a time limit, searching for clues and solving puzzles in order to achieve a common goal. The most common objective of escape rooms is to escape, true to their name, but escape rooms in general may also extend to scenarios as wild as finding an object to halt a nuclear war, Pham said. These scenarios often ask participants to engage in logical reasoning to reach the goal.
Designed to reflect a magician's stage, UNLOCKED uses authentic stage props, rigging up old materials Dao no longer had use for in his magic shows, he said. Lined with boxes of swords and saw tricks, the stage is set interactively so players eventually learn how to do the magic tricks themselves, such as sawing teammates in half. Pham said the darkened backstage portion of the escape room uses a monitor to replicate a fake audience for a fully immersive experience. UNLOCKED takes concepts from magic shows like big, dramatic reveals in order to enhance the experience to be as surreal and magical as possible, Dao said.
"For creating UNLOCKED, I definitely thought of aspects that made stage magic work and applied it to the escape room," Dao said. "These things help players feel like they're going through the motions of performing and can actually see that magic manifest."
The structure of UNLOCKED is based off the owners' underwhelming experiences solving other escape rooms, taking out the activities with simplistic solutions. Pham said often escape rooms ask groups to waste unnecessary amounts of time searching for clues, handing participants a free-standing black light to aimlessly peer into corners for hidden messages. He said he also noticed many escape rooms rely on tasks rather than puzzles, such as placing a red block into a red hole, in essence valuing doing mindless tasks rather than thinking through a solution. For UNLOCKED, the puzzles include a set amount of data for its players to manipulate, depending more heavily on logical reasoning than obvious tasks, said second-year chemistry student Jason Ly, who has previously participated in Pham's escape room.
"A lot of the time when you're trying to solve a puzzle, you'll have one thought that you try to keep doing," Ly said. "But for Pham's puzzles, that doesn't work so they force you to keep moving on, taking everything in and using all that's around you rather than focusing on one spot."
Many of the games operate by breaking preconceived notions of familiar puzzles. In a maze, for example, most players will automatically know the goal is to find the way out, even if not armed with the exact pathway to exit. Pham said he tried to undermine the assumptions of the first glance, providing more clues that tweak the perception of what it takes to solve a seemingly straightforward puzzle.
The puzzles keep the escape room from becoming a monocentric experience, in which one person solves everything, by teasing out the individual strengths of each player. Some puzzles, Pham said, are physically impossible to carry out with just one player.
UNLOCKED allows each team player to challenge the mind in unsuspecting ways, acting as a way to see how each team member approaches problem-solving, Pham said. In the dimly lit backstage to the magician's study, he said the escape room encourages its players to ponder and puzzle their way out.
"We like to flip people's perceptions on their head because people always believe that they know what to do," Pham said. "It's fun to see the quietest person ending up having the best ideas because they didn't have a preconception of what was going to happen."