Team effort from women's basketball halts Rice in first home game match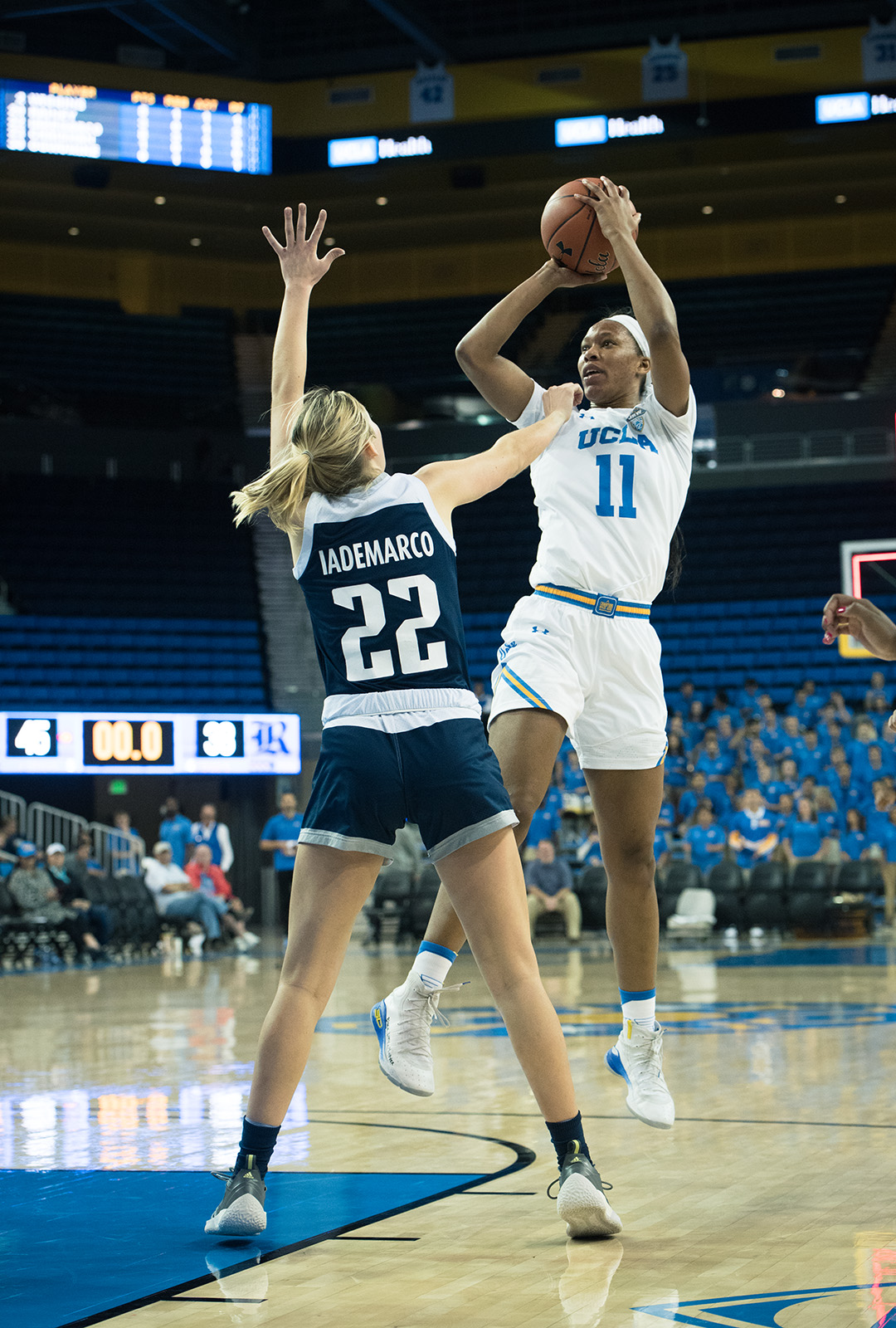 Redshirt senior forward Lajahna Drummer went just 1-of-7 from the field, but finished with six points and eight rebounds. Drummer made her season debut after sitting out the exhibition and season opener with an undisclosed injury. (Alice Naland/Daily Bruin)
This post was updated Nov. 12 at 10:14 p.m.
Everybody got in on the action in the Bruins' home opener.
UCLA women's basketball (1-1) had four starters score in double digits in its 59-50 home-opening win over Rice (0-2) on Sunday.
"We have a ton of weapons," said redshirt freshman guard Lindsey Corsaro. "That's when it's the most fun to play – creating shots together and executing."
A Bruin lead that was once as large as 11 points in the second half was cut to five with 1:48 left in the fourth.
Although she went 1-of-7 from the field, redshirt senior forward Lajahna Drummer's one basket was a 3-pointer that came immediately after Rice trimmed the deficit to five, stretching the lead back to eight.
Drummer later stole the ball with 20 seconds left, clinching UCLA's victory over the Owls.
Coach Close turned to sophomore forward Lauryn Miller and Drummer to be anchors down low once senior guard Kennedy Burke entered foul trouble early in the first quarter.
"I thought we had a lot of selflessness," Close said. "We needed forwards to deliver and do the dirty work, (and) I thought (Miller) was a huge spark in that."
Miller led UCLA with 11 points, nine of which came in the second half.
"I just loved that other people stepped up," Close said. "I think that's our theme this year. It's going to be someone different all the time. Just be ready when your number is called."
Miller was accompanied by senior guard Japreece Dean, Corsaro and Burke in scoring points in double figures.
Drummer led the team with eight rebounds in her season debut after returning from an undisclosed injury.
"It felt good," Drummer said. "Missed a ton of layups and putbacks, but it felt good to be out there with my teammates, just being able to compete overall."
Redshirt freshman guard Kayla Owens also returned to the court after a season-ending injury, knocking down both of her free throws and grabbing a steal in the second quarter.
Dean led the team with four assists and sophomore forward Michaela Onyenwere had a plus-minus of 10.
Freshman guard Kiara Jefferson earned her first points as a Bruin with a 3-pointer late in the first quarter.
Rice junior guard Erica Ogwumike averaged 9.3 rebounds a game alongside forwards Nicole Iademarco and Alexah Chrisman who averaged about four apiece. Close said UCLA did a solid job of keeping the Owls off the glass.
"We had a lot of offensive rebounds against a team that really packs into the paint and boxes out really well," Close said.
UCLA rebounded 41 percent of their offensive misses and had 13 second-chance points.
The Bruins also handled Rice's three-pointer, holding the Owls to 3-of-13 from beyond the arc. Rice shot 36.4 percent off 22.7 attempted three-pointers per game last season.
"We took away what the other team wants to do most which are three-point shots," Close said.
The Bruins shot 44 percent from the field in the first half with an 11-point advantage at halftime, leading Rice 30-19.
Defensively, the Bruins forced 20 turnovers with 11 steals. As time was about to expire in the third, UCLA suffocated Rice's offense, forcing consecutive shot-clock turnovers preceded by a Rice five-second violation on an inbounds play.
"We talked this week especially about increasing our ball pressure," Corsaro said. "Coach (Close) talked about focusing and playing smart and combining that with our aggression. We came out in the third quarter and really did an awesome job of that."
Close said the Bruins' receptivity to being challenged by the coaching staff in the past week's practice factored into their first win on the season.
"I was proud of the practice," Close said. "I was confident we would find a way because I thought they let us push them harder into uncomfortable places in practice. They didn't bow up and resist that, they invited it. … That's all I care about: grow and prepare."
UCLA will face No. 14 Georgia at home Wednesday with an opportunity to have its first winning record of the season.
Lavalsiti joined the Bruin as a junior transfer in 2018 and contributed until he graduated in 2020. He spent time on the softball, women's basketball, cross country and track & field beats.
Lavalsiti joined the Bruin as a junior transfer in 2018 and contributed until he graduated in 2020. He spent time on the softball, women's basketball, cross country and track & field beats.