Caffeinated music, business and activism debuts at first LA Coffee Festival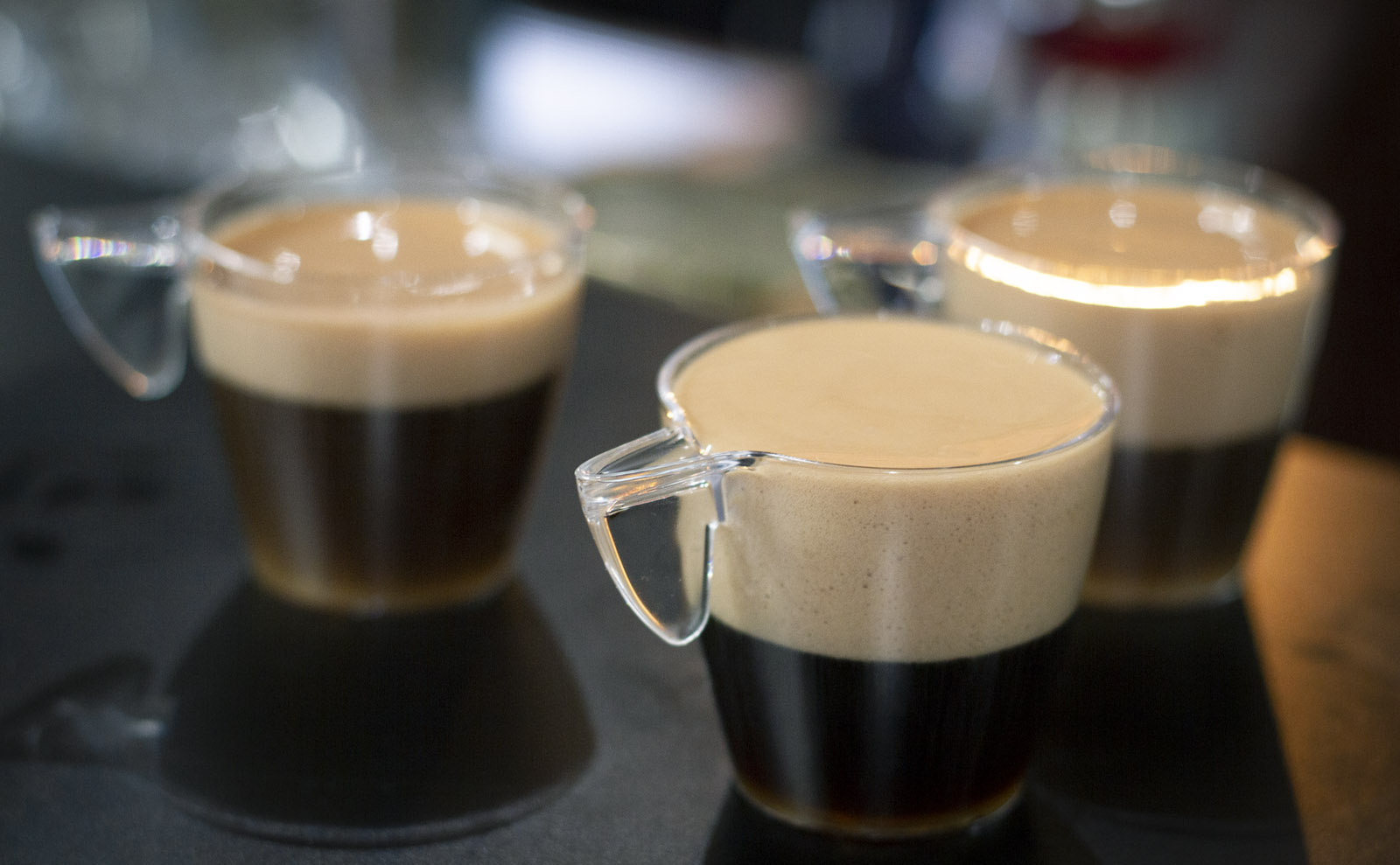 The Silk Barista Collection at the Los Angeles Coffee Festival presented slightly carbonated mocha cold brew samples. The festival took place at the Magic Box at the Reef in downtown Los Angeles, and hosted more than 60 coffee-related vendors and businesses. There was something for every coffee lover at the festival, said Jeffrey Young, the chairman of the company behind various coffee festivals around the world. (Tanmay Shankar/Daily Bruin)
November 12, 2018 11:47 pm
A festival full of lattes crafted for Instagram, espresso machines that cost more than rent and enough caffeine to fuel a city were present at a Los Angeles venue this weekend.
Thousands of enthusiastic coffee drinkers flocked to the Magic Box at the Reef in Downtown LA to get a taste of the first Los Angeles Coffee Festival. With over 60 different coffee industry-related vendors and businesses, there was something for every coffee lover at the festival, said Jeffrey Young, the managing director of Allegra Strategies, the company behind coffee festivals in London, Amsterdam, New York and, now, Los Angeles. Themes of sustainability and workers' as well as women's rights were on display by people from the coffee, tea, boba, dairy and liquor exhibitions put on by international and local businesses.
"Los Angeles is on the edge of an exciting new era," Young said. "There are so many pockets around the city where creative coffeemaking is happening."
The festival included a music stage that featured unsigned local acts. "The Kitchen" was a special stage dedicated to up-and-coming LA chefs who used seasonal ingredients to demonstrate inventive new dishes for attendees. Later, a variety of industry speakers gave presentations, including barista-turned-coffee shop owner Dritan Alsela, who relayed advice for baristas hoping to own their own coffee shops. A coffee-inspired art gallery, a latte art live showcase and movie room streaming coffee-related films were also on display at the festival.
"Music, art and charity are a part of cafe culture," Young said. "New brands that are exciting the tastes of creative millennials – we wanted to put together a festival that brought all these things to Los Angeles before anyone else."
Stumptown Coffee Roasters also arranged a "Women in Coffee" presentation. Kristi Persinger and Erica Shafer from the training department at Stumptown highlighted prominent past and present women in the coffee industry. They spoke about figures such as Melitta Bentz, who invented the coffee filter in 1908, and Ibu Rahmah, the current chairwoman of a 1,979-person Indonesian coffee-growing cooperative titled "Ketiara."
"Women represent as much as 70 percent of fieldwork, harvesting and sorting on coffee farms," Persinger said. "We want to advocate for hiring more women in executive positions and an increased diversity in the coffee industry."
In addition to a focus on greater representation for women in the workplace, many of the festival's vendors endorsed issues such as sustainability, fair trade and workers' rights. KeepCup, one of the vendors, is a reusable coffee cup company that started in Melbourne, Australia. KeepCup's products replicate the design of everyday throwaway cups, but are meant for hundreds of uses, said Sandy Ballejos, the brand's general manager.
Straus Family Creamery was another vendor at the festival that focused on sustainability. The first organic dairy farm west of the Mississippi River and the first certified 100 percent organic creamery in the United States, Straus' goal is to be completely carbon neutral within the next three years, said Shereen Mahnami, the company's director of communications.
Although sustainability and other progressive initiatives played roles at the festival, the majority of attendees packed into the convention center space for one reason – their love of coffee.
Front and center at the festival were vendors from Intelligentsia Coffee, which is also ASUCLA's coffee supplier, originally based in Chicago, and La Marzocco USA, a retailer that sells high-end espresso machines. Both vendors were swarmed with attendees fighting to get tastes of delectable espressos.
Several vendors Saturday also stood out for the great taste of their products. Bluestone Lane Coffee had two different roasts for tasting: the first from a micro-lot in Costa Rica that featured hints of currant, blackberry and caramel, and the second a stone fruit, berry and chocolate blend from Colombia. The chocolate overtones of the Colombian roast gave the drink a rich, full flavor that managed to last on my taste buds until my pallet was cleansed at the next tasting.
The Silk Barista Collection presented their cold brew for sampling, and it was delicious. The foam of the drink gave it an odd carbonated taste that was surprising at first, but after the second sip, the flavors of the coffee and milky foam mixed together deliciously.
Although the crowd generally skewed toward 25- to 40-year-olds, there were plenty of younger college-aged attendees, like first-year mathematics/applied science student Nandini Marolia, who was soaking in the different flavors of the festival.
"Coffee is art expression," Marolia said. "It's so cool to see all the different ideas people are coming up with related to coffee."
Young said the festival plans on returning next year and aims to double in size in the future. He said he looks to his company's London Coffee Festival with its 32,000 annual attendees as a model for what the Los Angeles Coffee Festival can become.
"LA needs this intense amount of excitement, and we really are trying to get this city rocking on coffee," Young said.