UCLA alum deals different approach to teaching poker, uses mathematical methods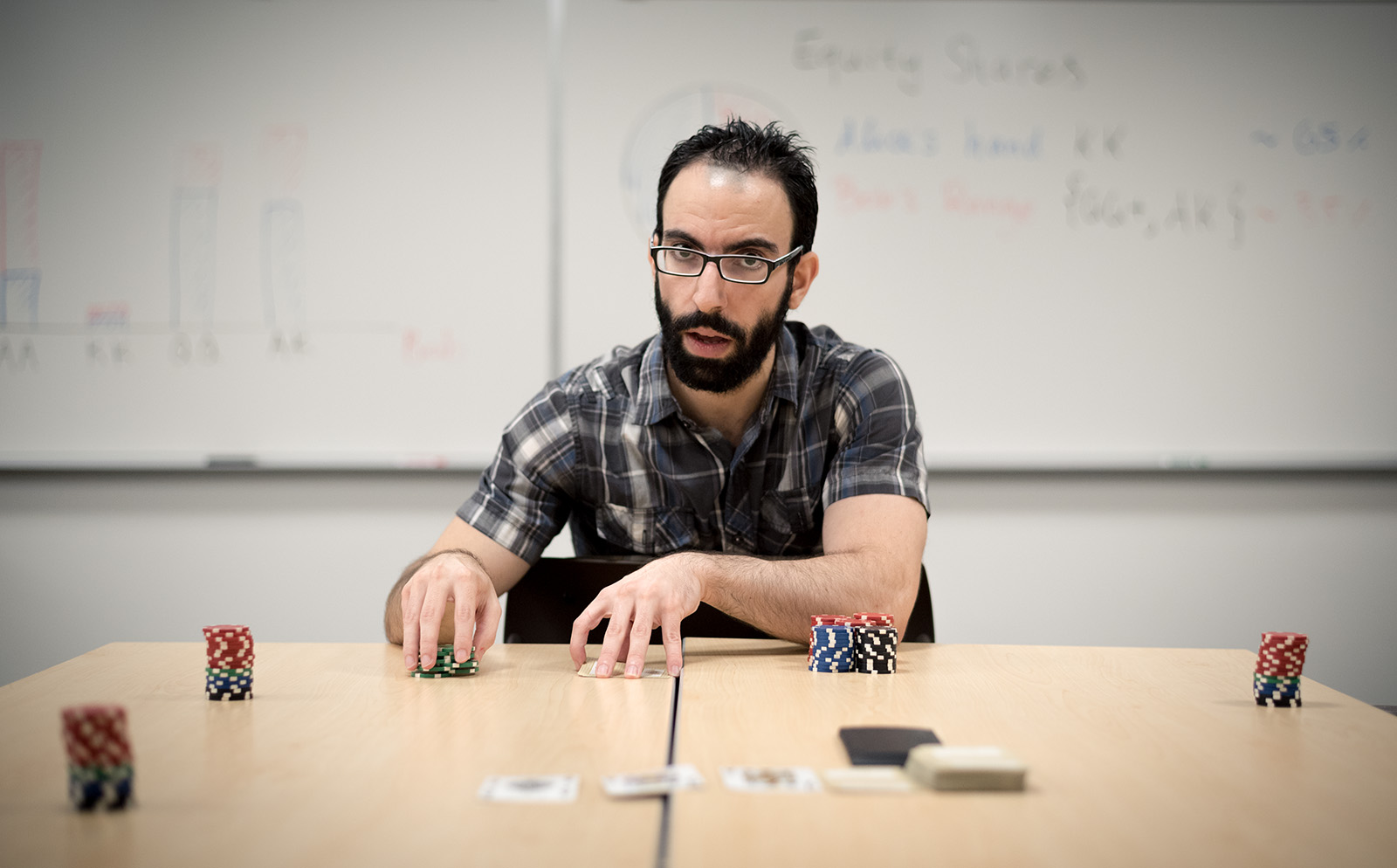 UCLA alumnus Konstantinos "Duncan" Palamourdas teaches basic and intermediate No Limit Hold 'em classes at UCLA Extension. Using an analytical and scientific approach, he shares mathematical concepts to help students improve their poker skills. Palamourdas also has a novel in the works, set to release in 2019, in which he will detail his perspective on gameplay. (Joe Akira/Daily Bruin)
Konstantinos "Duncan" Palamourdas uses a "John Wooden approach" when teaching poker strategy.
Palamourdas, a UCLA alumnus, wanted to share his distinct perspective on the game from an analytical and scientific standpoint, using math concepts to approach poker. But Palamourdas also emphasizes the fact that players should be themselves, rather than following a certain gameplay template, just as coach Wooden once did with Bruin basketball players, he said. He does this in his basic and intermediate poker classes at UCLA Extension.
His philosophy will soon be in print: Palamourdas said he is under contract to publish a book detailing his approach with D&B Publishing, which carries titles by some of professional poker's biggest names, from Phil Hellmuth to Greg Raymer. Palamourdas' book is in its editing phase and is expected to be released sometime in 2019
"There's what I like to call the objective approach, where literally people are trying to do what we call 'solve the game.' And by solve the game, we mean find the objectively best move that would work regardless of who you're playing against," Palamourdas said. "I'm more interested – believe it or not – in analyzing the game than playing (the game) itself."
Palamourdas' initial 2014 email inquiry to the UCLA Extension administration about teaching poker classes was met with stiff resistance, he said. However, he managed to secure a face-to-face meeting with Ric Zappala, current program director at UCLA Extension, with whom he made his case. In addition to the mathematical principles behind poker, Palamourdas said he pointed out professors at the Massachusetts Institute of Technology's Sloan School of Management have already started a poker class; his would not be the first in a respected university. When Zappala understood that what he was teaching was fundamentally probability theory, he approved the class, Palamourdas said.
In addition to teaching a full quarter at UCLA Extension, Palamourdas teaches a six-week course to senior citizens at the Osher Lifelong Learning Institute, a department of UCLA Extension specifically designed to serve adults 50 years or older. Phyllis Blaunstein, a retired public policy expert, decided to take Palamourdas' class with some friends and said she appreciates his teaching style.
"He has a gift of turning incredibly complex mathematical concepts into simple and easy-to-understand ideas, and to convey them with humor to engage the class," Blaunstein said.
Palamourdas describes the beginning of his class as being, for the most part, the same as any math class. Before class, he prepares a lecture on a single topic and uses PowerPoint slides, videos, visual aids and pictures to teach the lesson. After the lecture comes practical application – an hour or more of gameplay between students, with him providing live commentary on student moves within each game.
An issue that often arises with students is bet sizing, Palamourdas said. Students will often bet too little in an attempt to provoke their opponents to fold, but Palamourdas tries to emphasize to the students that they should bet a larger percentage of the money in the pot than they instinctively want to bet. If you don't bet big, the opponent will never fold, and if they never fold, then you're taking the skill out of the game, Palamourdas said.
"People are generally risk-averse. They don't want to risk more than they have to," Palamourdas said. "The problem is that there is a certain amount they should be risking in order to get the job done."
Palamourdas characterizes the typical poker player as one of two archetypes: Alice or Bob, both names commonly used as placeholders in cryptology literature. The Bob player values fun over profit, making bets and moves based on intuition or a sense of excitement. Alice, on the other hand, is always playing to win. Alice values profit over fun. Over time, money will flow from Bob to Alice. However, Palamourdas said he reinforces the fact that either playing style is perfectly acceptable.
"One of the things that I stress in the book is that there is nothing wrong with either approach," Palamourdas said. "It's a game before anything else."
John Southworth, a retired lawyer and student of Palamourdas, has been helping with the editing process. Southworth said this book is different from typical poker books in that it isn't a recollection of "war stories" from tournaments past, nor is it an exemplary account of what to do when faced with particular hands during play. Instead, Southworth claims the book frames poker not as a game that changes based on who your opponent is, but rather as a game that can be won regardless of who you're facing and what cards you are dealt.
"It's truly a new approach to the game," said Southworth. "It's about beating the game, not other players."
The popularity of Palamourdas' classes at UCLA Extension has drawn attention from other parties around campus. Palamourdas said he is in conversation with representatives from the UCLA Anderson School of Management, who have shown serious interest in establishing a business-focused poker class at the school. Palamourdas said his view toward games has always been the same: treating the game like the science that it is, and recognizing that there is no one perfect way to play it.
"There is no such thing as a perfect truth when it comes to science … and that is incredibly important to remember," Palamourdas said. "If anything, science has taught us humility. As does poker."