Foundations dance group breaks down different styles in weekly sessions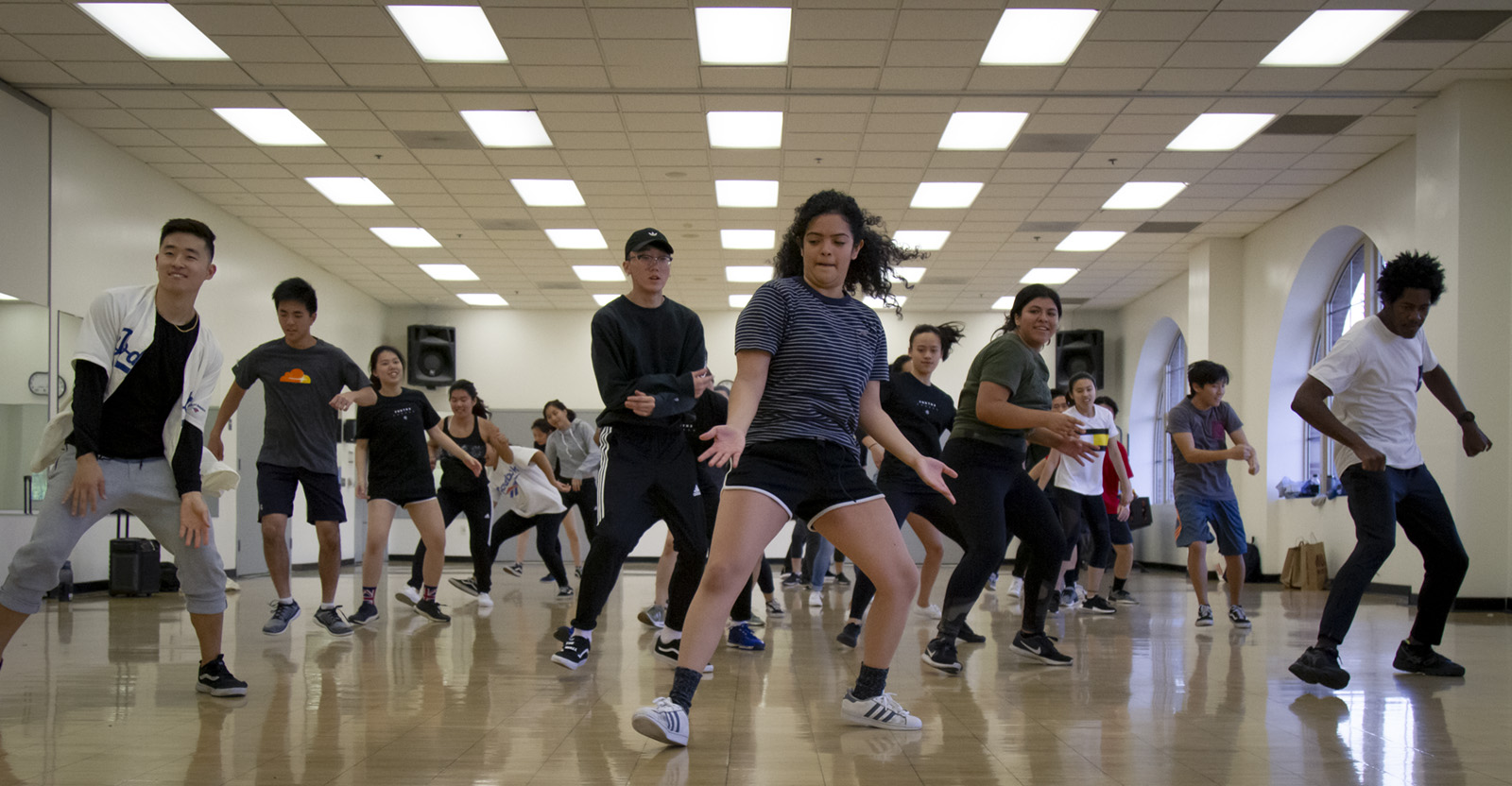 Foundations Choreography offers weekly Saturday Sessions meant to teach participants new styles of dance as well as the art form's history. Director Alex Byun said the group presents a space for students to explore urban dance styles without worrying about perfecting the skills. (Rachel Hefner/Daily Bruin)
Saturday Sessions
John Wooden Center Pyramid Room
Saturday
Free
November 6, 2018 11:21 pm
Students danced along to loud music in a packed room.
No, this wasn't a house party or concert – it was one of Foundations Choreography's Saturday Sessions.
Created in 2014, Foundations has quickly grown to hundreds of members. This fall quarter, over 300 students auditioned to be part of the organization. Foundations does not turn down dancers based on their skill level, said Alex Byun, a recent UCLA graduate and one of the directors of the organization. In response to participants' diverse levels of experience in dance, the group offers a range of workshops and events, including the new Saturday Sessions. The sessions will occur every week until Nov. 17 in John Wooden Center's Pyramid Room and serve a dual purpose. On one hand, they were created to provide dancers with an outlet to learn new skills. On the other, they also intend to educate members about dance knowledge and history.
"Foundations is a good introduction to urban dance culture. … It's a positive environment. We're not here to drill you and make sure you look like the best," Byun said. "The focus is more that we want you to get something out of it for yourself."
Byun said he recognizes many beginner dancers may feel uncomfortable joining a big organization like Foundations. However, he said he encourages people to try it out because the organization not only enhanced his college experience, but also opened him up to the urban choreography scene. Byun said the group aims to teach their members the basic tenets of dance, which is one of the reasons why they started the weekly sessions.
"The idea with Saturday Sessions is … 'Let's bring back that connection with freestyle and the fundamental street styles that we come from,'" he said.
During each session, a dancer specializing in a specific style comes out and teaches the group. Alexxa Vasquez, a third-year cognitive science student, presented the essentials of house dance Saturday. Throughout the hour-and-a-half lesson, Vasquez went step by step, explaining her moves to help students follow along. At the end, the group performed what they learned together. Members also got a chance to showcase their individual styles as dancers participated in an activity called "across the floor." A row of five dancers at a time performed freestyle moves, gliding from one end of the dance floor to the other.
Josh Wilson, a fifth-year linguistics and computer science student, attended the house dance workshop and said Foundations provides ample opportunities for individuals to learn and improve their skills. He is especially fond of Saturday Sessions because he said they build awareness of the behind-the-scenes narratives about dance.
"A lot of the choreographers that come out and teach like to give a little bit of the history behind the dances," Wilson said. "I like to learn the histories about why certain people dance."
Though the dancing took up most of the session, Vasquez did more than just show the physical aspects of house music. She also spoke about its cultural significance, touching on how it was especially important to queer people of color.
"Different branches of hip-hop formed out of struggle," Vasquez said. "Whether it was people in their garage or people in subways or people at abandoned warehouses trying things out for each other, … they cultivated a culture out of struggle."
Foundations' Saturday Sessions remind dancers of authentic street culture and its influence on dance, Vasquez said. They provide a version of history that isn't always told, which she said she values.
"The stuff that you see going viral is cool because of street culture. It's cool because of the people that don't make it to the media. I always try to remind people there was someone who came before you," she said. "I just think it's really important to pay respect to that."
Whether it's a form of education, a space to perform or an outlet to build a community, Byun said Saturday Sessions are just one medium the group provides so its members can immerse themselves in dance. Vasquez said she believes the sessions are a great idea and was thrilled so many members have taken advantage of it.
"The fact that these students could have spent their Saturday doing anything, yet they decided to come out and attend this session, … it's amazing," she said.