Bake-off aims to dispel doubt that vegan desserts can be delicious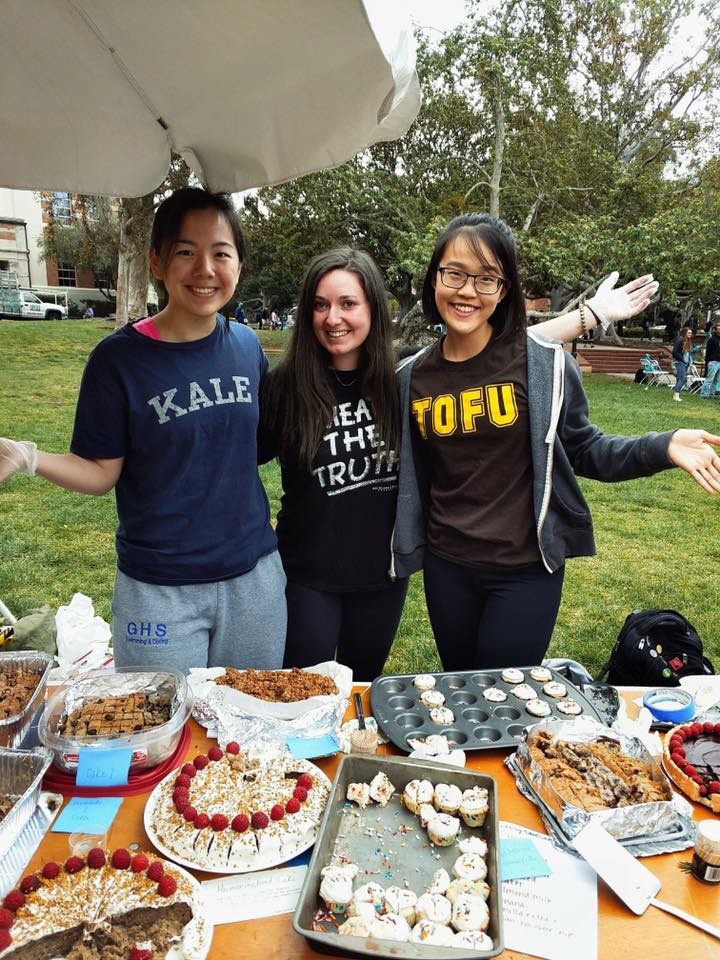 Joyce Shang, a fourth-year business economics student, Betsy Samber, a third-year georgraphy and environmental studies student and Jordan Ong, a second-year sociology major, (left to right) are members of Veg Bruins, the club that will host the Vegan Bake-Off in Bruin Plaza. (Courtesy of Joyce Shang)
Vegan Bake-Off
Bruin Plaza
Tomorrow
Free
Baklava, Samoa bars and cream cheese tarts are among the goods that will compete at the Vegan Bake-Off.
The bake-off, hosted by UCLA's Veg Bruins club, is part of a larger Vegan Fair taking place Thursday in Bruin Plaza. Students will enter their homemade vegan treats into one of three categories: seasonal dishes, small bites and big bites. Sarahi Arellano, a third-year neuroscience student participating in the bake-off, said students often believe vegan food doesn't taste good, but change their minds after trying vegan desserts.
"When you start talking to people and they are coming over for food and then they eat your food, they get to a point where they don't even realize it's vegan, they just think it's good food," Arellano said.
Arellano will submit her banana and chocolate bread for the bake-off, substituting eggs with flaxseed eggs and dairy milk with soy milk. As a member of Veg Bruins, Arellano started baking vegan treats to satisfy her sweet tooth while simultaneously being health-conscious. She said vegan desserts eliminate the risk of salmonella and contain no cholesterol due to the lack of milk and eggs. She hopes that with the bake-off, students will be more open to trying vegan alternatives, which she said often taste indistinguishable from nonvegan desserts.
Ruby Ciervo, a first-year civil and environmental engineering student, is deciding between banana bread and cream cheese tarts for the bake-off, and said she mimics the buttery taste of common desserts by using a plant-based "butter" spread. While some bakers will substitute eggs with applesauce, Ciervo said she prefers her desserts to taste as close to their nonvegan counterparts as possible. However, having grown up vegan with vegan parents, she doesn't feel like she's missing out on the foods she can't eat, since she does not know any outside of a vegan lifestyle, she said.
"I almost trick people into thinking my desserts aren't vegan," Ciervo said. "Anything vegan, and I'm there."
In the club members' experiences, vegan desserts differ in ingredients, but are still successful on campus. Kienna Qin, a second-year statistics student who became the club's president after participating in the bake-off last year, said the event attracts both vegan and nonvegan students despite catering to selective diets.
"I wanted to ideally do this again once every quarter because last spring quarter the Vegan Bake-Off was super popular," Qin said. "We had over 20 competitors and all of the food was gone within an hour."
Though she is not vegan, third-year psychology student Ishita Agarwal will be submitting her zucchini brownies for the bake-off. She said she enjoys baking goods like vanilla cupcakes for her friends who have vegan dietary preferences. Agarwal said she will make zucchini brownies similar to the popular ones at Bruin Plate Residential Restaurant in the hopes that it will sell well. A key ingredient in the brownies is flaxseed, which Agarwal uses to make an egglike substitute. Agarwal said the bake-off will cater to students' taste buds, but more importantly, dispel the notion that vegans don't get to have fun and experiment with their food.
"Desserts are desserts – especially if there's chocolate in it, they do well," Agarwal said. "It will help raise awareness that our diets aren't as limited due to the other options that are available now, especially in California."