Female directors discuss redefining representation in filmmaking at panel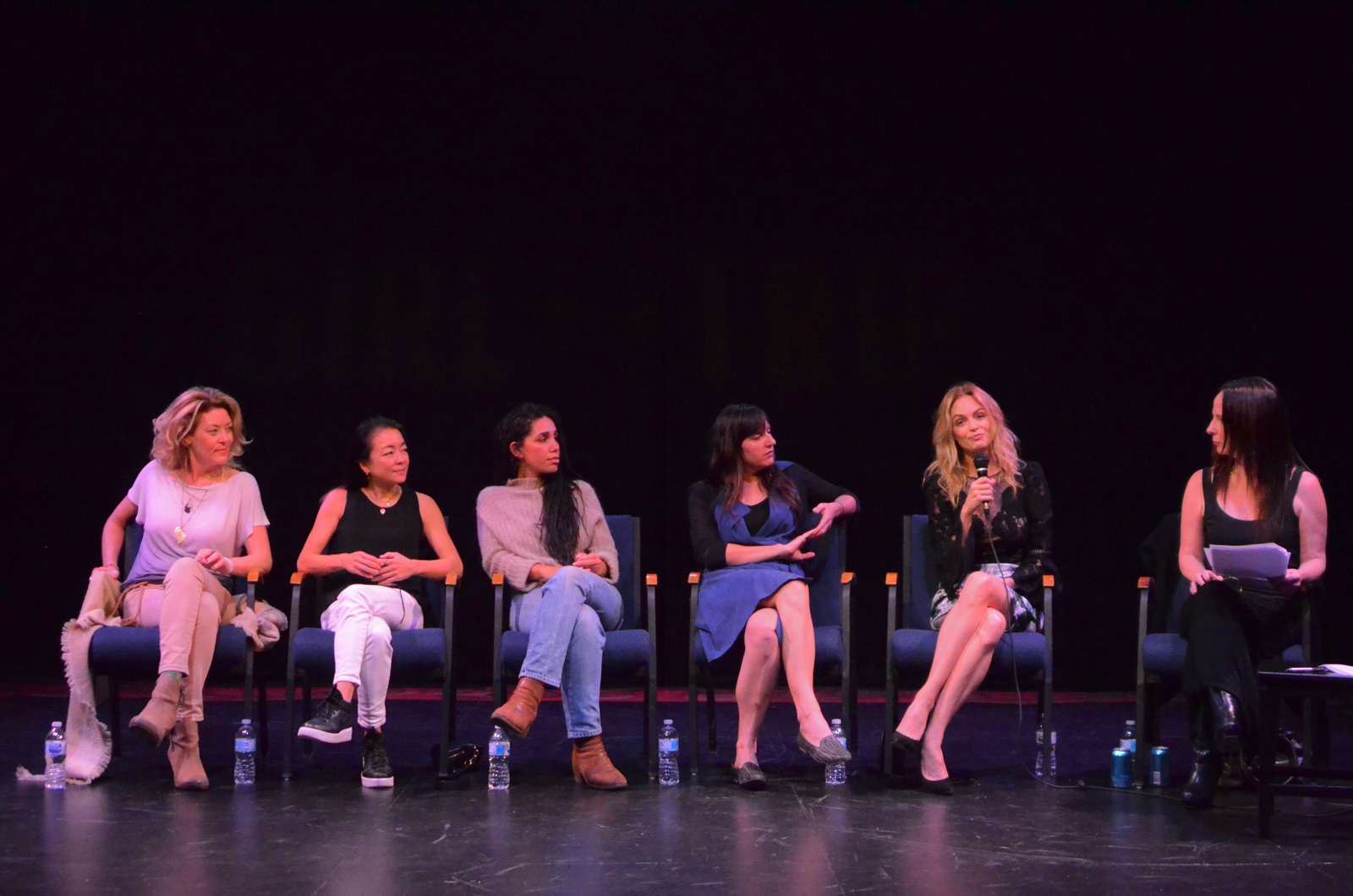 The Women Directors of Distinction Panel on Sunday focused on women's roles in filmmaking. The event was hosted by Girl Trip, an organization which aims for equal visibility and pay for women in the arts. (Courtesy of Noemi Torres)
Women are taking their stories back.
Frustrated by being misrepresented in film productions dominated by men, women are fighting back by replacing them in every level of the industry, said Harrison James, director and Girl Trip co-founder. They are reclaiming their voices by becoming the best in their creative fields, and not just the best women, said Carolyn Chen, a film director and panelist at the Women Directors of Distinction Panel.
Hosted and moderated by James, Sunday's panel at the Broadwater Theater in Hollywood delivered insight into women's roles in the world of filmmaking. Girl Trip is an organization focused on advancing women in the arts, striving for equal visibility and pay. Featuring Chen and other directors, such as Ry Russo-Young, Ondi Timoner and UCLA alumnae Heather Graham and Garrett Bradley, their conversation focused mainly on the narrative aspect of the directorial process and how it is influenced by one's own intuition. What this panel truly wanted to communicate, though, is how excellence in the filmmaking field can be both separate and integral to their identities as women, and it is up to them to decide how they present that connection, James said.
The panel began with James attributing positive traits to the work and character of each panelist – "adventure" to Timoner, "clarity" to Chen, "dignity" to Russo-Young, "interdisciplinary" to Bradley and "uplifting" to Graham – aiming to validate the sometimes differing messages each panelist came to deliver.
Chen said while women are often shamed for emoting in professional spaces, she finds that channeling left-brain analytics without being afraid of the right brain's intuitive creativity can empower both the artist and their work. Even still, that empowerment can further blossom by removing gender from the equation altogether.
Powerful filmmaking comes from a strong sense of vulnerability and intimacy, Bradley said. Her first feature film began as a senior thesis at UCLA's School of Theater, Film and Television. More interested in contrast and finding room for beauty and nuance, Bradley chooses to focus on her craft as an extension of her own creative perspective separately from her gender. Interviewing passengers on Greyhound buses from New York to New Orleans eventually became source material for her feature film debut "Below Dreams." Bradley found that presenting an objective persona proved more conducive to absorbing information she could use to enrich her craft.
"I don't see myself as a female director, I just see myself as a director," Bradley said.
In contrast, Graham found that she wanted a female perspective to relate to, and when she couldn't find enough of them, she became one herself, she said. When women see themselves as supporting characters in male stories, the creative world misses out on valuable and largely untapped potential, Graham said. She said she felt discouraged at the lack of representation in female direction, and her transition from acting to directing prompted self-reflection that ultimately helped her identify what she wanted to say through her films. For her directorial debut "Half Magic," Graham said she gave her characters the spunk and freedom her own Catholic upbringing suppressed. She said female representation goes beyond the quality of directing – it's about the legitimization of women's voices.
"We're 50 percent of the population," Graham said. "Where are our stories?"
This fight for representation can also translate into the technical aspect of filmmaking. Two-time Sundance Grand Jury Prize winner and documentary filmmaker Timoner described her intuition on set as guiding her to be a conduit for the material awaiting representation. She said giving exposure to the underrepresented and underserved stems directly from a gut feeling her career has taught her to trust, as exemplified in her upcoming film on the American drug misuse epidemic, "Chrysalis." The need to follow your gut is an instinct women should not suppress for fear of criticism, Timoner said.
"I listen, I hunt and gather and then I sculpt," she said.
In this sense, the combination of traditionally feminine and masculine strengths can serve to elevate the creative product above traditional expectations, Timoner said.
That same sentiment was echoed by Russo-Young, who said following her gut in the face of other people's expectations is her only true guideline.
"The only time you ever regret anything is when you don't listen to your gut," Russo-Young said.
Third-year film student Sareeta Young attended the panel and said she appreciated the panelists' personal anecdotes and the advice given during an audience Q&A because she was seeking guidance on how to navigate the system as a woman of color. Such a panel would be beneficial to bring to the UCLA campus, she said.
"I quite frankly don't have any women professors at the moment," she said. "I see that the school is making an effort, but I would love to see more people from the outside community come and speak."
As the event came to an end, Bradley's closing remarks summarized the panel's message. New voices and people occupying their rightful space in the industry is promising, and the world can expect to see more interdisciplinary filmmaking processes as a result, Bradley said.
"It's important to speak your mind in this world – you have a lot of momentum with what's going on in our culture, and it's a good time to practice it," Bradley said.