Alum's use of comedy in campaign aims to call attention to political performance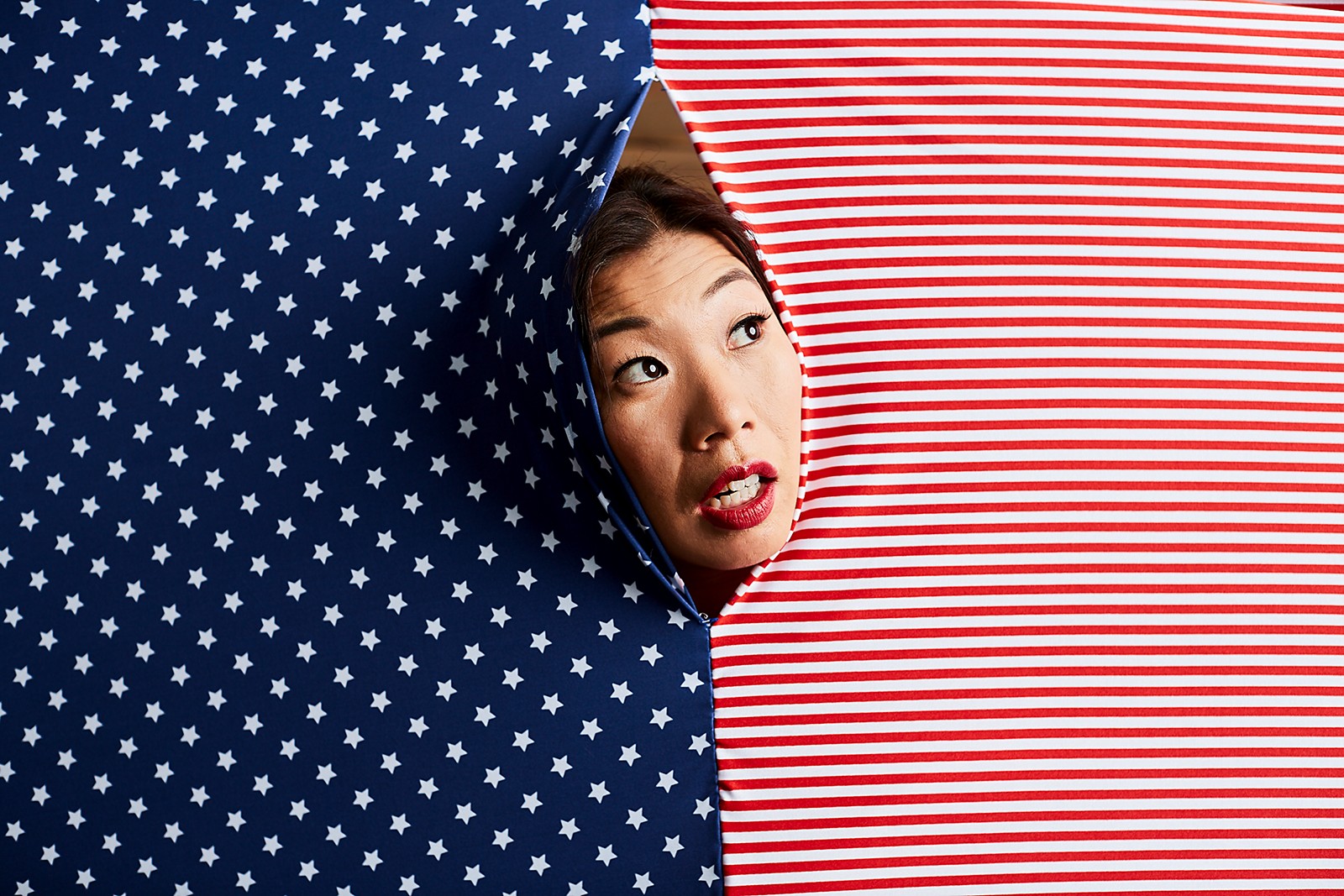 Alumna Kristina Wong plans to run for public office. She will deliver her campaign speech Saturday in Chinatown Central Plaza, and her campaign props will be on display as part of one of the solo exhibitions in the Art Salon Chinatown program until December. (Photo courtesy of Tom Fowler)
Art Salon Chinatown presents Kristina Wong
Realm
Saturday - Dec. 10
Free
Correction: The original version of this article incorrectly stated Kristina Wong debates stuffed animals. In fact, she debates dogs.
This post was updated Nov. 3 at 8:21 p.m.

Kristina Wong is performing debates against dogs to prepare to run for public office.
In anticipation, the alumna said she aims to transform Realm, a store that sells Asian art and goods in Chinatown Central Plaza, into her campaign headquarters, and where she will deliver her campaign speech Saturday. The campaign props, such as a hand-sewn Elvis cape and American-flag printed Chinese lanterns, will be featured in an exhibition by Art Salon Chinatown, a new program with a primary focus of showcasing contemporary Asian-American artists, where her work will be on display from Saturday until Dec. 10. Wong said she hopes to deliver a show that highlights the performativity of politics while remaining a functioning campaign.
"The times are so crazy that it's hard to figure out how to create shocking things – how do you out-shock a shock president?" she said. "I don't think that I need to be just doing a show about how crazy the times are, I think I need to run for office."
Throughout the delivery of her performance, and by extension, her run for office, Wong said she deliberately moves through the conventional gestures espoused by real political candidates. Politicians with their codified body language, carefully orchestrated hand waves and central role in political spectacles are, in essence, a performance art, she said.
"I am interested in this idea that now, it's not just about being a politician with ideas – you become a celebrity and you have to capture this imagination as an icon or idol of sorts," she said. "We used to listen to politicians and laugh at comedians, now we laugh at politicians and listen to comedians."
Acknowledging this notion of the changing standards for politician performativity, Wong said her campaign speech will address her own background as a performance artist in a self-satirizing manner. Yet despite her comedic propensities and artistry, Wong intends to bring her comic touch into equilibrium with the seriousness of her gesture to run for office. Which is inspired, she said, by the United States' absurd and highly problematic president.
To endorse her message, Wong said she crafted visual tools to add dimension to her campaign speech. She said she sewed a personalized logo inspired by the presidential seal, as well as an American flag drape for the podium, which is a reinvented music stand. Political buttons reading "One Wong makes it right, Kristina Wong for public office," and labor union-printed posters will promote Wong's candidacy.
To deliver her speech, she will appear in a white pantsuit like the one Hillary Clinton wore at the 2016 Democratic National Convention, which Wong said is a nod to the symbolism of wearing white during the suffragette movement. This pantsuit will be further adorned by the hand-sewn Elvis-style sequined cape Wong made, which, once spread out, reveals "WONG" written across the back.
The props on display encourage visitor interaction, the purpose being to demystify the conventions of the political process, Wong said. Visitors will be invited to interact with the podium by posing in different politicians' standard poses, which are emulated on a rubric for their reference. Menus listing orders like, "Black Lives Matter Platter," and "Impeach Pie," offer a range of tongue-in-cheek social justice options from which visitors can glean punny information surrounding Wong's campaign, she said.
Shervin Shahbazi, a curator of Art Salon Chinatown, said satiric comedy has the power to bring to light commentary and topics that have been swept under the rug and even repressed. The comedic form breaks down complex political content into digestible morsels which in turn encourage heightened interest by onlookers.
"When the funny or satire comes in, I think serious issues register with people easier, … and actually relieve some stress," he said. "When it's funny, you'll remember it even better maybe and you will go tell your friends, … and in that sense, it makes it even more impactful and effective."
By staging the performance in November, Sonia Mak, another curator of Art Salon Chinatown, said its timing is intended to prompt people to seriously consider the upcoming midterm elections. Those who pay the potential candidate a visit will hopefully walk away with a sense of reinforced solidarity and renewed hope for political resilience, Mak said. The exhibition and performance are intended to provide affirmation to groups like women of color and Asian-Americans that they have allies who recognize today's political corruption, she said.
Because of her comedic performance art, Wong said she worries her campaign will be interpreted as unserious and reflect negatively on groups like Democrats and women of color. However, she said white men should not be the only individuals able to poke fun at the political system, while people of color are expected to remain sincere and serious to deal with the same issues. Wong said she hopes her artistic perspective will engage voters on a deeper level than the standard cookie-cutter code for politicians' behavior.
"What do we have to lose by trying?" Wong said. "At this point, I think people need to not be eluded by this democratic process. … It only behooves the people most affected to figure out how to pick apart that system."