Writers of 'Sharp Objects' speak about cutting it in the entertainment industry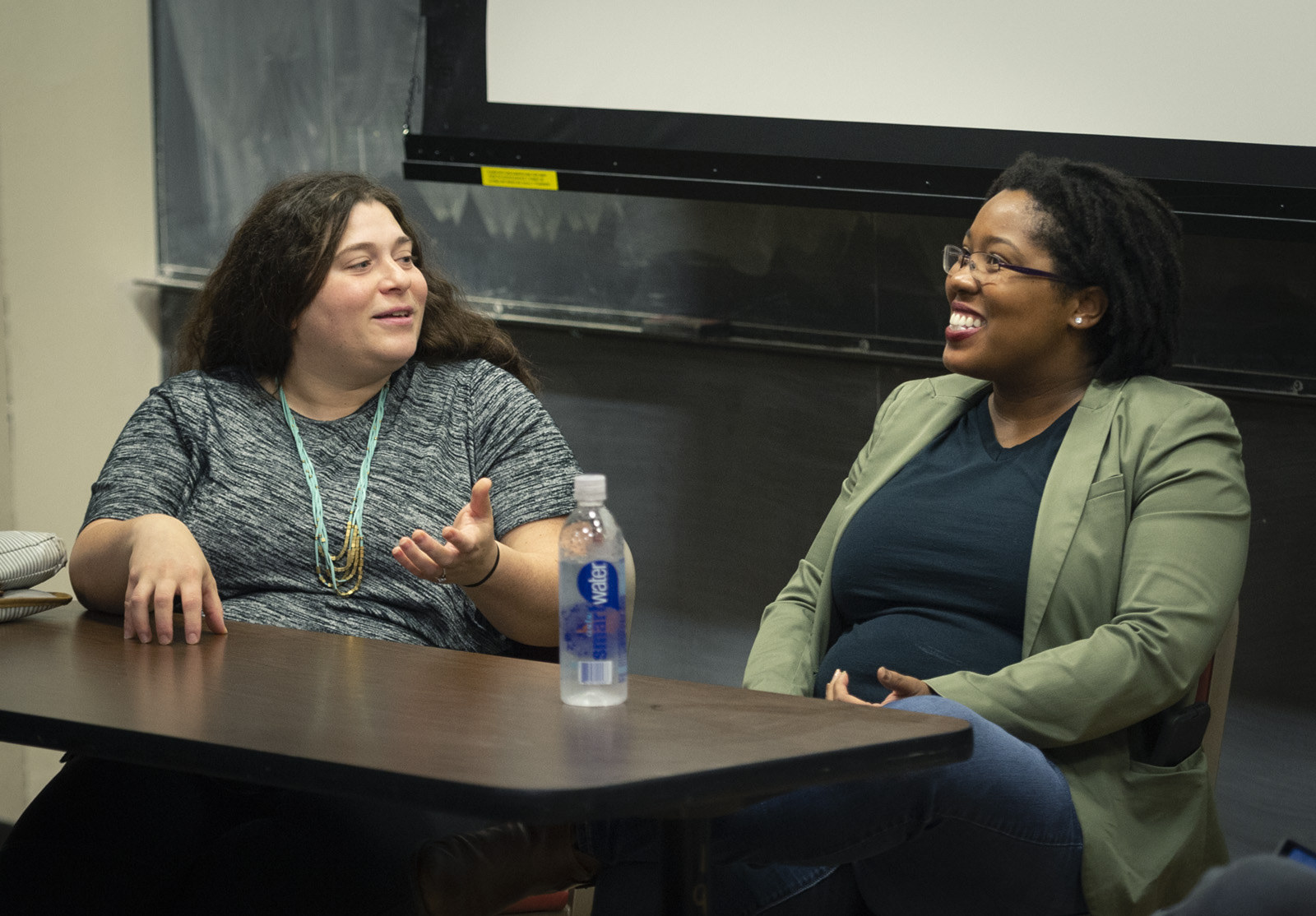 Ariella Blejer and Dawn Kamoche, writers on HBO's "Sharp Objects," attended a panel at Royce Hall to discuss their experiences working in Hollywood. (Eli Countryman/Daily Bruin senior staff)
Dawn Kamoche had to move back to Maryland from Los Angeles, but she didn't view this as an end to her career in Hollywood.
A panel featuring writers Ariella Blejer and Kamoche from the HBO limited series "Sharp Objects," was held in Royce Hall on Monday. The writing duo shared their experiences building their careers in the entertainment industry as well as their time working on "Sharp Objects." Neil Landau, a screenwriting and production professor at UCLA, hosted the panel.
The event began with a short clip of a scene from episode six, "Cherry," which Blejer and Kamoche co-wrote. The scene shows protagonist Camille Preaker and her half-sister Amma Crellin playfully wrestling each other outside their childhood home after a night out. The scene emphasized the relationship between two female characters. Following the screening, Landau opened up the discussion for the writers to speak about the beginning of their writing careers.
Blejer recounted that after her and Kamoche graduated from USC they were both unemployed. Blejer said she was interning at Sundance for $9 an hour while Kamoche moved back to Maryland. Despite the distance, they collaborated on an original script called "A House Divided," which Blejer described as "Downton Abbey on a plantation" because of their similar themes. They eventually auctioned it off to Forest Whitaker's production company. They then worked on The CW's "Containment," which was cancelled after the first season, but continued working together on "Hand of God."
Blejer described the difficulties at the staff writer level – writers are expected to not push back against their showrunners at all. Kamoche added that it's difficult to stay quiet during meetings because she had a lot of ideas to share. Blejer expressed that they couldn't wait to become showrunners themselves so that they could have more control.
"Below the executive producer you don't have a lot of control of episodes," Blejer said. She pointed out that there is a hierarchy and those who were at the top had more control.
However, not all shows are the same. Both noted that HBO gave them plenty of freedom as writers compared to previous networks they had worked for. The network trusted their instincts, Kamoche said. For example, they created an entire episode of "Sharp Objects" from an event that was only a few sentences in the novel that the show was based on. The fifth episode, focuses on Calhoun Day and explores the town's history of celebrating the Confederacy.
Zoe Ward, a graduate film student, said she was attending the event because she will be looking to be staffed as a writer soon and hopes to seek out advice for her own stories.
"I'm curious about female writers writing female characters and if that was hard for them to defend that there was an audience for it," she said. "Those conversations are still going on."
The writers also advised the audience to know what they bring to the writing room. For example, they brought strong female characters, something the creators were looking for. The creators also wanted them to emphasize the themes present in the novel, such as an emphasis on female anger: In the show, the women are violent.
Graduate writing for television student Holly Dacke said she was curious to hear about their view on the writing process since every writer is different.
"Everyone has a unique way of getting their story told so I think that's what a lot of these lectures are about and a lot of these panels are about," Dacke said. "The more perspectives and the more experiences that we can hear from, I think it's beneficial to all of us."