Mariachi de Uclatán performance to celebrate life and honor dead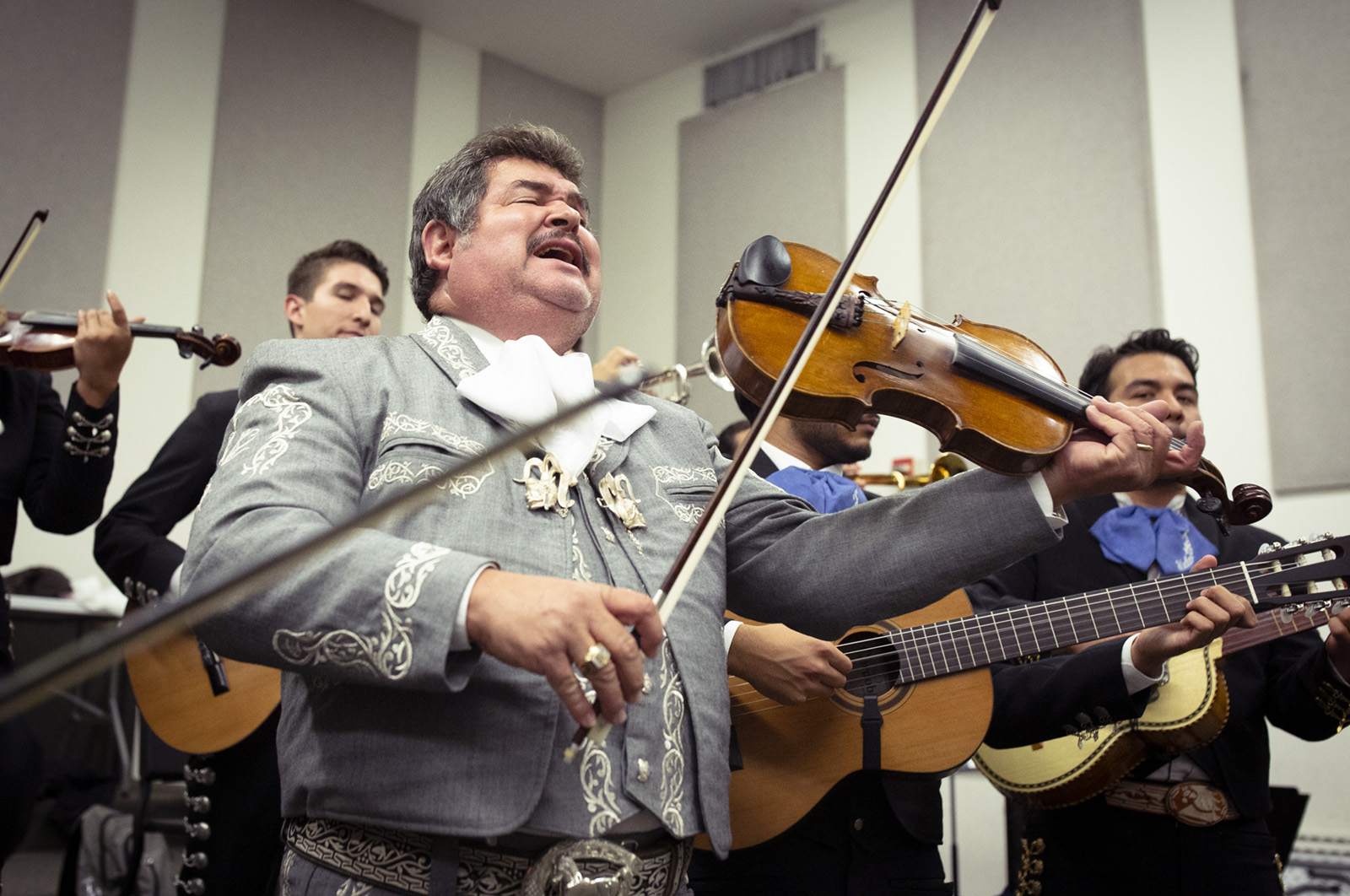 The student ensemble Mariachi de Uclatán will perform its Día de los Muertos performance as part of the Fowler Out Loud series. (Andy Bao/Daily Bruin)
Fowler Out Loud: Mariachi de Uclatán
Fowler Museum
Today
Free
The majority of UCLA is gearing up for the night of Oct. 31 with jack-o'-lanterns and cobwebs, but members of Mariachi de Uclatán will spend the evening making music and decorating altars with flowers and photographs.
For its upcoming Día de los Muertos performance Wednesday night, the student mariachi band ensemble will play a number of songs dedicated to remembering late musicians, as well as loved ones who have passed away. Its show at UCLA's Fowler Museum, an installment of the Fowler Out Loud concert series, will feature musicians and dancers in traditional face paint resembling skeletons and altars that are constructed as a gateway to the afterlife. Even though students will pay homage to the dead, the spirit of the show is that of joyful remembrance rather than sorrowful mourning, said Elisa Quiñonez, a fourth-year history student and a co-musical director of Mariachi de Uclatán.
"Día de los Muertos, and the significance of mariachi, is paying homage to really great singers, composers or arrangers. It's very intricate and people also pay homage to family members or loved ones," Quiñonez said. "It's a really, really great holiday where there's a crossover, and music and memories get to meet."
Many of the numbers lined up on Mariachi de Uclatán's set list are tributes to late musicians in the world of Mexican music. In some numbers, the group will also sing of witches or frightful legends like La Llorona, said Pauline Arriaga, a graduate astrophysics student and the business manager of the ensemble. But despite certain spooky themes, neither the performance nor Día de los Muertos should be confused for a celebration of Halloween, Arriaga said. While Halloween focuses on the notion of fright, Día de los Muertos is more respectful toward the dead, celebrating them. The mariachi lyrics about supernatural spirits trace back to century-old folklore and are commonly played during Día de los Muertos celebrations across Mexico, Arriaga said.
The group's upcoming performance will be its most vibrant one throughout the year because it is linked to a specific holiday for which they can decorate and dress up, Quiñonez said. Student musicians will paint their faces like "calaveras," or skeletons, typical to Día de los Muertos iconography. They will also don "trajes de charro," the traditional mariachi outfit that literally translates to "cowboy suits," inspired by the ranch-based origins of the genre, she said. While the boys in the group will dress in vests with pants, girls will wear suits. Both categories of clothing will be black with "botonadura," or silver adornments, along the sides in the shape of horseshoes or Aztec calendars, Quiñonez said.
Upon its stage at the Fowler, the group will also present an altar, used in traditional Día de los Muertos settings. Altars signify the formation of a connection between earth and the afterlife, Quiñonez said, and may typically include marigolds, family photographs and sometimes even the deceased's favorite foods, or objects that indicate their preferred hobbies, such as CDs for those who loved music. The ensemble will invite all its group members to place beloved family photos on the altar as a means of remembrance, said fourth-year Spanish and Portuguese student Gabriela Gaxiola, another co-musical director and a trumpet player within Mariachi de Uclatán.
The altar will also hold a photograph of Nati Cano, the late director of a two-time Grammy award-winning ensemble, Mariachi Los Camperos. Cano was a major musical influence on Mariachi de Uclatán, as well as on its current faculty director, Jesús "Chuy" Guzmán, Arriaga said. A large part of the show's ethos is linked to remembering him, Quiñonez said, and his altar will feature a rose and a "zarape," or a cover-up similar to a poncho, in his memory. Inspired by Cano's music-making, Guzmán guides UCLA students during their rehearsals and often adds "adornos," or instrumental flourishes, to the vocal layers of songs.
"For as long as I've known (Guzmán), he's only ever spoken highly of (Cano) and put an emphasis on the traditional ways and styles (of performance)," Quiñonez said. "From what I heard, (Cano) really brought a sense of performance and community and tradition to the stage."
The performance will also pay respects to famed Mexican musicians including José Alfredo Jiménez, Pedro Infante and Juan Gabriel, whose death in 2015 had widespread impact on the mariachi community, Quiñonez said. Although Gabriel was more of a pop singer-songwriter, she said, many of his songs were adapted into mariachi numbers that will be performed Wednesday.
Gabriel, in fact, wrote a song titled "Amor Eterno" as a tribute to his own mother when she passed away. The song, which translates to "eternal love," is a Día de los Muertos classic, and will be performed by the students, Quiñonez said. "Amor Eterno" is particularly special to Gaxiola, whose grandmother passed away earlier in the year. Gaxiola said the song sparks a comforting sense of nostalgia and that she hopes to dedicate Wednesday's performance to her late grandmother.
While death involves mourning in many cultures, Gaxiola said Mexican commemoration of the deceased can be a cheerful affair. People miss those that have passed on, but believe they are with them on earth in spirit, she said. Despite traditional connotations, Quiñonez also said she defines remembrance of the dead as something bittersweet.
"Just because we're paying homage to people and remembering their accomplishments or their love for their family, it doesn't always necessarily mean that the holiday is going to be somber," she said. "It's more of a celebration – it's a celebration of remembering love."
Devjani is the top editor of the Arts and Entertainment section. She was previously the assistant editor for the Theater Film and Television beat.
Devjani is the top editor of the Arts and Entertainment section. She was previously the assistant editor for the Theater Film and Television beat.