Brand gives birth to rental maternity clothing for professional settings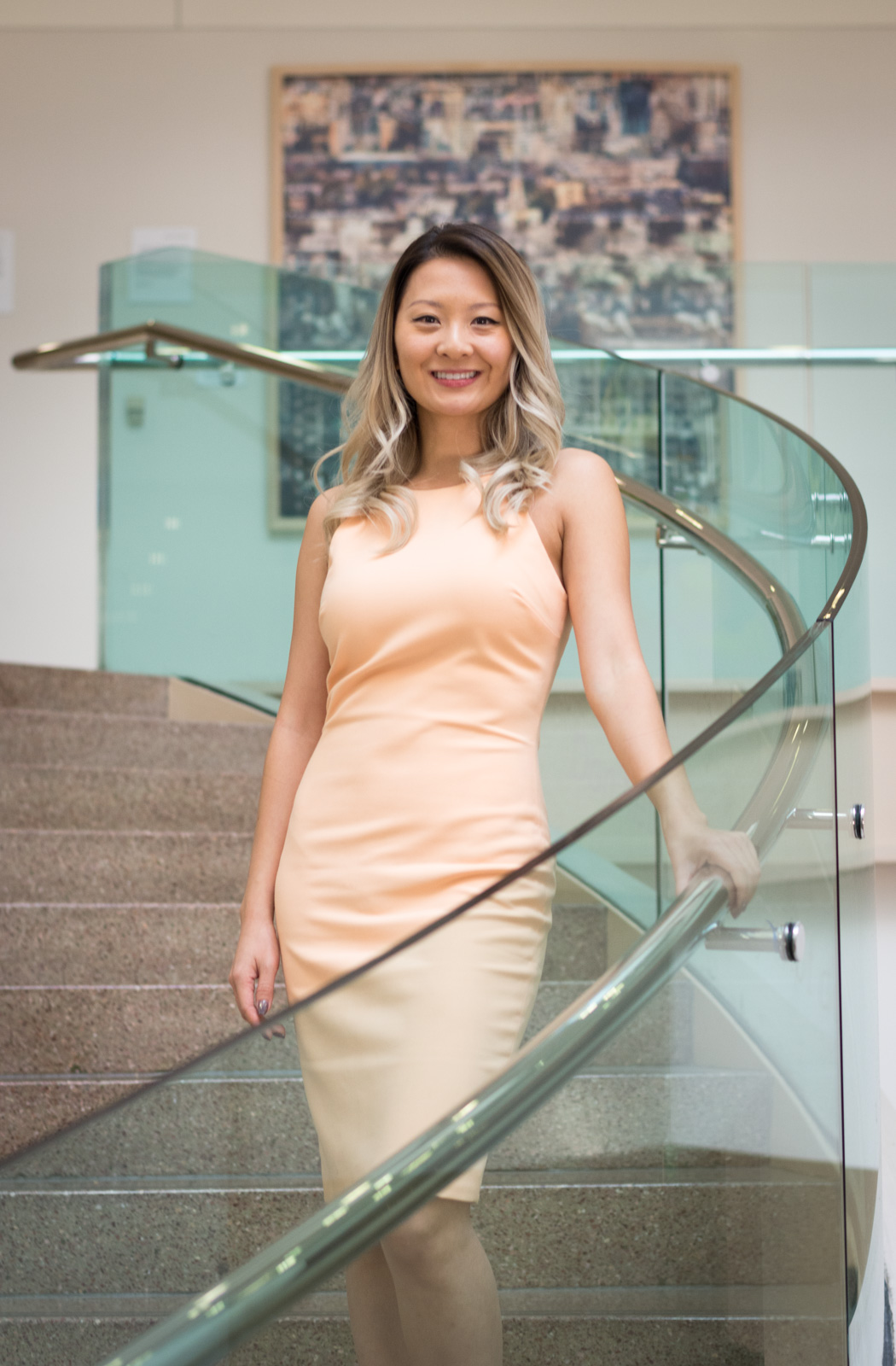 After witnessing her pregnant friends struggle to find work-appropriate clothing, alumna Jenny Leung was inspired to create BellaNové. The maternity fashion brand allows people to rent form-fitting dresses, tops, bottoms and outwear appropriate for the workplace.
(MacKenzie Coffman/Assistant Photo editor)
BellaNové strives to help pregnant women slay in the workplace, said founder and alumna Jenny Leung.

Leung said she came up with the idea for the maternity fashion brand after learning that many of her working pregnant friends struggled with finding inexpensive clothes suitable for a workplace environment. Pregnant women grow out of their clothes quickly, Leung said, and listening to an NPR segment about Americans throwing away 15 million tons of clothing in landfills each year inspired her to use a shared economy, or rental, model for the clothing brand. Leung pitched the idea for BellaNové in spring 2016 during a class at the UCLA Anderson School of Management in which students worked on a feasibility analysis for a potential start-up company. The clothing brand launched with the help of a team of UCLA business students. Along with its motto of balancing motherhood with life, BellaNové stands for "beautiful nine" – nine beautiful months of pregnancy, Leung said.
"What we're doing is really helping empower women because of transitions – they're going through a lot physically, emotionally, psychologically," Leung said. "How do we help (women) go through it all, be confident and still kick ass at work."
As pregnant women struggle with physical changes in their body and symptoms such as morning sickness and swollen feet, some women often don't feel comfortable in their own skin, which makes them feel less confident in the workplace, she said. BellaNové rents out dresses, tops, bottoms and outerwear appropriate for the workplace that are also made out of thicker material for comfort, she said.
Matt Cox, a UCLA alumnus and teammate of Bellanové from its inception, said seeing his pregnant wife struggle to find cheap, professional maternity wear compelled him to help out with the brand. Pregnant women often have to face challenges in career development because of the societal expectation that they should take more time off work than men should. For every child a woman has, she also has a decrease in salary while men who become fathers tend to benefit from an increase in salary, he said.
"We are trying to help more women who are serious about their careers and don't want to have to sacrifice that just because they're having kids," Cox said. "This is a small movement toward helping women overcome some of the workplace changes that come with pregnancy."
The e-commerce site provides three options for rentable clothing packages women can rent per month. Cox said the Starter Closet option, providing five clothing items for $129 per month, caters to those who just want to add a bit of variety to their existing closet, while the Ultimate Closet option of 12 clothing items for $199 per month provides a practically full wardrobe. The online collection ranges from polka-dot print ankle pants to bodycon dresses, and customers can choose which items they will receive each month.
"The idea is that you recycle (the clothes) out every month so that you still have fresh clothes that also correlate to your changing size," Cox said. "That way, you're never stuck in a position of having poor-fitting clothes because you get a pretty regular refresh."
The shared economy model BellaNové uses is rising in popularity particularly among millennials, Cox said.
Diondraya Taylor, a third-year psychobiology student, recently completed her one-year marketing internship with BellaNové in September. Aside from specifically targeting professional attire for pregnant women, Taylor said BellaNové mostly stands out from other maternity clothing brands by having customers rent clothes with a monthly membership. The rental model makes the clothing more accessible to women who may not be able or willing to spend the amount of money it takes to maintain a consistently changing professional wardrobe, she said.
"Maternity clothing gets really expensive, and business wear is already expensive," Taylor said. "(BellaNové) helps expectant mothers have more agency over their style in a time where it wasn't always feasible financially to have all of those options."
In starting a company that targets a specific problem, Leung said she encountered challenges along the way. She said many people don't realize how big of an issue pregnancy in the workplace may be, so part of starting the company was to educate the public through marketing that a quality clothing brand for working, pregnant women can be an option. In 2017, BellaNové finally took off after a year of rejections and struggles to place in competitions, Leung said. She refined her business plan by improving her pitch so that it better resonated with the audience and applied to the UCLA Anderson Knapp Venture Competition for the third time, winning second place with her idea for BellaNové. She was also awarded prize money, which served as a major turning point for her company, she said.
"I love what I'm trying to do and what my mission stands for," Leung said. "We are built specifically for working (pregnant) women. … Our service and our selections and everything we do is to make the process as easy as possible."