Sex, drugs and diamonds: Alumnus' cutting-edge jewelry caters to celebrity clients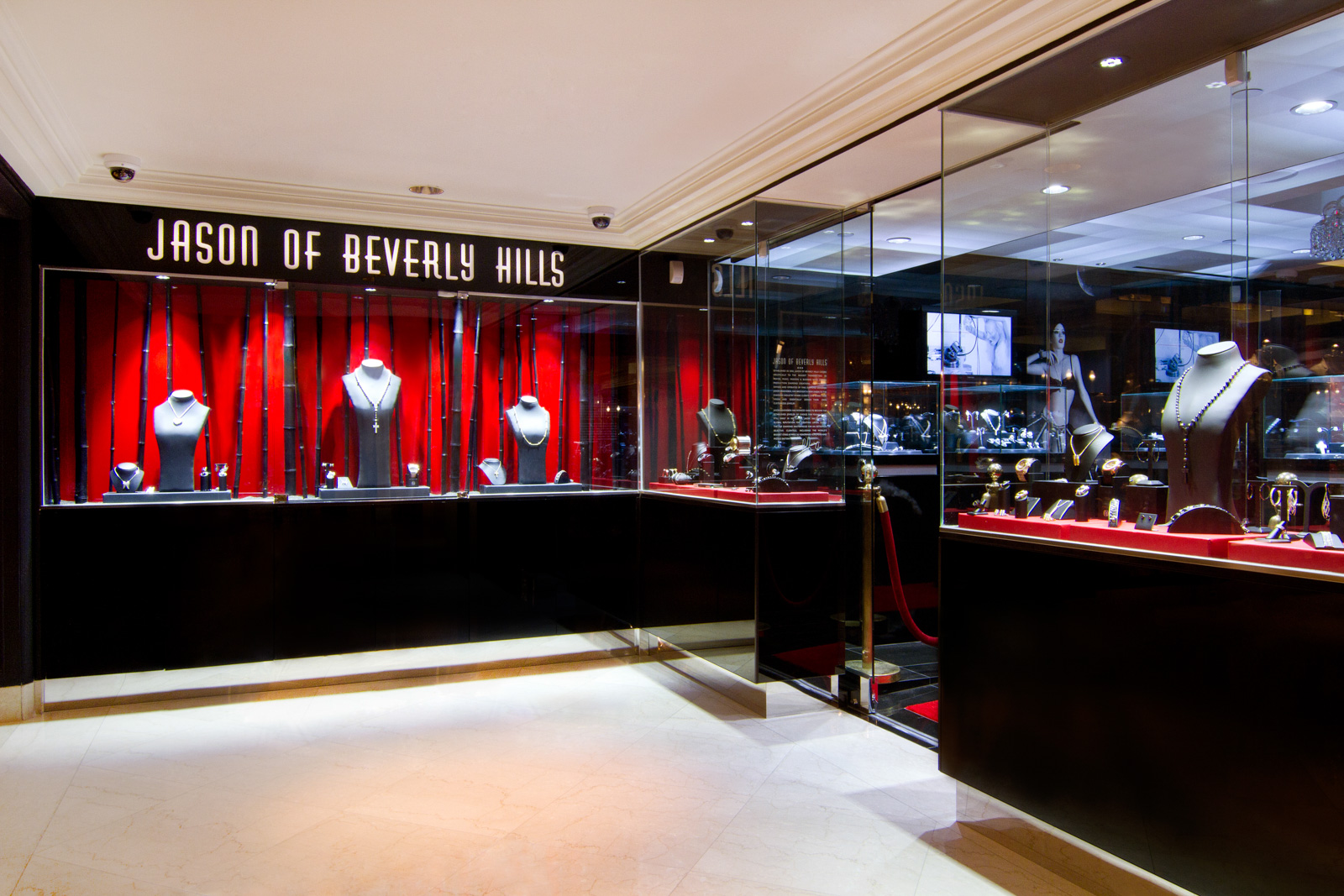 Jason Aresheben, a UCLA alumnus, founded his jewelry store Jason of Beverly Hills in 2002. The business is now a multimillion-dollar operation, offering outlandish jewelry and catering to an elite clientele. (Courtesy of Jason of Beverly Hills)
Jason Arasheben crafts jewelry not meant for your grandmother's eyes.
Having founded his store, Jason of Beverly Hills, in 2002, UCLA alumnus Arasheben has become internationally renowned for his outlandish, diamond-embossed jewelry, which often veers into provocative designs unheard of in traditional jewelry-making, featuring themes like sex and drugs, he said. Arasheben's selective business, now a multimillion-dollar operation, caters to an elite clientele, including Jennifer Lopez, Kim Kardashian and the late Michael Jackson. Clients can design their own pieces, if ambitious enough, or choose from Arasheben's array of ready-made designs.
"I'm anti-conformist and go against the grain. I like to do pieces that challenge the level of creativity, so my stuff is definitely not for everyone," Arasheben said. "If I know my mother's going to like it, I don't want it in my collection."
Arasheben said he wants his jewelry to communicate a certain image of the client, with the personal style of each client dictating how the design process is carried out. However, regardless of how the design process plays out, Arasheben's jewelry tends to be crafted from high-end materials such as gold, platinum and diamond. Rapper Drake's new owl piece, which uses 100 carats of Asscher-cut diamonds and over a kilogram of white gold, was presented to the musician in a solid gold birdcage. Jesse Mancha, the brand's district manager, said Arasheben works primarily with such materials because, simply put, they are the best and most expensive.
The brand's Freedom Collection includes watches with four-carat diamonds that lie between the timekeeping mechanism and dial of the watch, creating the illusion of floating diamonds, somewhat like a snowglobe. Mancha said the effect is one of the signature elements in Jason of Beverly Hills' Freedom Collection, and serves as one of the original concepts the brand tried to implement.
In typical jewelry design, gold and diamonds are fashioned into hoop earrings and diamond studs, styles Arasheben said he finds to be overly mundane. His creations, such as a razor blade necklace dripping diamond blood droplets, embrace provocative themes and interpret sex, drugs and violence as art. Other pieces include a syringe filled with floating rubies, which allude to addiction to diamonds and opulence.
"We have jewelry that's related to death, jewelry related to sex, jewelry related to drug use, and I embrace all that," Arasheben said. "It's all about being creative and expressing it through jewelry."
The Bespoke Collection, featured on Arasheben's website, is host to the store's most elaborate custom-made pieces, made from scratch and designed side by side with clients. The collection includes the Bespoke diamond loafers, a pair of men's shoes completely encrusted in glittering diamonds with a retail price of $2 million, said Rachel Meis Verne, the brand's director of communications and events. Most notably, the shoes were worn by Nick Cannon on the America's Got Talent finale to complement his all-white garb. Another item featured is a colorful rendition of Stewie from the television show "Family Guy" with his signature squinted, arm-crossed pout formed in a diamond pendant.
"(Arasheben) is willing to make pieces that haven't been done before in jewelry," Verne said. "He's the guy who comes in wearing a maroon suit, and that eccentricity is very evident in his creative process."
Alongside the pieces in the Bespoke Collection, Arasheben also designed the championship rings for the Los Angeles Lakers in 2009 and 2010, which rank among the most precious pieces he has created, he said. Delivered just a few days ago, Arasheben also designed the Golden State Warriors championship ring, which intertwines aspects of the team's season into the design. The ring reflects the architecture of the Oracle Arena with cross designs and uses 17-point and 18-point diamonds to represent the 2017-2018 championship. Similarly, the 74 blue sapphires resting among the diamonds displays the team's 74 combined wins.
"The ring has multiple storylines in that it speaks on the season that the players had, the identity of the team and the history of the organization," Arasheben said. "I think that we build into the design little easter eggs and storylines that you might not necessarily see or understand unless it's explained to you."
Arasheben said when those among his clientele request over-the-top designs, the process becomes increasingly personal. Each client is different, he said, and he sometimes goes back and forth with the client discussing various designs, aiming to create a narrative within each piece.
"I veer away from traditional jewelry design because quite frankly, it's boring. Everyone has been there and done that," Arasheben said. "Each person who comes into my store and decides to get something does so because they know I don't craft typical jewelry."