Tai chi instructor teaches health benefits of the martial art to students, faculty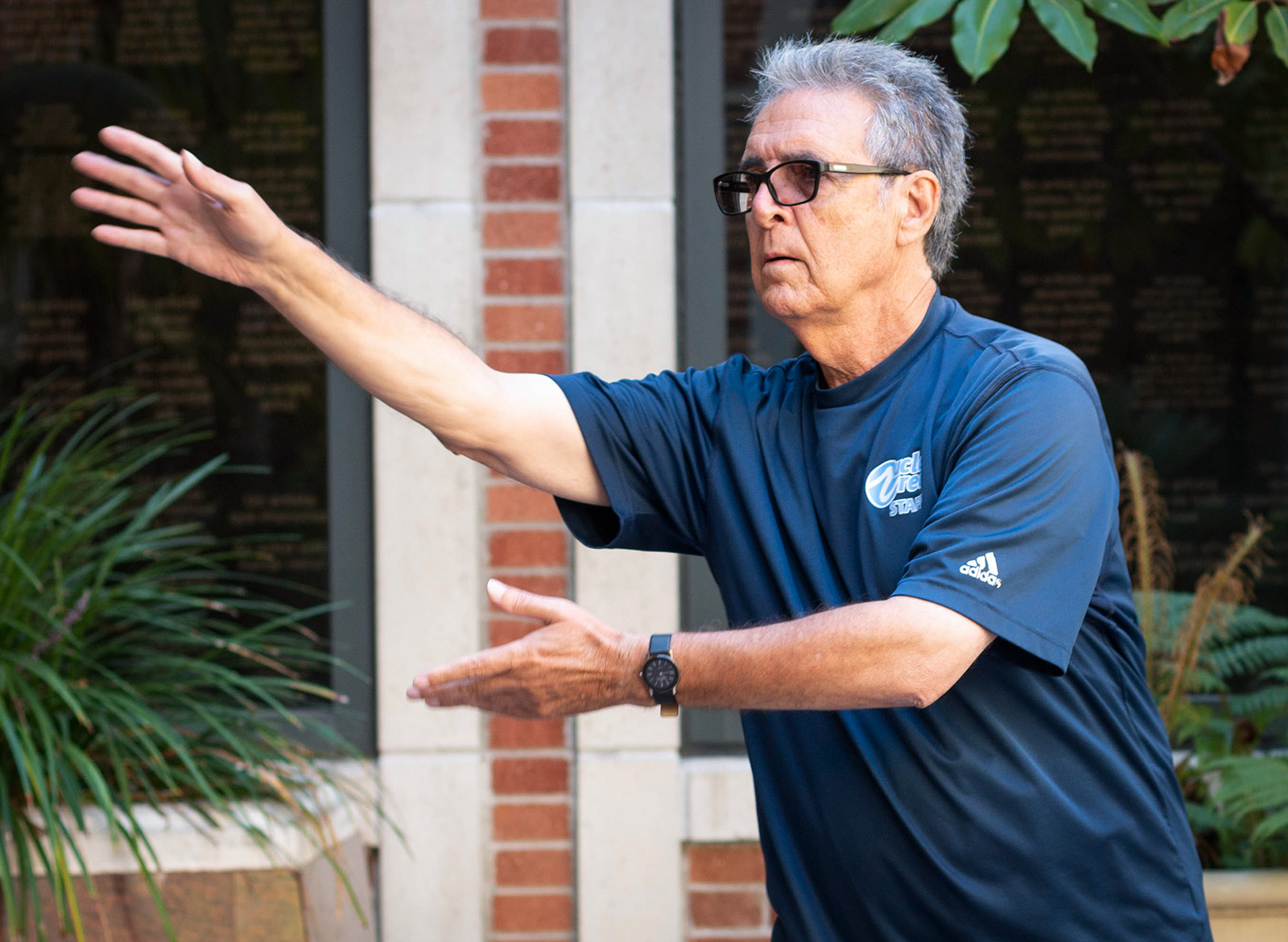 Peter Asco teaches tai chi to UCLA staff and faculty through the FITWELL program, and also to students at the John Wooden Center Fowler Museum's courtyard. His next free class, open to the public, will take place Friday at 11 a.m. in Fowler Museum's Davis Courtyard. (Rachel Lee/Daily Bruin senior staff)
Tai chi with master Peter Asco
Fowler Museum Davis Courtyard
Tomorrow, 11 a.m.
Free
Correction: The original version of this article incorrectly stated the tai chi classes at the Fowler museum are weekly. In fact, they are monthly
This post was updated Oct. 11 at 6:23 p.m.
Peter Asco said he hasn't caught a cold in 20 years.
Asco credits his resilient health to the practice of tai chi, which not only has the ability to reinforce the immune system, but also offers a plethora of other physical and mental health benefits, such as stress relief, he said.
In the upcoming winter quarter, Asco will celebrate his 20-year anniversary of teaching tai chi at UCLA. While Asco teaches tai chi classes to faculty and staff on campus through the FITWELL program, he said he also teaches students at the John Wooden Center and monthly sessions in the Fowler Museum's Davis Courtyard. The free-to-the-public tai chi class will take place Friday at 11 a.m. in the Fowler Museum courtyard.
"At the time that I came to UCLA to teach, there may have been workshops or presentations for tai chi, but there were no regular ongoing tai chi classes offered, so I started that trend," he said. "The positive effects on your bodily system begin to take place on your first class as you begin to observe the outcome of internal change and improvement."
Asco said he structures his classes utilizing the joint practices of qi gong and tai chi, exercises that provide a wholesome internal, mental and physical equilibrium in the mind and body when paired together. He begins by introducing fundamental concepts – the philosophy of yin and yang energy forces and the idea of qi, which is the life force he said exists within all people. Qi gong, which involves devoting attention toward the internal processes of the body and mind, is a yin activity.
On the other hand, "tai chi chuan," which translates to "tai chi fist," flows within the vein of martial arts and constitutes a yang activity, which is characterized by the action of moving in space through external expression. Asco said qi gong's elements of mindfulness and meditation condition the body's joints and organs to become more supple. Meanwhile, following up with tai chi allows the body to express its energy flow through external yang, he said.
There are serious mental and physical health concerns, such as mental exhaustion and a weakened immune system, that arise from neglecting a sense of balance between the yin and yang energy forces, Asco said. Qi gong and tai chi together offer a means of naturally balancing the energies, a quality Asco said is essential to leading a healthy and happy lifestyle.
Mandy Muenzer, the FITWELL education and outreach coordinator, said she did not immediately recognize the health benefits of tai chi until she practiced it herself. Because tai chi was not particularly a sweat-inducing, intensive cardio workout, she mistakenly believed it was not a substantial or legitimate exercise form for the body. Upon taking a class with Asco, Muenzer said she realized the muscular endurance benefits of tai chi. The exercise requires that the practitioner maintain a slightly squatted position throughout, and Muenzer said she experienced reduced stress and greater awareness of both her body and its environmental surroundings.
"My impression of tai chi as a 20 year old before I ever experienced it was that it was for older people who couldn't move fast anymore," Muenzer said. "But as I've aged, I've grown to appreciate the art of going slower and the stress-relieving benefits it has to offer, and I found greater value in my newfound expanded awareness of energy."
Aside from its stress-relieving qualities, Christie Ford, an alumna and regular participant of the Fowler Museum sessions, said tai chi boosted her confidence in her own abilities. Asco's class structure and welcoming personality fueled her motivation for improving in tai chi, she said. She recalled his teaching methods of employing humorous anecdotes involving E.T. and brushing a horse's mane to describe and help remember moves.
"I was very busy and anxious all the time when I was in university between studying and tests, so when I went to class it was calming and we (students) didn't feel that we were in danger of failing since the class focused on our development," Ford said.
After first learning tai chi with Asco, Ford said she felt a marked transformation in her lifestyle and mindset, including her heightened sense of responsibility to her body and awareness of how closely health was tied to her quality of life experiences and external environment. Ford said the courtyard setting's flowering plants, flowing water and birds flying overhead are feng shui, a concept in Eastern philosophy which claims to use energy forces to harmonize individuals with their surrounding environment. The natural environment is conducive to the experience of tai chi, she said.
Weekly tai chi sessions help students hone crucial mental and intellectual skills to help them in their studies and general lives, while also garnering positive physical impacts, Asco said. He added the deliberately slowed pace and mindfulness of tai chi fosters responses to stress that allows the individual to maintain composure under stress and even use stress in one's favor to fuel inventiveness and adaptability skills.
"Suddenly you are in charge of your mind, and not your mind in charge of you," Asco said. "Make sure you are the pilot, not the passenger."
At the end of his quarterly classes, Asco said he asks students how they feel after having experienced tai chi and its side effects. The reactions are always positive and indicative of the mental and physical states healthy and happy people should continually experience in ordinary daily life, he said.
"What everybody started saying was, 'I feel good. I feel great. I feel energized,' with a big smile," he said. "I looked at them and I said, 'No, you don't – what you feel now is called, 'normal.'"