Restaurant review: Broxton capitalizes on golden hopportunity with flavorful drinks, comfort food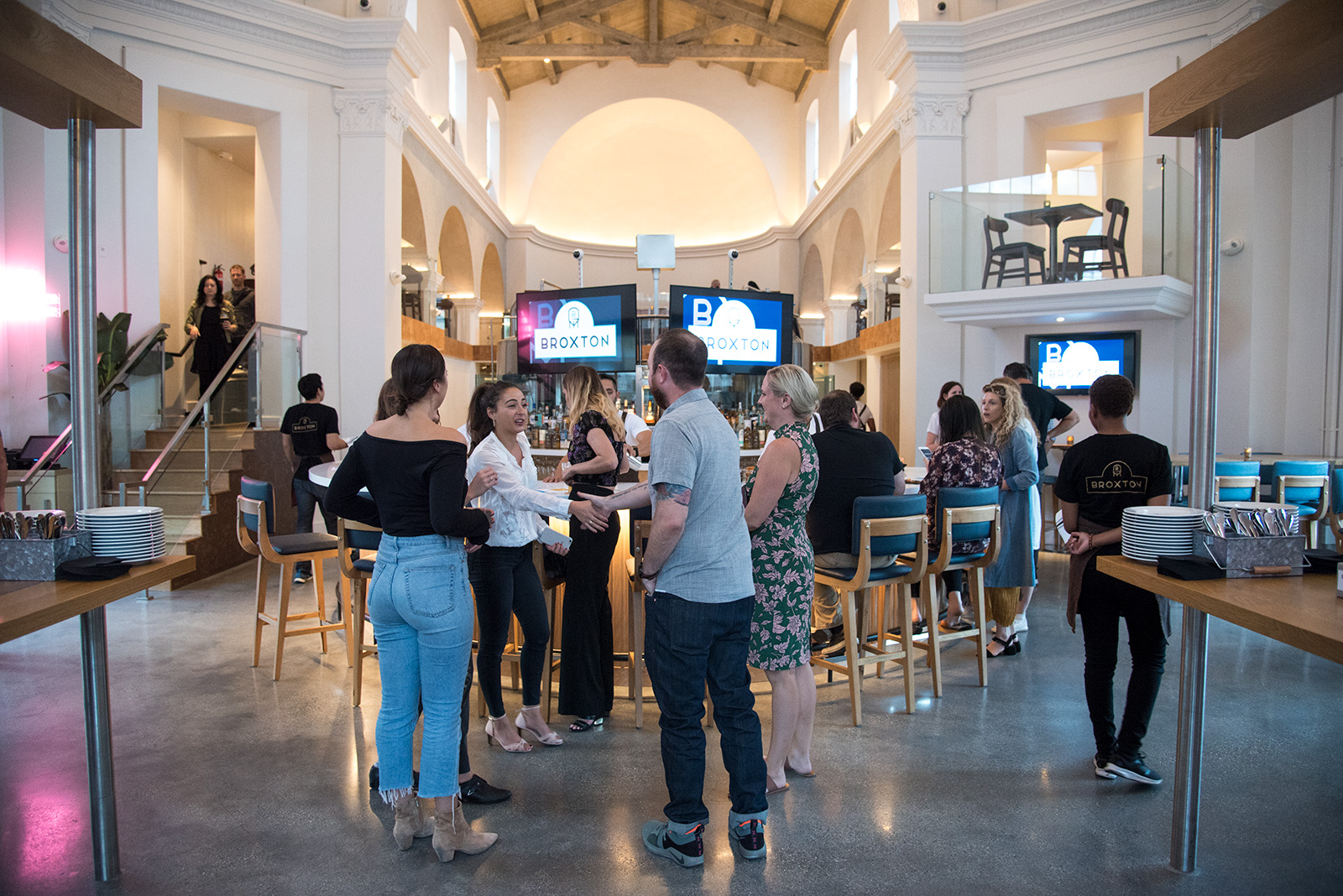 Broxton, a brewhouse located between Broxton Avenue and Westwood Boulevard in Westwood, opened Sunday. The location offers original cocktails, Southwestern-inspired comfort foods and vegan options, and will soon add house-brewed beer to the menu. (Daniel Leibowitz/Daily Bruin staff)
Broxton
1099 Westwood Boulevard
Los Angeles, CA 90024
Broxton is not your typical brewhouse.
Owned by Artisanal Brewers Collective, Broxton opened its doors to Westwood residents Sunday and has since been serving a variety of cocktails and beers. The eclectic restaurant also offers a selection of Southwestern-inspired comfort foods and vegan options. Situated in the Janss Investment Company Building between Broxton Avenue and Westwood Boulevard, the pub plans to begin brewing their own beers soon, but their unfinished menu still satisfies.
The beer selection was limited because the in-house brewing process has yet to commence, but Broxton offers two selections of ABC's beers, both priced at $7. For added variety, they also offer a selection from other breweries for $8. The "Guarnere Belgian Style Session IPA" from Bluebird Brasserie is a great option for those who like hoppy beers. The bitter IPA is smooth and fragrant, with strong, floral and herb-like flavors.
The playful cocktail selection abstains from generic drinks and instead provides inventive alternatives like the "Unicorns & Sunshine," a concoction of empress gin, lemon, passion fruit, elderflower, rose lemonade and lavender bitters priced at a steep $13. Broxton serves up the photogenic drink with a layer of purple atop a yellow base that requires mixing for a balanced, refreshing taste. The palatable cocktail was delightfully floral without a soapy aftertaste but lacked the passion fruit flavor it promised.
Past the beverages, the dining menu features biscuits as a snack, accompanied by maple butter for $5. The plain, dry biscuits are relatively unsatisfying but are somewhat redeemed by the sweet and subtle maple infusion in the butter. Together, the items form a likable option, but on their own the biscuits are mediocre.
The "plates" section of the menu presents exciting options including an elevated version of a classic, simply titled "Mac n Cheese Skillet." The dish comes with fusilli cooked al dente, served in the pan with cheddar cheese, pickled jalapenos and a pleasantly crisp crust. While delicious, the pasta's simplicity doesn't warrant its high $14 price tag. For a better depth of flavor, the dish could benefit from a blend of cheeses or a sharper cheddar that breaks away from the Velveeta-esque flavor. Though the pickled jalapenos were a welcome twist, they tasted more like dill pickles and should have boasted more spice to complement the gooey, one-dimensional cheese.
Standout menu item "The Big Mohawk" is a completely vegan burger that uses seamless patties with vegan American cheese, lettuce, onions and pickles brought together with their special sauce. The $18 double-decker is wonderfully crunchy, with the texture of real meat and vegan cheese indistinguishable from dairy cheese. The flavor-packed special sauce was a punch of tart, spicy flavors, making "The Big Mohawk" a great option for vegans and meat eaters alike. The burger is accompanied by thick, lightly-salted fries that can satisfy one's fast-food cravings in a more upscale atmosphere.
Strangely enough, Broxton offers seating for all moods – bar seating, an elevated seat-yourself area with tables, a relaxing outdoor patio and an upstairs dining area with a birds-eye view of the beer tanks. The architecture of domelike ceilings and high windows creates an airy and comfortable space that feels almost like a winery, that is, until one steps back out onto the streets of Westwood. For the most part, the interior is sophisticated – neutral with blue accents and retro hanging spheres as lights. The only unpleasant clash is a neon pink sign reading, "This is the sign you've been looking for," with the numerous televisions broadcasting sports games.
Although the brewhouse is charming, it is unclear whether the space is a bar, a brewery, a hangout spot or a restaurant. It might be all three, but in its current state, it's difficult to tell. The imaginative drinks paired with enjoyable food and board games make the brewery an ideal space for all ages, but Broxton will have to find its primary aesthetic to solidify its identity.