UCLA co-hosts symposium to empower women, young creators in animation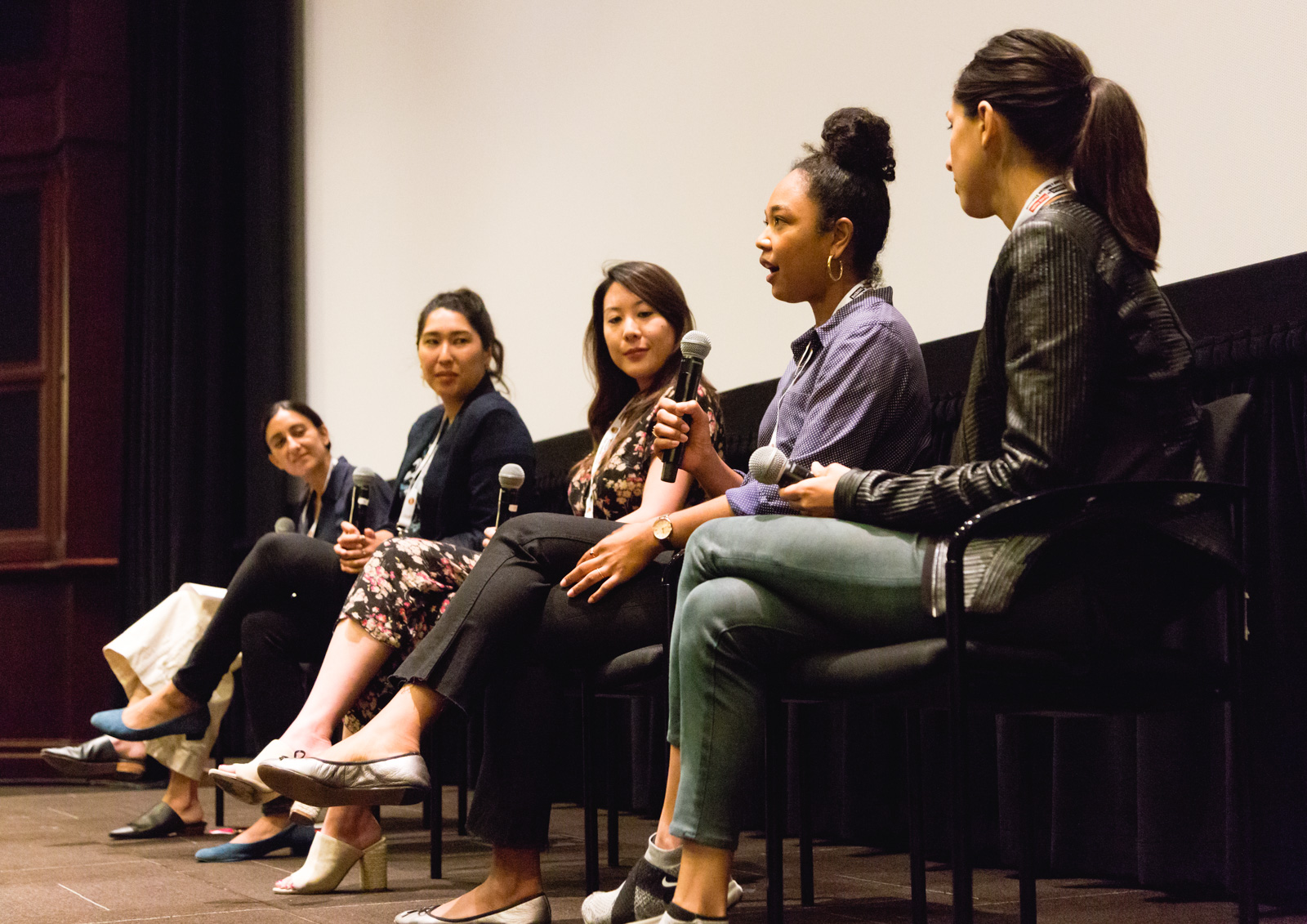 Panelists at "Breaking The Glass Frame: Women & Animation Past, Present, Future" discussed strategies for encouraging more women and other underrepresented groups to pursue careers in animation.
(Amy Dixon/Photo editor)
Women are moving their creativity beyond pen and paper to discuss places for marginalized groups in storytelling within male-dominated fields.
Jointly hosted by CalArts, the UCLA Animation Workshop and Women in Animation – and organized by leadership from USC, CalArts and UCLA – the three-day symposium "Breaking The Glass Frame: Women & Animation Past, Present, Future" gave attendees a chance to reflect on the current state of the creative world through a series of panels discussing diversity in animation. Presenting at USC's Ray Stark Family Theatre, panelists drew from their own obstacles and successes in the film industry to promote marginalized voices in film, strategies for breaking into the "boys' club" and creative approaches for shaping film students to become leaders in their field.
"We don't just want to represent the voices and experiences of a segment of the population because the people who are watching media are from all genders and areas," said Maija Burnett, the current director of the character animation program at CalArts. "The primary main characters of many films and TV are men and boys, and it's time to make things more equitable."
For Emily Limyun Dean, an Asian- and Australian-American writer and director who spoke on the panel "Women in Animation: Next Gen World View," working toward this equality meant taking the extra time and effort to add multiple skin tones to background characters during storyboarding for "The Lego Batman Movie." This way, the movie ultimately featured a more diverse set of background characters. Other panelists recounted similar experiences, including the importance of trusting in themselves as much as they trust in the characters they create.
Although women do often dominate animation programs in higher education and occupy managerial roles in the film industry, Celia Mercer said that few move on to direct their own content. Mercer, a professor of traditional and digital animation at UCLA's School of Theater, Film and Television and a chair of UCLA's Animation Workshop, was one of four main organizers of the event, and said she hopes it will empower women and other underrepresented animators to use their ideas and experiences to their advantage.
"I think things are slow to change and we are hoping that something like this symposium will start to move that needle a little further a little faster. Raise a little more consciousness," Mercer said.
Change takes time, Mercer said – but so does animation. During one of the Sunday panels discussing trailblazing and what the future of animation may look like, panelists explained that because animated films are so time-expensive, major film studios like Disney have often avoided taking chances with the stories that they tell and with the artistic teams that they choose to hire. Since animated films about white, male characters have worked in the past, stories about LGBTQ or biracial characters, for example, are considered potentially risky in comparison.
Jacqueline Barnes, a UCLA graduate film student, said that beyond the world of animation, films have the power to influence how people perceive the world. Barnes helped plan and moderate the Wall of Action, an interactive display at the symposium to which visitors shared advice for students, their current concerns and thanks to trailblazers and mentors. Young creators must be confident that there is a place for them in the film industry, she said, and they must fight for that place because their ideas are important and worth sharing.
"Put simply, cartoons affect children," Barnes said. "What people see, they internalize, and if they are constantly taught that women don't belong, they will turn to stereotypes."
Nevertheless, Burnett said the film industry seems to be on the cusp of moving in a positive direction as it begins to place more of an emphasis on inclusion. Burnett, who moderated a panel Sunday afternoon on effecting positive change in academia, said offering role models and courses that address the issue of visibility can give faith to students who aim to work on their own creative projects. Because film holds such an important place in our society, she said, continued proactivity is especially important.
"Film and art are very much a reflection of the culture that we're in, but so far that reflection has only been a partial one," Burnett said. "With so many different access points to media, we have an obligation to make sure that we include positive portrayals of women and underrepresented groups."
Juliette Le Saint is the director of prime magazine, the Daily Bruin's culture, lifestyle, and arts magazine. She was previously the Illustrations Director and an Illustrations contributor. She is a third-year Cognitive Science student.
Juliette Le Saint is the director of prime magazine, the Daily Bruin's culture, lifestyle, and arts magazine. She was previously the Illustrations Director and an Illustrations contributor. She is a third-year Cognitive Science student.