Celebrated country singer Emmylou Harris returns to Royce with nostalgic show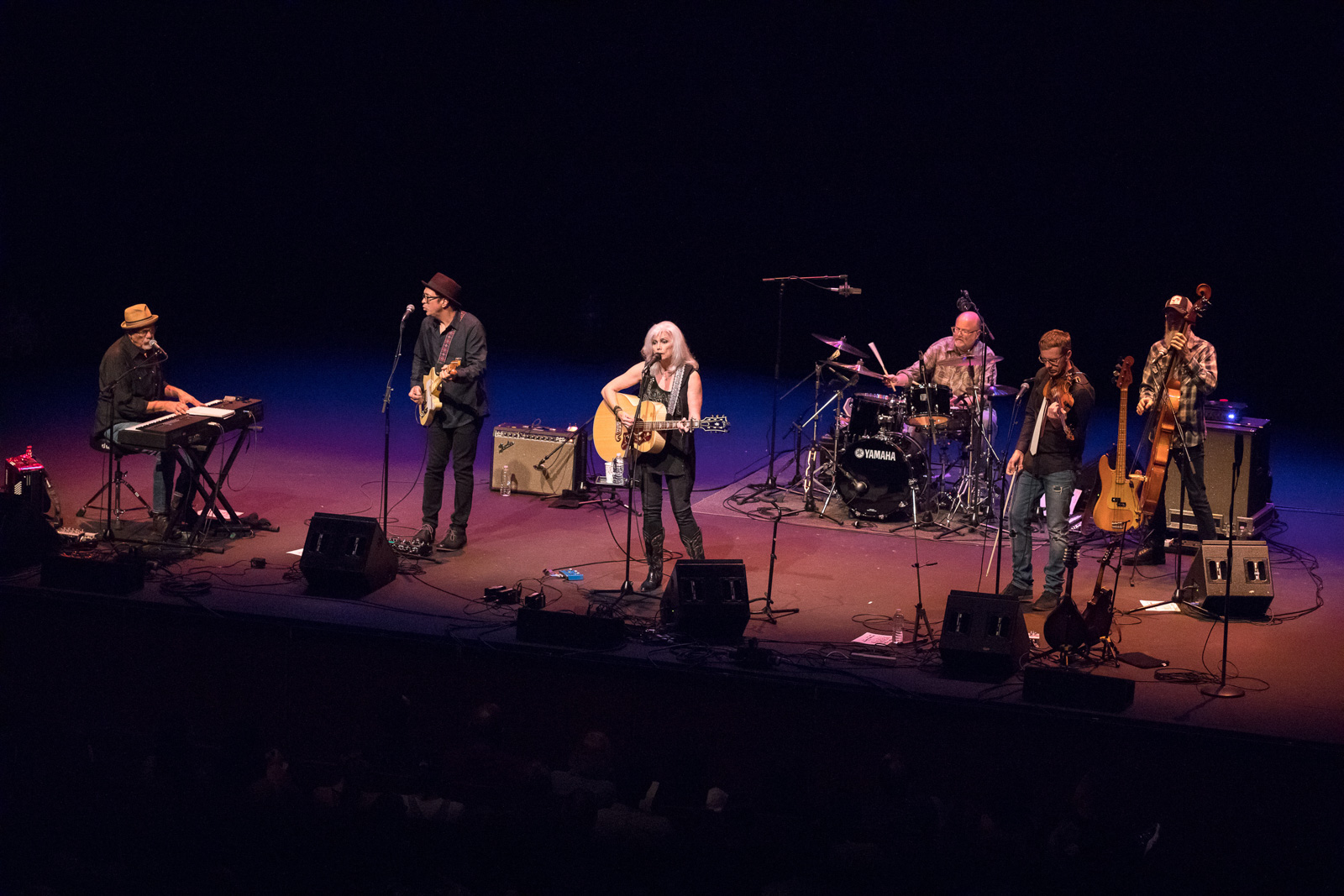 Country musician Emmylou Harris, a 13-time Grammy award winner, performed at Royce Hall on Thursday night with the Red Dirt Boys. Some dated songs from her set list were polished for the modern stage, she said. (Courtesy of Reed Hutchinson)
"Do record stores even exist anymore?" joked Emmylou Harris with her crowd at Royce Hall.
The Grammy award-winning artist and the Recording Academy's 2018 Lifetime Achievement Award winner reminisced about music consumption in the older days, saying that today, one can find her songs in the ether – referring to streaming services, most likely. Performing Thursday night with the Red Dirt Boys, Harris brought to life a repertoire of dated work, redefined for the modern stage. Singing of best friends, broken hearts and beautiful places, the country musician delivered a performance that was simple, intimate and nostalgic.
Some seats in the mezzanine level were empty, but Harris's loyal fan following was evidenced by the multiple heads of gray hair that stood out in the orchestra section. One earnest fan, Greg Dowell, had driven up from the San Diego area to watch Harris perform. Dowell had seen her live for the first time in 1968 and has followed her musical evolution from pure count to jazz-infused, he said.
"She's just a beautiful woman and a beautiful spirit," Dowell said.
Kristy Edmunds, the director of the Center for the Art of Performance at UCLA, also declared her excitement as a prelude to the concert. She welcomed the audience, saying Harris's lyrical authenticity can span generations. Edmunds also requested attendees to refrain from photography and videography as much as possible, instead urging them to enjoy the moment.
"If you must prove by some blurry photograph that you were here, then please, don't use flash," Edmunds said. "We're not here just to document that we were here; we're here to make a memory."
The show began shortly afterward, the five Red Dirt Boys stepping onto the stage and taking their place behind their respective instruments. Harris appeared seconds after to a significantly louder applause. Her entry was simple rather than showy – consistent both with her music and with the essence of the concert at large.
Clad in all black with contrasting silver hair, Harris opened her arms out to the audience, basking in the warm floodlights of the stage rim. Without a word, she proceeded to pick up her sand-colored semi-acoustic guitar, and the band broke out into the evening's first number, "Guitar Town."
The show was honest and unpretentious. From Harris's candor with her audience to the minimal stage setup, it became very clear that there were only two points of focus for the night – music and nostalgia.
Harris ended the opening song by recalling the first time she performed at Royce Hall in 1975. At various points through the night, she relived the past, telling stories of old friends like Bob Dylan and revealing anecdotes behind the making of her '80s hit album "The Ballad of Sally Rose."
"I've got nostalgic in my old age, nothing wrong with that," she said, taking a sip of tea from the paper cup placed on her music stand.
The second song of the night, "Two More Bottles of Wine," marked an upbeat turn. Harris grooved to the music, moving between guitar wires on the floor and rhythmically stomping her ornate boots to the many keyboard and banjo solos. She displayed vocal range in addition to instrumental prowess, particularly in slower numbers like "Wayfaring Stranger" and "Calling My Children Home." She performed the latter track with no instruments, in chorus with three of her bandmates, resulting in a pensive environment. Harris later connected the song's longing lyrics to her experience as a parent, and to the current situation in Mexico that is separating mother from child.
Much of her material was inspired by real events, reworked from her catalogue of older music. She openly stated some of the rustier songs needed polishing and even admitted to having a cold, momentarily turning her back to the audience to blow her nose. What could have been deemed poor showmanship was well received by the audience members, who laughed alongside Harris. Neither her sore throat nor her blunt criticisms of her own music could stop one fan from hollering from the back of the orchestra, "We love you, Emmylou!"
Evelyn Malamut, a second-year computational and systems biology student at UCLA said she is an ardent fan of Harris and has attended bluegrass festivals since she was a child. Introduced to the genre by her parents, Malamut said it wasn't typical of people her age to appreciate country music – she couldn't count many audience members under the age of 30 – but enjoyed the show's variety of songs nonetheless.
"It was kind of a little window into home," Malamut said.
Kate Rasmussen, on the other hand, was not familiar with Harris's discography, or bluegrass in general, and was introduced by Malamut. The second-year communication student said she was able to appreciate not only Harris's work, but also the fact that she succeeded as a female artist in an era in which women weren't equally encouraged to build strong careers.
Harris closed the show with a heartbreaking throwback to the '70s – "Boulder to Birmingham," her ode to her late collaborator Gram Parsons. Her sparkling black bracelet and the metallic plate on her guitar cast luminous shadows on the walls of Royce Hall as she sang with remarkable restraint, "The hardest part is knowing I'll survive." The emotion from previous numbers culminated in a finale befitting the sentimentality shown throughout her moving Americana showcase.
And despite decades of music-making behind her, Harris doesn't plan to stop, or even compromise, on the authenticity of performance. She'll drink as much tea as she needs. But the day she gets a teleprompter is the day she'll hang up her rock 'n' roll shoes, she said resolutely.
It's not just her music that was timeless – it was almost as if Harris wasn't 71 years old at all.
Devjani is the top editor of the Arts and Entertainment section. She was previously the assistant editor for the Theater Film and Television beat.
Devjani is the top editor of the Arts and Entertainment section. She was previously the assistant editor for the Theater Film and Television beat.