Alum's performance art features perseverance of marginalized in academic spaces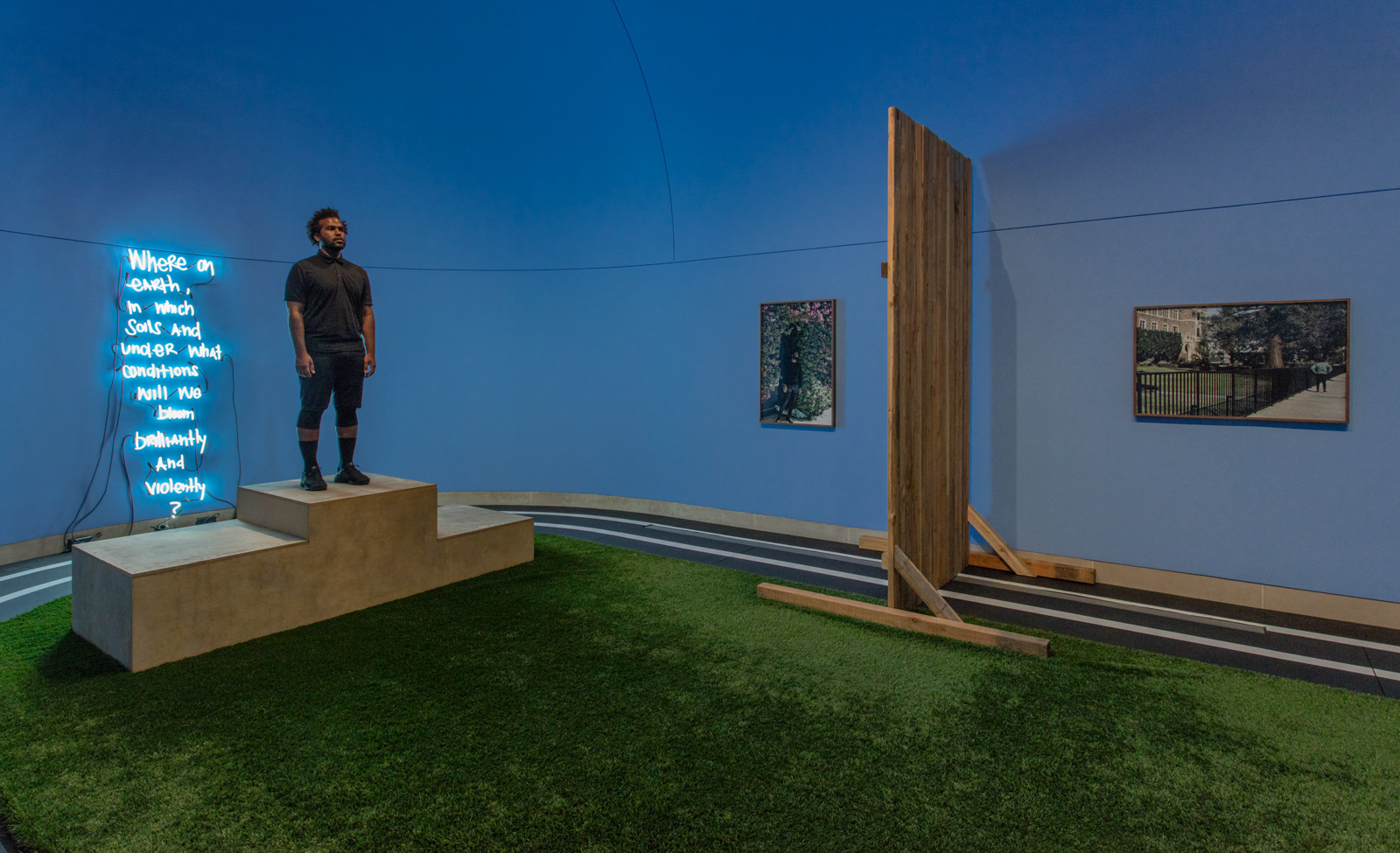 EJ Hill's "Excellentia, Mollitia, Victoria," ran from June 3 to Sept. 2 at the Hammer Museum's "Made in L.A. 2018" biennial exhibition. The alumnus said he used photos, a running track and his own body in the installation to express how people can rise above feelings of insignificance and injustice. (Courtesy of Brian Forrest)
Sept. 27, 2018 11:00 p.m.
If EJ Hill were to found his own university, its motto would be "Excellentia, Mollitia, Victoria," meaning excellence, resilience, victory.
The motto is also the name of his recent endurance performance for "Made in L.A."
Alumnus Hill recently shared his work for the biennial series at the Hammer Museum, which closed this month. Hill received the event's Public Recognition Award for his installation, which expressed the ways people can rise above feelings of insignificance and injustice – particularly affecting black, brown, female and queer bodies – using photos, a running track and his own body. The piece allows viewers to envision how educational spaces might be more inclusive in the future, while exploring the concept of knowledge as a symbol of power and questioning its accessibility, Hill said.
Hill stood on the podium each day that the museum was open for three months from beginning to end of the viewing hours. He did not eat, drink or use the restroom during his performances. His first and only meal of each day began at 9 p.m. and he said his physical endurance further represented the power of the human body over obstacles.
"I really hope that ("Excellentia, Mollitia, Victoria") can serve as a reminder for people of their own kind of strength and power and fortitude in the face of forces that might try to hold them back or keep them down or be a sort of weight or oppressive force in their lives," Hill said.
The performance piece, situated in the Vault Gallery of the museum, featured a running track with photos of Hill in and around his previous institutions decorating the surrounding gallery walls. Texas Isaiah, the visual narrator and collaborator for the project, captured the photos while revisiting the schools Hill had attended. Hill has performed victory laps around each location, symbolizing the overcoming and unlearning of biases of being treated as lesser as a marginalized group in his foundational education.
"I am still alive and thriving within and in proximity to systems that have been designed to keep me out and have been designed to keep me down, and so I think the victory itself is just presence," he said. "I'm here."
Texas Isaiah joined Hill in running laps. Texas Isaiah often explores topophilia – the relationship between people and spaces – in his work and said he was excited to work with Hill because of the emotional labor Hill pours into his projects. While photographing Hill, Texas Isaiah explored his own difficulties with academic institutions and worked through his emotions to heal alongside Hill, he said.
"The fact that we were able to really have these difficult discussions as two men who identify very differently and who have been socialized very differently as well, I think that that's very significant," Texas Isaiah said. "We both brought our histories with us and to the forefront of this work."
Hill's physical presence in the victor's space of the podium created a conversation to complement that of the photos. Hill said standing on the platform represented rising above the challenges he and many others face from educational institutions.
"I think we as people of color, black people specifically, women, queer people (and) anyone else who has been maybe made to feel lesser than or insignificant … know resilience and fortitude in ways that others don't," Hill said. "So I think standing was just a very simple way to symbolize a type of perseverance."
Erin Christovale, co-curator for "Made in L.A.," said Hill's physical presence had a strong impact on the reception of the work since the bodily aspect of his art allowed for viewers to engage more deeply, unlike typical art objects do. Hill garnered regular visitors and people wanted to stand for him, she said.
For each month of the event, Hill changed the color and style of his outfit to mark a shift in mentality. The first month's color was black, representing a mourning of his life before the event and signaling the radical shift forthcoming, Hill said. The second month featured white colors to symbolize a state of peace within himself, and the final month saw Hill in a metallic gold pullover with blue shorts and socks, evocative of his time at UCLA as he worked toward his MFA. After three months of performing and sharing his story, Hill's final day on the podium proved to be an emotional one as viewers gifted flowers and cheered as he stepped off the platform for the last time, Christovale said. Hill said the podium became a home and space of transformation which was difficult to depart from.
"It was a kind of cocoon that as painful and exhausting as it was, it was also comforting in the way that consistency usually is. So it's weird but I was afraid to leave it in a way, so the last day almost felt kind of like a shedding of a skin or something and growth," Hill said. "I don't think they call them growing pains for nothing."
Through the duration of "Made in L.A.," viewers awarded Hill the event's Public Recognition Award through votes and since its ending, Hill said he feels optimistic after reflecting on the adversity he faced because of the vibrant pulse of the younger generation of students succeeding him. Hill has recently begun doing a fellowship at the Radcliffe Institute for Advanced Study at Harvard University and showing photographs in New York City that he had taken on his one day off each week from "Excellentia, Mollitia, Victoria."
"At a certain point, none of this is really about me. It starts with me and it starts from a very personal place, but the hope for all of this is that it's for people coming up after me who might need some sort of visual representation to sort of offer new possibilities," Hill said. This is for the younger me's, my younger selves and all of our younger selves."