Alumna uses costume design to craft characters' auras in 'American Horror Story'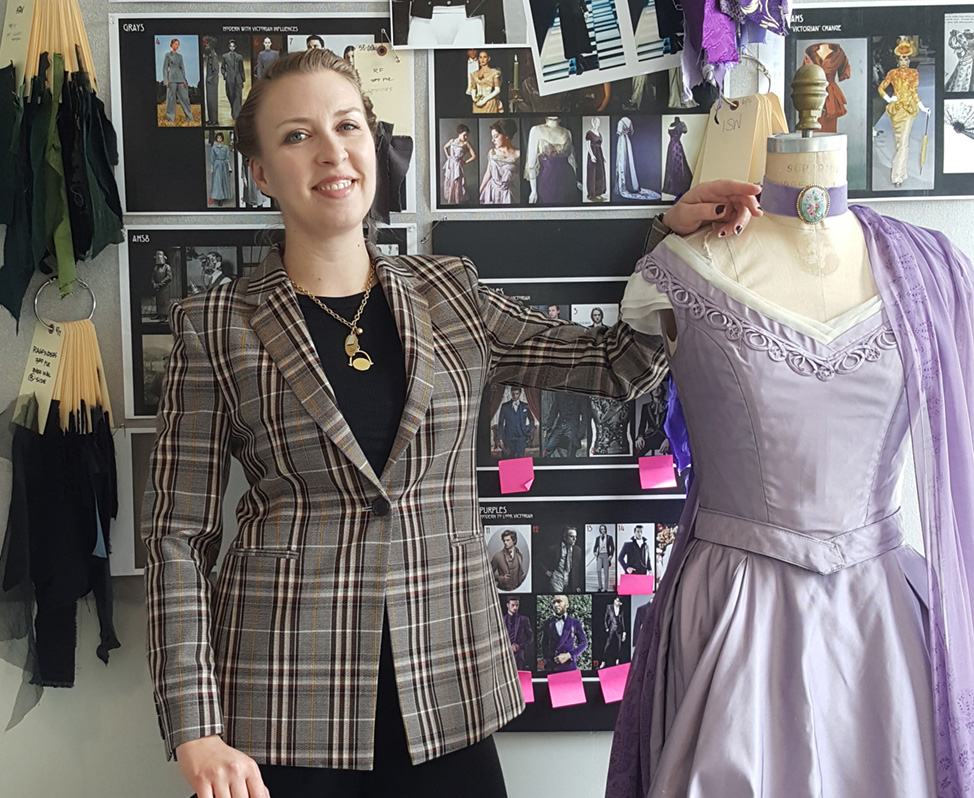 Alumna Rebecca Guzzi works as an assistant costume designer for "American Horror Story: Apocalypse." To emphasize the apocalyptic and horrific nature of the current season, Guzzi alters Victorian and vintage clothing to be specific to each character.
(Courtesy of Rebecca Carr)
Alumna Rebecca Guzzi spends her days aging T-shirts, dyeing costumes and searching for vintage Victorian-looking attire.

Guzzi's ventures are part of her role as assistant costume designer for "American Horror Story: Apocalypse," which premiered Sept. 12. The show explores a different horror scenario each season while maintaining a semiconsistent ensemble cast. The current season tackles a post-nuclear apocalypse setting. Guzzi joined "American Horror Story" as a production assistant in the witch-themed third season, "Coven," and continued to become assistant costume designer for the colonial sixth season, "Roanoke," she said. For the current iteration, she helps solve design challenges such as differentiating the multitude of characters and fashioning an overarching sense of horror through costume, she said.
"(The costume design this year) has been all over the map, from a contemporary influence to Victorian influence to fantasy," Guzzi said. "It's been a lot more difficult but also really fun because there have been so many unique characters in this season."
The show's scripts and the showrunner suggested Victorian influences for the post-apocalyptic costumes create a gothic ambiance. In addition, Guzzi said defining characters through costume design is important to "American Horror Story," because some actors play multiple roles, including characters who are revived from previous seasons. Actress Sarah Paulson, for example, portrays a new character, Ms. Wilhemina Venable, as well as returning characters Billie Dean Howard and Cordelia Foxx. Establishing each character through a specific look and recognizable color palette helps the audience keep track of them, Guzzi said.
"(Showrunner) Ryan (Murphy) and (costume designer) Lou (Eyrich) are both very conscious of this ensemble of actors and who they've played," Guzzi said. "It feels like we've done it all before but we keep coming up with a new challenge and a new solution."
Guzzi said the eight principle cast members staying at the apocalyptic bunker known as the Outpost in the show each have their own mix of modern and Victorian styles. Guzzi said they are additionally categorized into three costume colors – gray for the servants, black for the higher level staff and purple for the elite members. The chosen colors guide the costume design and help audiences determine the status of characters in the Outpost, Guzzi said.
But she does not solely rely on color to define a character. Paulson's Ms. Wilhemina Venable is also defined by her costume's silhouette, Guzzi said. As matriarch of the Outpost, Ms. Wilhemina Venable has a black color palette to emphasize her severity; she is inspired in part by the strict character Mrs. Danvers from Alfred Hitchcock's film, "Rebecca." And her shape is accentuated by the wide shoulders on her vintage jackets, her corseted waist and her angular skirt to contribute to her strong presence, Guzzi said. The show's design choices sometimes serve to suggest plot points that may not be revealed until later in the season, she said.
"Part of the fact of 'American Horror Story' is that everything looks sort of creepy. … Something is amiss, an outfit just doesn't go together," Guzzi said. "You don't give anything away with a character, but you have something that is a bit off and … you don't find out why until later."
The smaller details of Ms. Wilhemina Venable's character design also add to her distinct look, said Eyrich, "American Horror Story's" multiseason costume designer and this year's co-designer with Paula Bradley. In addition to the character's dark lipstick and pointed hairdo, Eyrich said Ms. Wilhemina Venable's accessories, like a ring made out of a tooth and rings with frogs on them, are chosen to give the character an intimidating feel.
"Even though you don't see the stockings, we do have these spiderweb stockings, pointy witch shoes," Eyrich said. "(These are) just things that bring in elements of the dark and the horror of it. Even though in the big picture you might not see it, all the small elements … help the actor tell their story."
Costume designing for "American Horror Story" is tied to creating suspense, said costume design professor Chrisi Karvonides-Dushenko, who taught Guzzi during her time at UCLA and worked as the costume designer for 11 episodes of "American Horror Story: Murder House." Karvonides-Dushenko said her designs played into the mystery of the first season, in which some characters were ghosts. She said she used layering of chiffon, lace and translucent material in certain outfits to give the characters the appearance of a phantom.
"There's this fine line. They shouldn't look like zombies from the second you see them," Karvonides-Dushenko said. "There's this tension of wondering: Who is a ghost and who isn't?"
Karvonides-Dushenko said the work of the costume department is only part of a larger teamwork with other departments, from the collaboration with actors to balancing colors with the production designers. Guzzi said her experience working on "American Horror Story" has been very fast-paced yet fulfilling through collaborating with others in the production. While her work supports the vision of the main designers, she still finds moments of attachment and pride in the costumes, she said.
"Every time that I watch the episode, you never know if (the costume) is going to make it until you see it on camera, so whenever I see it … I'm like, 'Oh, that's the t-shirt I found or the jacket I found!'" Guzzi said. "It is this little piece of happiness."