Podcast focuses on creative sustainable solutions to environmental issues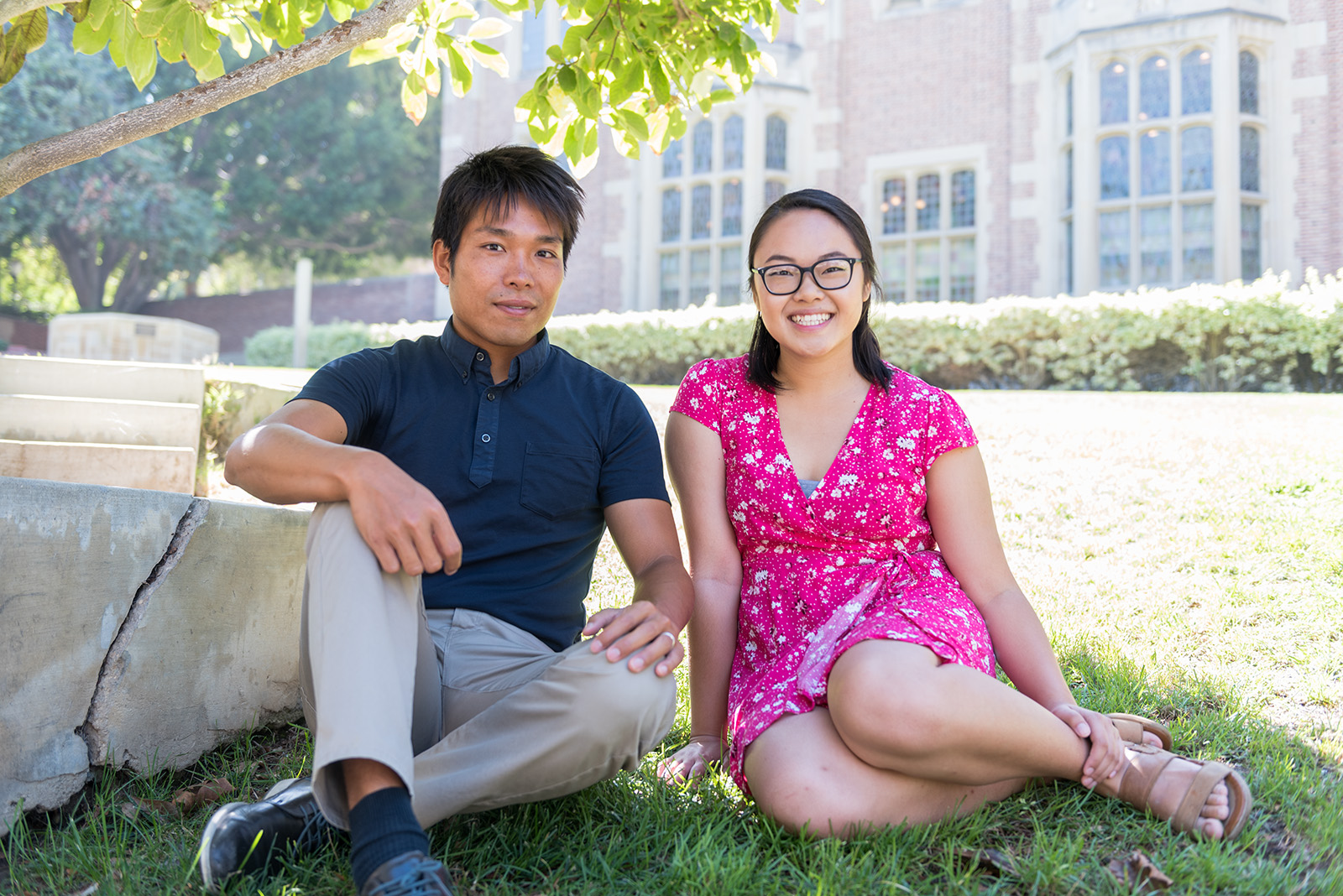 Graduate student Shota Kenmochi and rising third-year environmental science student Alicia Kwan (left to right) helped create the "Planet Innovation" podcast, which discusses creative business solutions to environmental issues. The first two episodes of the podcast air Tuesday on iTunes, SoundCloud and the podcast's website. (Axel Lopez/Assistant Photo editor)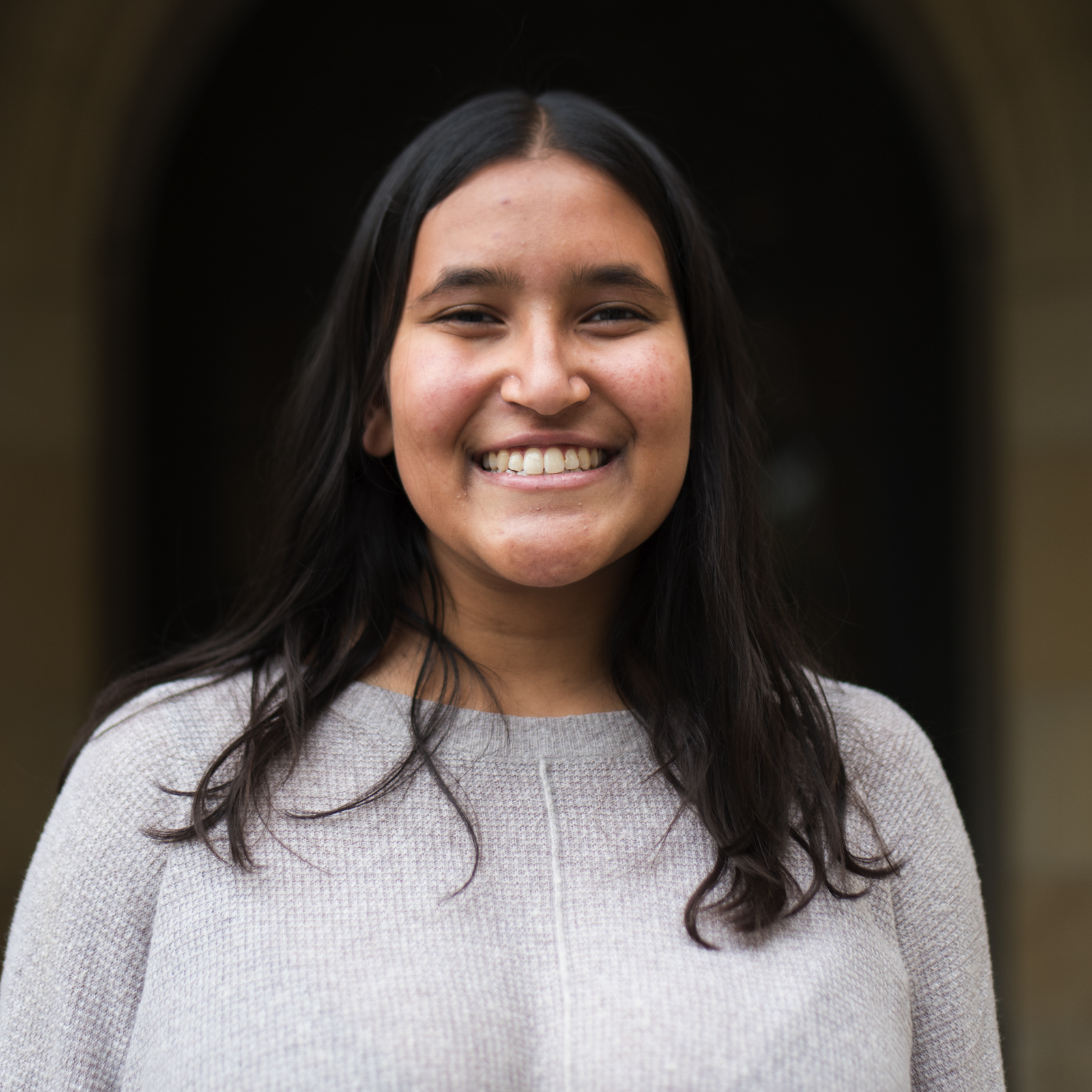 Sept. 17, 2018 12:37 a.m.
The "Planet Innovation" podcast introduces listeners to wine made without grapes and plastic made from algae.
The podcast is spearheaded by creator Magali Delmas, a UCLA professor and director of the UCLA Center for Corporate Environmental Performance, as well as a team of students who hope to relay innovative, green solutions to businesses and consumers. The first two episodes, "The World Meets Meatless Meats" and "A Simple Solution to Air Pollution," are on the podcast's website and will air on iTunes and SoundCloud on Tuesday. Though most conversations about the environment focus on consequences of climate change, Delmas said "Planet Innovation" takes a positive approach by exposing its audience to potential solutions to help the environment, rather than focusing solely on the terrors of climate change.
"I'm tired of focusing only on demonstrating that climate change is real and all that, because at this point, we've been doing a lot of that, especially in the current political landscape," Delmas said. "I think that makes most people paralyzed when you talk too much about the problem."
Delmas said she enjoys listening to various podcasts during her runs, but found a lack of podcasts that suggest environmental solutions. Environmentally-based podcasts often focus on the problems and tend to inform people that they should change something, but often don't give concrete fixes, Delmas said. She brainstormed "Planet Innovation" after finding numerous sustainable solutions being discovered by researchers and by entrepreneurs in start-ups, and wanted to share them.
She then reached out to students, seeking potential volunteers. The team now consists of herself and eight students including Alicia Kwan, who works on social media outreach and the editing of the podcast. Kwan, a rising third-year environmental science student, said the team would hone in on one general idea they wanted to cover for each episode of the podcast that would be most presentable to their audience. The topics include environmental issues people are generally unaware of, such as the dangers of indoor air pollution, as well as issues that people know about but don't have many solutions for, such as decreasing plastic waste, Kwan said.
The team researched each specific topic, focusing on the environmental impacts of each of them. Next, Kwan said they reached out to experts in that field, such as researchers, scientists or entrepreneurs to schedule interviews, using the information to compile multiple drafts and eventually edit it into a podcast episode.
After establishing topics, the "Planet Innovation" team planned to present listeners a set of business trends, environmental topics and potential solutions, said Shota Kenmochi, a graduate student in public policy. As the member who focuses on the sound engineering and marketing aspects of the podcast, Kenmochi said the first few episodes discuss technology-based solutions.
"We think there is a real need for a more positive approach to sustainability, and what we are trying to deliver to the listener is very unique," Kenmochi said. "I think that the new technology creates new incentives for businesses and consumers to change their habits in a more sustainable way."
The 'clean meat' episode describes business solutions to meat production that already exist, such as lab-grown meat, which is engineered from animal cells and so eliminates the animal agriculture process. The second episode discusses how indoor air pollution is often worse than outdoor air pollution, including information from faculty members at UCLA who are working on developing solutions, such as air pollution sensors and an entrepreneur who has developed a relatively inexpensive indoor air quality monitor for the home, Delmas said.
The team also interviewed a man from Indonesia making edible plastic from seaweed and farm algae, which can be used for packaging and also in food. Delmas said the solution not only provides work to people in countries such as Indonesia, but is also eco-friendly since the product is biodegradable. The team also interviewed winemakers practicing organic or biodynamic farming, Kwan said, in addition to one company that is producing wine out of alcohol from grain.
"A lot of people, when they first hear about the environment or sustainability, they always get introduced to the topic by, 'Oh our planet is destroyed, it's your fault, it's too late to do anything,'" Kwan said. "With this podcast we really want to change that conversation."
Kwan said the podcast aims to open doors for the solutions that already exist and inform listeners that there are numerous creative ways to tackle one problem. She said she also hopes the podcast encourages businesses and environmentalists to work together when finding solutions.
"I want to just be positive about the future because I believe that we have the capacity to innovate and to deal with these problems," Delmas said. "(We) have this incredible innovation … and just so many important ideas, and it's good to get people to know about them."
Jain is the PRIME director for the 2020-2021 school year. She was previously the PRIME content editor during the 2019-2020 school year and an assistant Arts editor for the Lifestyle beat during the 2018-2019 school year.
Jain is the PRIME director for the 2020-2021 school year. She was previously the PRIME content editor during the 2019-2020 school year and an assistant Arts editor for the Lifestyle beat during the 2018-2019 school year.