LA hosts its first Matcha Fest, with foods ranging from cookies to creme brulees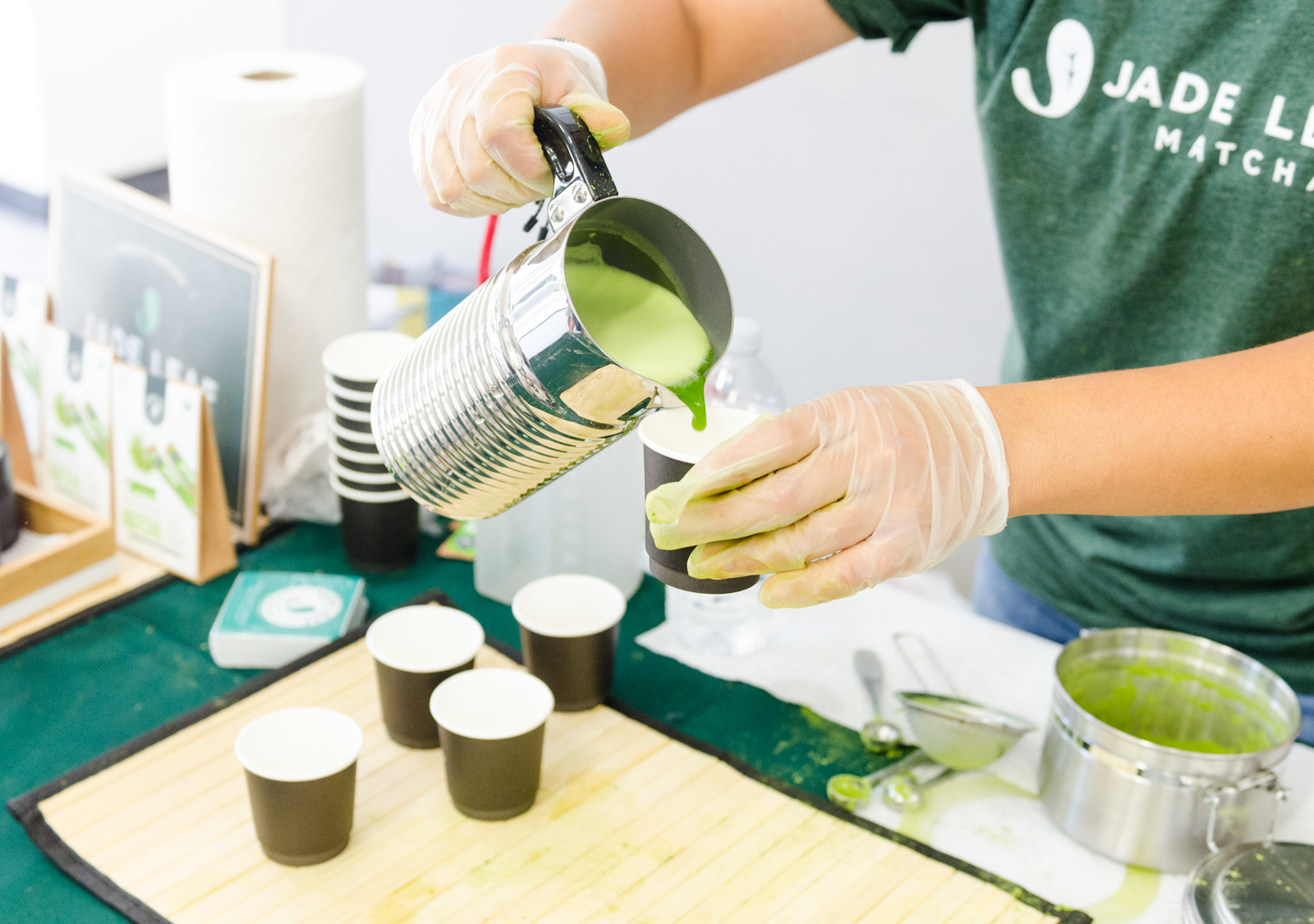 Matcha LA Fest, Los Angeles' first matcha festival, offered visitors a diverse selection of matcha-based products. While many merchants presented elaborate desserts, others provided visitors with the traditional green tea. Jade Leaf Matcha sampled its organic Japanese matcha tea, which they source from farms in Japan. (Alexandra Del Rosario/Daily Bruin senior staff)
The city of Los Angeles has never seen a festival with so matcha green.
The Japanese powder produced by grinding green tea leaves was the centerpiece of a vibrantly verdant two-day festival in Miracle Mile. Matcha LA Fest, Los Angeles' first matcha festival, welcomed hundreds of matcha enthusiasts with open doors and a green carpet offering a diverse display of matcha-based products. The event, presented by Saint Matcha, aimed to celebrate the Los Angeles matcha scene and give back to underserved communities, such as those experiencing homelessness, via the nonprofit Saints of Steel, said co-founder Jules Reyes.
"It's just an unreal feeling to be surrounded by people who share a similar passion with myself," Reyes said. "To share space with so many people who understand (matcha) – I feel understood in that way."
Bringing a matcha festival to LA has been in the works since April, when Saint Matcha became the official brand of Saints of Steel, the nonprofit created by Reyes and her partner, Jaz Limos , Reyes said. Nearly four months later, 20 vendors boasting green displays and photos of their specialty products lined the plain white walls of a former Mood Fabrics store. Though the majority of present merchants sold matcha-based desserts, such as green cookies and matcha millefeuille cakes, a few others provided visitors with the traditional green tea. Jade Leaf Matcha sampled its organic Japanese matcha tea, which they source from farms in Japan.
Across the floor, Art of Tea, a company that prides itself on blending custom craft teas, offered tastings of its MatchaStick mix along with a cozy arts and crafts station. Interested customers could utilizes markers, rolls of washi tape and stickers to decorate and take home their own MatchaSticks box.
The green tea smorgasbord also showcased brands that take fresh and creative approaches to the Japanese powder. Illuminatea owner Grace Chen said she's brought her brand to multiple festivals but was most excited about Matcha LA Fest since it's the first matcha-dedicated event she's ever done. She dipped small biscuits into a flowing fountain of Illuminatea's sole product, a creamy matcha pistachio spread. Chen said she initially wanted to make matcha-scented candles but decided to create her own matcha food product instead.
"I don't even burn candles, but I figured I like food, so I should do something food-related," Chen said.
Further down the line of matcha products came the more experimental goods, such as matcha mints from Sencha Naturals. In a row of transparent plastic tea pots, customers could sample mints of a variety of flavors, from classic green tea to tropical mango. Also up for grabs were packets of the company's vitamin C-boosted tea bags and small cups of a light keto matcha latte mix.
"Making matcha has been a Japanese tradition and ceremony for so long," said Monique Yniguez, Sencha's marketing designer. "Our products take that tradition and put a modern twist on it."
In between the booths run by busy vendors and queued by excited patrons, visitors posed with their acquired matcha treats against the white walls of the venue or the matcha-themed backdrops. In front of a balloon-adorned display that read "Matcha Bae," visitors snapped photos of their green desserts, which included creme brulees and tiramisu from French comfort food restaurant Holy Quiche.
The Los Angeles-based eatery typically serves savory quiches and gazpacho, but managed to provide matcha enthusiasts with delectable combinations of European and Japanese cuisines. Sprinkled with matcha instead of espresso powder, Holy Quiche's matcha tiramisu contained a moist cake smothered in matcha cream.
Oko Yatai Cafe, which exhibited its charcoal drinks and food items, took a dark spin on matcha. Bakers laid petite matcha macarons in origami containers and placed charcoal buns in Styrofoam boxes as black as the baked good itself.
If so desiring, visitors could explore the venue's back lot where food trucks provided a savory escape from both matcha and the color green. White Rabbit, a Filipino fusion cuisine food truck, served tacos and rice bowls with traditional Filipino proteins like pork adobo and tangy beefsteak.
Though the sold-out festival provided an unstructured experience, with a setup among the lines of a farmer's market, Matcha LA Fest fostered an appreciation and nuanced understanding of the green powder for both matcha experts and novices. Reyes said she and Limos were the only two to plan and coordinate the event. The festival experience, she said, provided her with feedback she thinks is necessary to improve when Saint Matcha comes to Los Angeles in the future.
"It definitely was a labor of love and I'm hoping that as this evolves each year, you'll be able to see it grow where you'll feel the difference," Reyes said.
Del Rosario is the 2018-2019 prime content editor. She was previously an A&E staff reporter.
Del Rosario is the 2018-2019 prime content editor. She was previously an A&E staff reporter.