Alumna weaves together comedy, gore in new tale of mob mentality in social media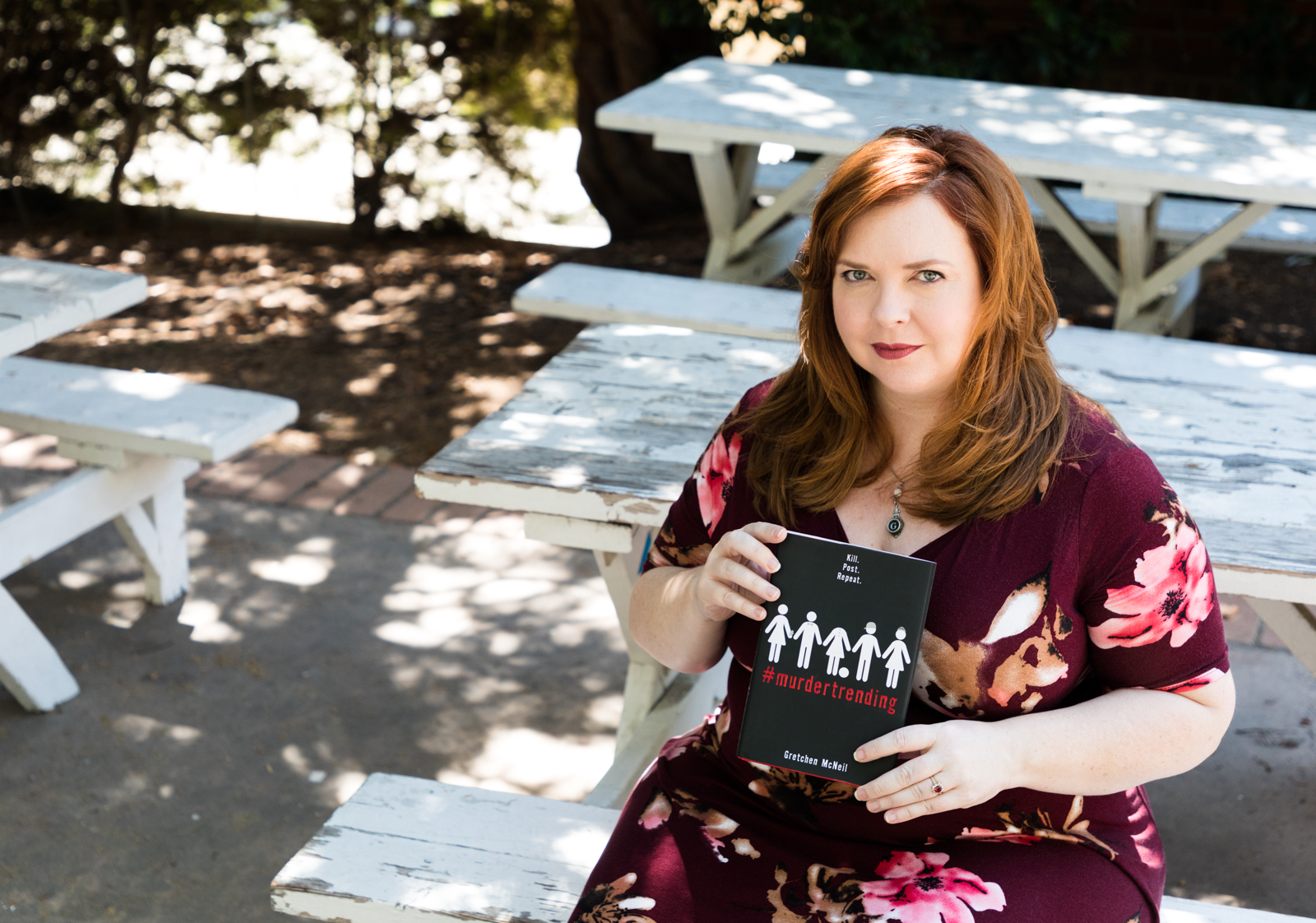 Alumna Gretchen McNeil's upcoming novel "#MurderTrending" takes place in a future where government-sanctioned executions are livestreamed via an app. Meant to serve as a commentary on the impact of social media, McNeil said the books reveals how the internet can magnify society's worst impulses. The young adult novel will be released Tuesday.
(Kristie-Valerie Hoang/Daily Bruin senior staff)
A double doorbell notification from an app, humorously referencing "The Postman Always Rings Twice," signals gruesome death in Gretchen McNeil's new book "#MurderTrending."
Huddled at her desk for nine weeks, the UCLA alumna said she produced a seemingly simple narrative following a teenager wrongly convicted of murder, layering it with broader commentary about the omnipresence of social media. The book, which is scheduled to be released Tuesday, imagines a dystopian future where government-sanctioned executions, taking place on an island prison dubbed Alcatraz 2.0, are livestreamed through an app called The Postman. Although McNeil said her unnerving vision of social media is interspersed by moments of comedy to distract from the gravitas of her message, the novel aims to pick apart how our indulgence in online media magnifies the worst of our instinctual urges.
"The horror is purposefully campy and over-the-top, and I want people to laugh. But I also hope people wonder how far away we are from this, and think about whether this is a 'Hunger Games'-type, far-flung dystopia or five minutes into the future," McNeil said. "I have definitely written this book as if it were five minutes away from happening."
McNeil said her latest book treads bleakly alongside those of Christopher Pike and Lois Duncan, whose works she consumed avidly in her youth. She takes their brand of horror further by wielding gore as a tool of satire aimed at social media. The author said "#MurderTrending" draws inspiration from the 1987 dark comedy film "The Running Man," which she describes as a public execution framed through Arnold Schwarzenegger in a shiny unitard.
Though the book portrays social media as a means to indulge in questionable behavior, McNeil said the humor interspersed throughout "#MurderTrending" makes the book palatable for those who balk at "Saw"-esque carnage. The comic relief lulls the reader into a sense of complacency, giving relief from what would otherwise be an uninterrupted gore fest, she said.
The interplay among the book's protagonists, who are trapped on Alcatraz 2.0, provides much of its humor. Ethan, a muscular personal trainer, obsessively quotes his favorite action movies, a nod to "The Running Man." Meanwhile his peer Niall, a British man with a woeful knowledge of American pop culture, is mystified by everything Ethan says, creating a natural back-and-forth lightheartedness, McNeil said. Jennifer Wolfe, one of McNeil's critique partners, said the humor in "#MurderTrending" sets it apart from other books in the genre, allowing McNeil to make a topical statement while maintaining a sense of levity.
"(McNeil) doesn't shy away from pointing out absurdities within her work, like when her characters acknowledge the craziness of their situation, and it gives a pause to the tension that's been built," Wolfe said. "It's this constant rise and fall between humor and horror which the book balances really well."
Much of the horror is based on the increasing engagement with The Postman app. Depicted as a forum reminiscent of Reddit and Twitter, users on The Postman are known only by their pop culture-inspired usernames. McNeil said these platforms, anonymous to a fault, devolve into a frenzy as fans weigh in on each execution. Nadine Nettmann, another critique partner of McNeil's, said the concept takes the seed of intrigue surrounding our use of social media and multiplies it on several levels.
"It addresses the morbid interest we have when we're passing a car wreck and can't look away, except on a much larger scale," Nettmann said.
Despite McNeil's criticism of social media, she said she begins her day by browsing Twitter for 30 to 40 minutes, a cup of coffee in hand, engaging with her fans online. Having joined Twitter in 2008, McNeil said she appreciates her semipersonal interactions with readers, a far cry from her youth when every author she admired felt as impersonal as a god on a mountaintop.
The problems addressed in "#MurderTrending" lie not with the technology itself, but in our abuse of its abilities, McNeil said. Social media magnifies the sense of mob mentality that dulls our willingness to think for ourselves, and makes us blindly believe what the majority says without further scrutinization, she said.
McNeil said she hopes the far-fetched nature of the book's premise will not deter readers from considering its relevance to today's social media landscape.
"The idea of social media as a living, breathing entity, as a part of 21st-century life that none of us saw coming and now can't live without, is the most important point I make in this book," McNeil said. "If there's one thing people take away from this, it's the idea of how we use social media and allow ourselves to be guided by it."