Women to challenge expectations, inspire girls in UCLA alumna's upcoming series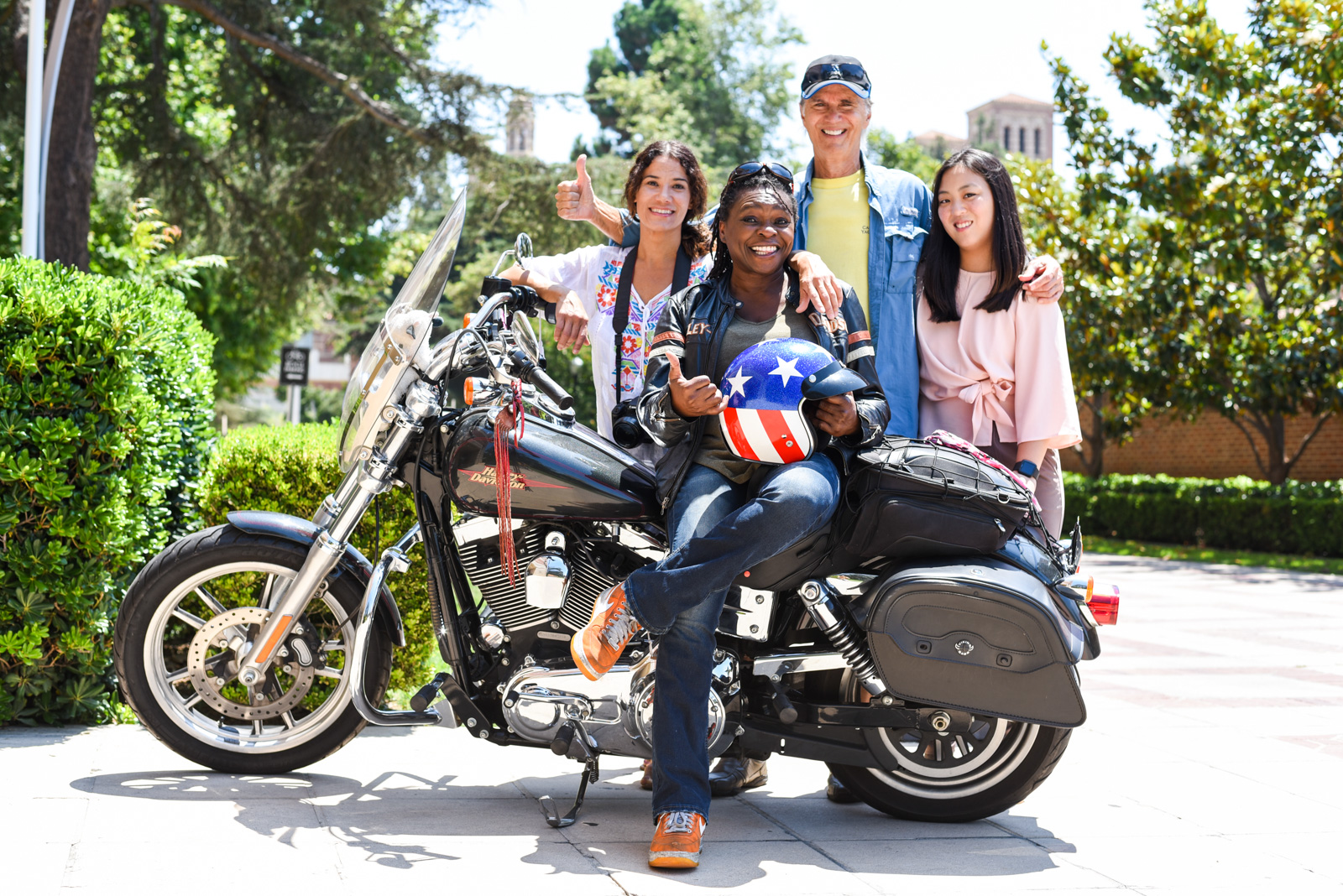 Though the documentary was originally intended to be a feature film, "Breaking the Mold" became a series as the list of adventurous women that the team wanted to include in the documentary grew. (Joe Akira/Daily Bruin)
Bisi Ademulegun, who goes by Bisi B., plans to ride her Harley-Davidson motorcycle from Southern California all the way to Alaska.
Along the way, she will seek out women who lead extraordinary and adventurous lives.
The UCLA alumna's ride up the coast serves as the narrative continuum for her episodic documentary series, "Breaking the Mold," which begins filming early August and will continue to film during summer 2019. For Bisi B., the series' director and host, an adventure is any activity or sport that breaks daily routine, especially if it challenges expectations. By interviewing athletic female adventurers – women of color in particular – Bisi B. said she hopes the series will inspire women to attempt new experiences.
"There are women of color all over the world, right here in the U.S., that are living their adventures. They're rock climbing, they're surfing, they're snowboarding, but there is nothing on TV that shows that," Bisi B. said.
No stranger to adventure herself, Bisi B. said she has traveled the globe, visiting every continent except Australia and learning to journey by motorcycle about 10 years ago. She said she formed the concept for "Breaking the Mold" upon recognizing the lack of media about women like herself – a black British female explorer – and that filming adventurous women, such as an Asian-American female rock-climber and a 56-year-old, African-American competitive swimmer, brings diversity into current sports representation.
"All the women I've spoken to, they all say the same thing. They know they're going to hit a wall; they know they're going to be met with stares," Bisi B. said. "But that will never stop them, because at the end of the day it's all about them and not what is perceived."
Natalie Duran, one of the featured female adventurers and a former UCLA Health researcher, said the mindset of not letting others define her happiness has contributed to her active lifestyle. A multiseason participant in the sports-entertainment TV show, "American Ninja Warrior", Duran said she began rock climbing while working toward a neuroscience degree in college and that the activity launched her passion for adventuring.
"(Rock climbing) sparked a rolling stone of getting comfortable in uncomfortable situations, or getting familiar with the unfamiliar, doing things I never thought would be possible, like flying planes," Duran said.
Duran, who has vlogged her adventures since 2007, said YouTube has been a platform to speak freely about her experiences, breaking stereotypes about Asian-American representation and female adventurers in the process. Duran joined "Breaking the Mold" as a featured adventurer after a chance meeting with Bisi B., during which they bonded over a shared passion for motorcycles. Duran's segment in the series will demonstrate her adventures by focusing on her piloting knowledge, she said.
"When I found the world of (American Ninja Warrior), when I found the world of rock climbing and when I first rode my motorcycle, there was always something in me I knew I loved. I wanted to keep having that sensation," Duran said.
While Bisi B. originally conceived "Breaking the Mold" as a feature-film documentary, interest from women with stories such as Duran's transformed the project into a longer potential series, said UCLA alumnus Monte Gast, producer of the documentary and mentor to Bisi B. Gast said he was drawn to the project partly due to his experience as an athlete himself, as well as the son of an adventurous mother who skydived in her 70s. Gast said the empowering series not only features women breaking the mold by joining male-dominated activities, but also one led by women behind the scenes. He said he hopes to bring on another female producer in the future.
"I would like this to be, as much as possible, female-driven, … (a project) by women for women about women," Gast said.
Gast said he is particularly interested in telling the story of Bettie Upright in the series' pilot episode, a 103-year-old woman who participates in Alaska's International Senior Games track and field meet. Upright's approach to sports later in life is one of many forms of courage, said Soraya Sélène, fellow UCLA alumna and cinematographer for "Breaking the Mold." As a multitasking mother herself, Sélène said she is also looking forward to meeting the featured women who balance motherhood with their athletic activities.
Sélène said she will travel up the coast with Bisi B., and each episode will require a new set of technical expertise, such as filming Duran mid-flight. While she may employ specific equipment to capture the physical activities in detail, showing the women in other settings, such as their homes, provides a full look into their lives, Sélène said. "Breaking the Mold" will present interviews of the women interspersed with their feats, promoting an empathetic and authentic perspective to the viewer, she said.
"I think sometimes we show these athletes in the most heroic light … (which) can make someone think, "That is awesome, but how can I ever attain that? That's not real for me,'" Sélène said. "We hope to show the whole person and all the challenges, so that not only is it aspirational, but it feels possible and feels relatable."
Bisi B. said "Breaking the Mold" will demonstrate relatable tales of personal growth, including her own. She said she hopes to overcome a fear of the ocean by treading water off the coast of Alaska at the series' conclusion and that tackling her own fears onscreen may encourage others to take similar chances.
"If you're a young Latina girl or Asian-American girl or African-American girl and you see someone who looks like you doing things you didn't think you could do, … that changes your entire world," B. said.