Director of Swarovski's sustainability documentary shares angle, experiences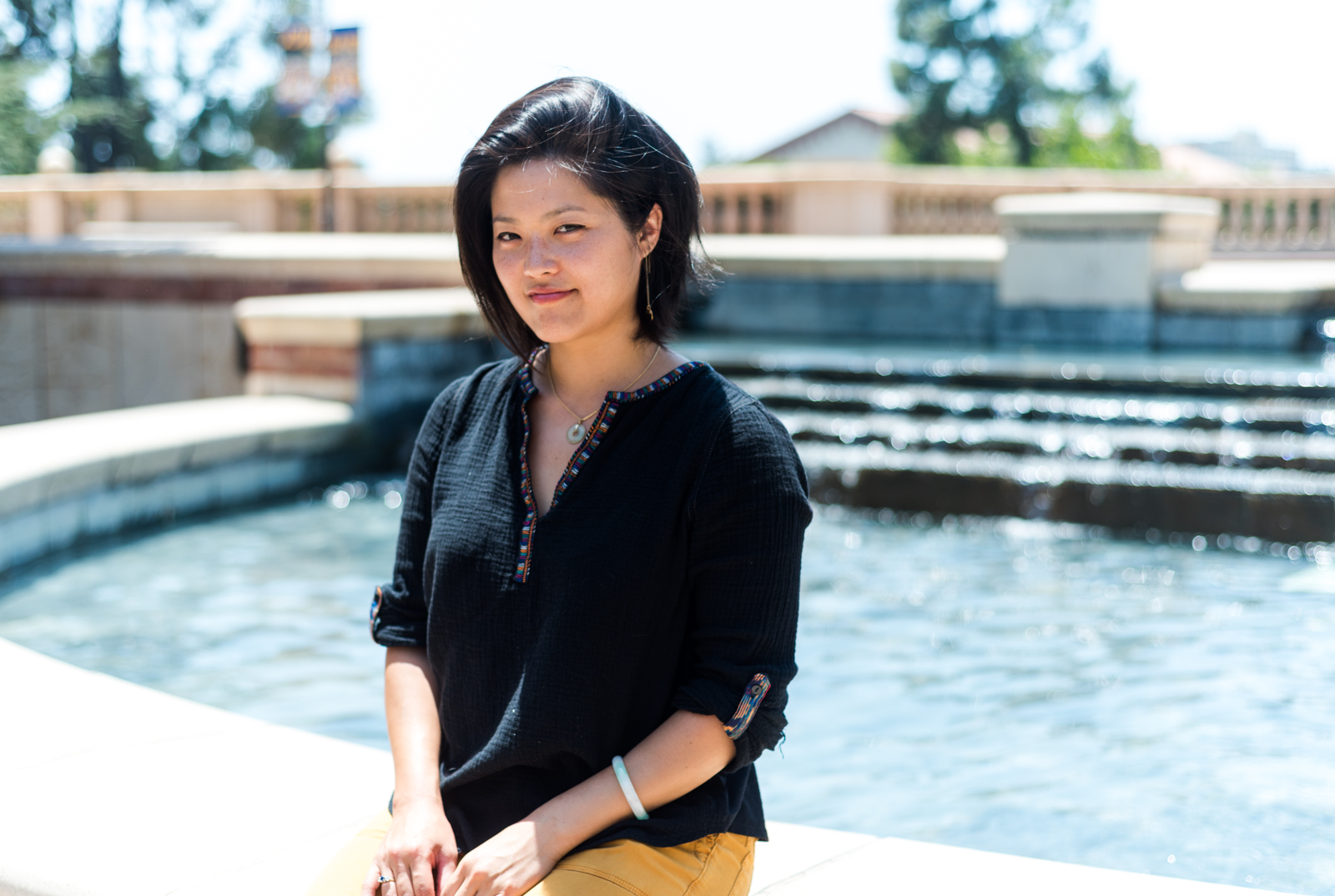 Tiffanie Hsu directed the Netflix documentary, "Waterschool." She said distributors like Netflix have expanded the possibilities for potential films and documentaries she may create in the future. (Amy Dixon/Photo editor)
Swarovski's Waterschool initiative spans across 2,400 centers in seven countries, along the world's major rivers.
The program, which aims to educate and empower communities toward water sustainability, is the focus of "Waterschool," a 70-minute documentary that dropped on Netflix on July 25. Produced by UCLA School of Theater, Film and Television Dean Teri Schwartz and Swarovski Executive Board member Nadja Swarovski, the film follows the journeys of six young women from India, Uganda, China, Austria, Brazil and the U.S. as they learn about water conservation and sustainable development through the Swarovski Waterschool educational programs. The film's director Tiffanie Hsu recently finished taking classes at the School of TFT, and is now completing her thesis to earn her MFA in directing. Although Hsu had never directed a documentary before, she said her experience working on "Waterschool" helped her appreciate the connectivity of the environment and local communities.
Hsu spoke to the Daily Bruin's Raunak Devjani about her travels across six countries, the female experience in regard to water sustainability as well as the future of her career.
Daily Bruin: What was it like balancing filming in six counties with your academic degree?
Tiffanie Hsu: It was pretty intense. I think that it was definitely a really big undertaking for everyone involved, so there was a lot of investment in learning while we did it. But as far as directing and what I want to do, this was pretty much all the experience that I could have asked for, because you're working on a project and that's the best way you learn anyways. It's all in the same track.
DB: With seven students as well as faculty members involved, this project was quite the collaboration. Have you ever worked so extensively with TFT?
TH: This was such a huge project that there was no way that any of us could have done it on our own. So in that regard, I'm really grateful to have everybody who worked so hard and gave so much of their time toward the project. No, I have not worked (so) extensively with all different aspects of TFT before this. … There were seven (TFT students) who were filling the main roles like editor, director, (director of photography) and sound. But we actually had five other students work as assistant directors. We had an undergraduate student work as an assistant producer on the project. There was so much that needed to be done, and it was a great example of having this great excuse to work with all these TFT students and get to know them and deliver on a pretty big and impressive project.
DB: What was it like working with a client that's a company? Did it affect your creative process?
TH: The overarching idea came from (Swarovski), but I thought it was really amazing because the Waterschool program is so all-encompassing and it covers so many areas and topics that you have a lot to choose from when you decide what to focus the story on. … You can only fit so much into a 70-minute film, so you have to be specific with what you choose, and in that regard, there was a lot of creativity involved. I don't think I would have necessarily thought to make a film like this if the opportunity hadn't presented itself, but I still learnt so much from that. Just learning how to weave together two different visions, or weave together an overarching vision with what I respond to when I travel to all these places was eye-opening and kind of transformative as far as how I approached the creative process.
DB: Your documentary captures the journeys of six young women as they learn about water scarcity – why women?
TH: The program definitely applies to both girls and boys. Men and women are involved on all different levels. But I think especially when I went to the areas that were rural or in more-developing countries, it became very clear that because women had the greater responsibilities in domestic chores and everything like that, they had the ability to make more of an impact. The mothers were far more involved in educating the children when they were at home, just using water on a regular basis and they just had that much more ability to change the mindsets of those around them. That was where I noticed it, especially in Uganda and India, and then I think because (of that), I started noticing it everywhere else that I went, and that just became something I was really interested in exploring. This is a program for everybody, but why not shine a light on how all of these different girls are affected? It was actually not that difficult once you really narrowed it down to find the girls that stood out. I found it really interesting how Mykeyla in the U.S. was one of two girls in her entire class, even though all the teachers were women. You found a lot of more female teachers than you did students and you just started noticing a lot of small things and that I realized was our angle. … Now that I think about it retrospectively, it was female producers, I'm a woman, our (director of photography) is also a woman, all of our mentors were women. … So, I think there was a lot of girl empowerment on the mind, so we were all trying to notice these things, and they were incredible.
DB: How has this experience impacted your career path and goals as a filmmaker?
TH: It's opened up an entire world of films, filmmaking styles, approaches to storytelling, that I hadn't really considered before, so that's amazing. … My world had been smaller. I focused mostly on narrative so I hadn't even understood or been aware of all the filmmakers that had been out there. I think right now, it's an exciting time for documentaries, especially with distributors like Netflix, so it's definitely expanded the kinds of films that I want to make, and even the kinds of films I would think about making.
Devjani is the top editor of the Arts and Entertainment section. She was previously the assistant editor for the Theater Film and Television beat.
Devjani is the top editor of the Arts and Entertainment section. She was previously the assistant editor for the Theater Film and Television beat.