Concert review: Harry Styles at The Forum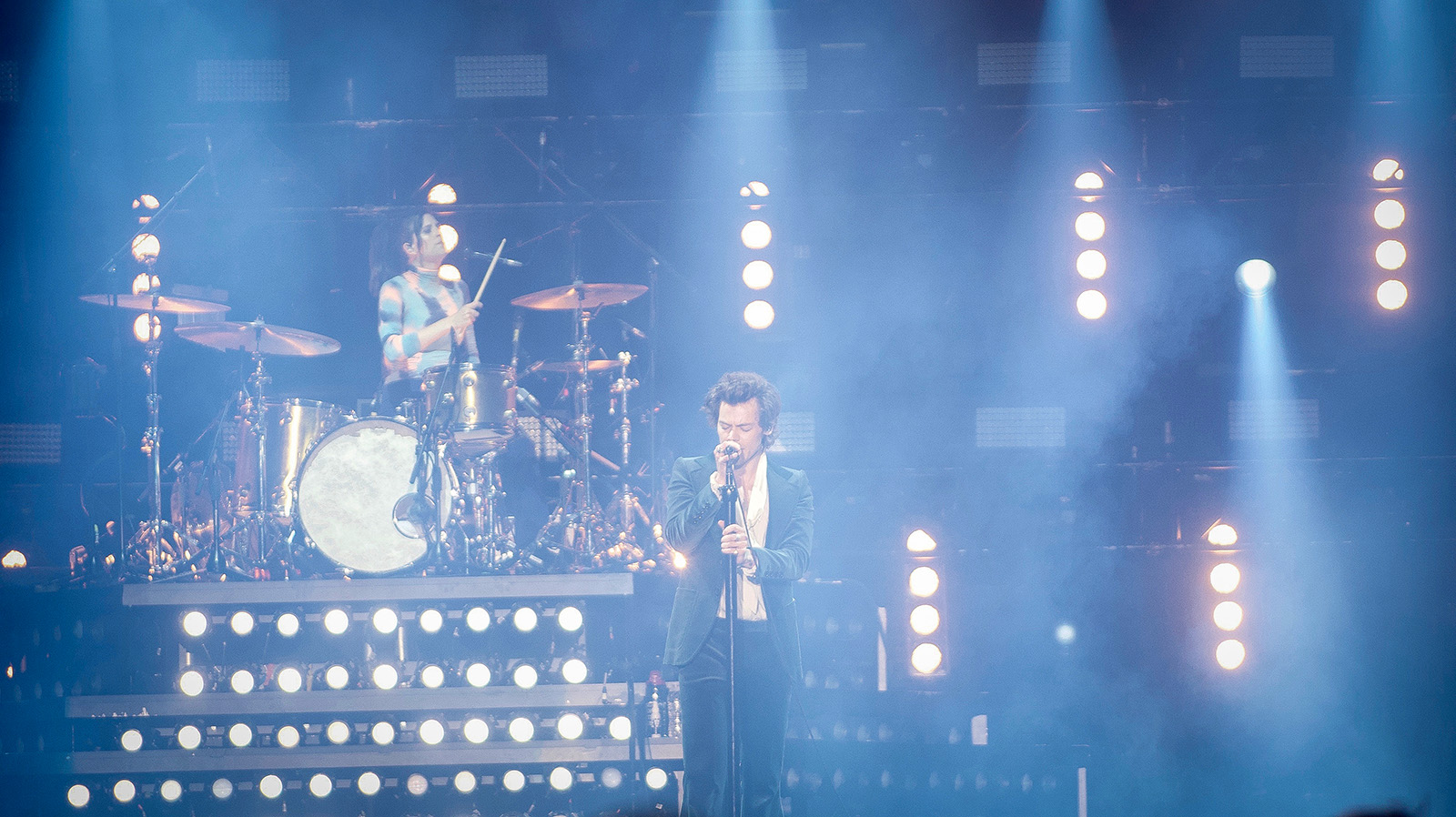 Harry Styles performed at The Forum on Friday night, singing a mixture of One Direction songs as well as a collection from his debut solo album, "Harry Styles." (MacKenzie Coffman/Assistant Photo editor)
Harry Styles
The Forum
Friday and Saturday
Four words were enough to send Harry Styles fans into a fevered fit of ear-splitting screams, desperate wails and guttural sobs at The Forum on Friday night: "Good evening, Los Angeles."
Actually, any words the English heartthrob spoke – or sang – elicited hysterics from the crowd at the penultimate show of his debut tour as a solo artist. Though the level of pandemonium hasn't changed since the One Direction infection, Styles certainly has.
Between his matured vocals, newfound guitar skills and evolved onstage performance – and fashion – style, the "Sign of the Times" singer has successfully shed his tween dreamboat persona and established himself as a musician worthy of serious consideration. But unlike many who have taken the solo leap before him, Styles proved via his One Direction-infused set list that he is not afraid to embrace his boy band past, which consequently evinced his growth as an artist more than any shiny set of strings or snazzy new suit.
At the top of the show, however, Styles emerged dramatically as the visual antithesis of his old band's look, trading skinny jeans for emerald velvet bell-bottoms to perform "Only Angel" and "Woman" off his self-titled album. Both his quirky dance breaks – a healthy mix of elbow flailing and off-kilter strutting – and frequent pauses to soak in the deafening cries from the audience channeled an energy akin to pioneering rockers like Freddie Mercury and Mick Jagger. If anything, the openers rocked almost too hard, with heavy strings and drums nearly drowning out Styles' trademark raspy voice on occasion.
But Styles soon exhibited a showman's range that extended beyond borrowed theatrics, bringing the lights down to perform some of his slower acoustic tracks, "Ever Since New York" and "Two Ghosts." The stripped-down melodies allowed Styles to display both his progress on the guitar and his raw vocals, spotlighting the scratchy quality that distinguished him from his former bandmates by cutting out any overproduced background noise.
The first five songs, bookended by the upbeat crowd-pleaser "Carolina," already covered half of Styles' previously-released solo efforts at a quick pace, seeming to forecast a brief set. But, of course, the performer had more up his velvety suit sleeves.
"We will be doing more than 10 songs," he reassured the crowd at the album's halfway point. "Don't worry."
As promised, Styles rounded out the lineup with the remainder of his record, plus a mixture of covers, new unreleased tracks and One Direction classics. First up from his boy band days was "Stockholm Syndrome," which Styles' band rendered almost unrecognizable if not for the song's catchy core tune and Styles' voice. Intensified instrumentals and a hastened cadence made a new and improved "Stockholm Syndrome" for a new and improved Styles, who kept up effortlessly, bouncing to the fresh rhythm with an amped guitar in hand.
In a refreshing show of perspective and humility, the singer introduced his next One Direction pick as the reason for his current sold-out concerts at The Forum. Like "Stockholm Syndrome," Styles' solo version of the group's breakout hit, "What Makes You Beautiful," took on a slightly edgier tone than the original, primed for a nostalgic crowd of young adults who grew alongside him. In fact, Styles opted to leave much of the singing to his long-standing fans, while delivering the rest of the lyrics with less sing-songy high notes and more punch.
More of the night's highlights included a passionate rendition of Ariana Grande's "Just a Little Bit of Your Heart," which Styles penned for the pop star, two catchy yet-to-be-released songs titled "Medicine" and "Anna," and of course, his hit single "Sign of the Times." With its sweeping dynamic range and slide guitar, the anthem was already tailor-made to close out a concert, and the live version exceeded expectations, with Styles nailing every note and run ranging from airy, high-pitched falsetto to fortified belts.
The performance wasn't perfect; parts of the show could have benefited from smoother transitions and more volume on lead vocals. But Styles is still a budding solo artist, after all, and his pure energy and undeniable raw talent were definitely captivating enough to justify One Direction's split, while still capturing the endearing charisma that launched his career eight years ago.
Carras is an A&E senior staff writer. She was previously the assistant editor for the Theater Film and Television beat of A&E.
Carras is an A&E senior staff writer. She was previously the assistant editor for the Theater Film and Television beat of A&E.