DESMA student wins Miss Korea USA pageant rocking design from fellow Bruin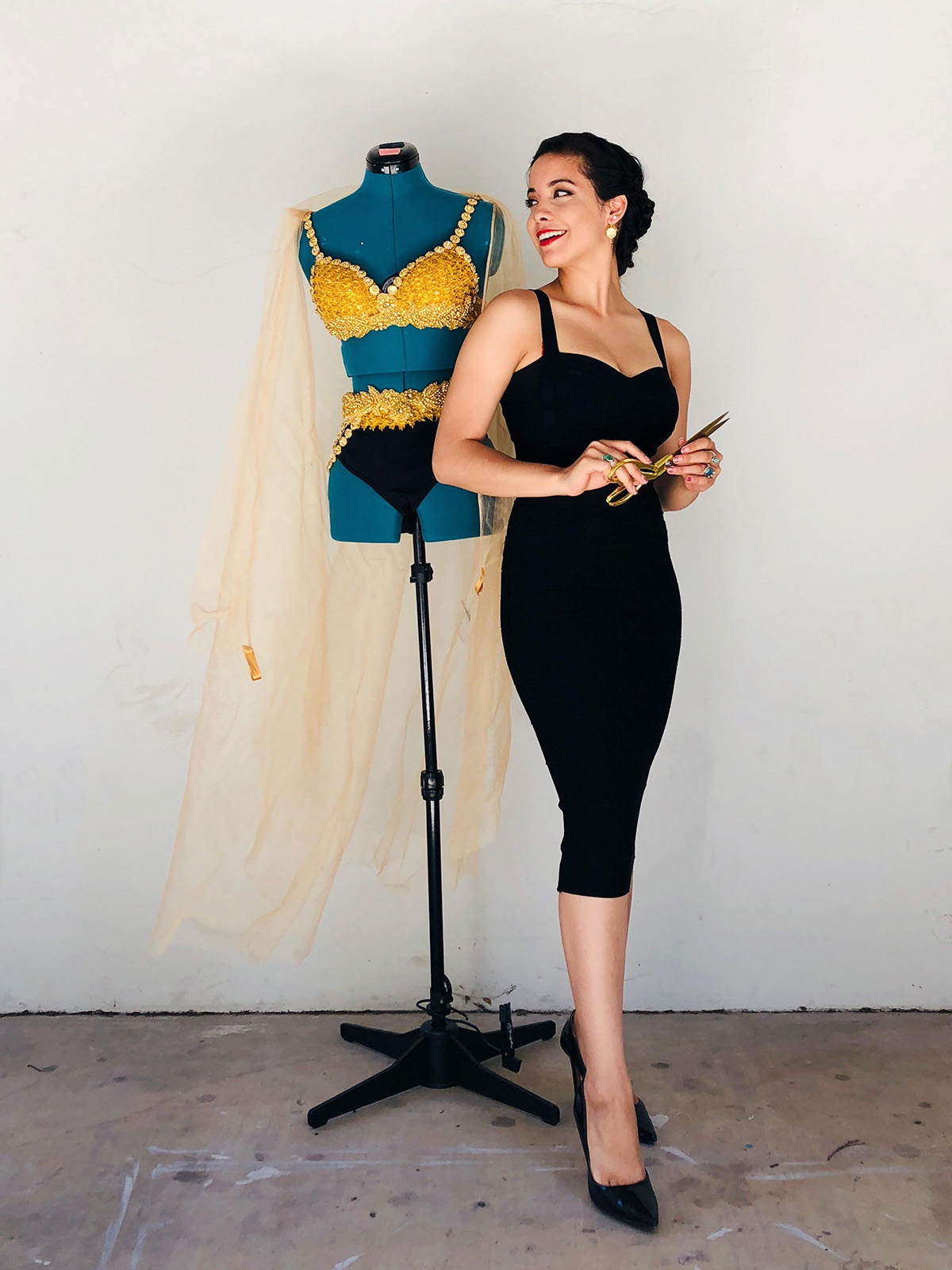 Rising third-year Carisse (CJ) Zepeda, a design media arts student, spent only two days designing a bikini for rising third-year Lily Chaeyoun Kim to wear in the Miss Korea USA pageant.
(Courtesy of Danny Lee)
Lily Chaeyoun Kim never considered participating in a pageant until she was approached by a Korean designer at a hair salon in October.
The designer happened to be sitting next to Kim at the salon and asked her to model for her in Los Angeles Fashion Week.
Kim, a rising third-year design media arts student, took the opportunity to model for the clothing designer in October 2017, which later led her to vie for and win the title of Miss Korea USA. She was awarded the title at the USA leg of the pageant May 31 in New Jersey. After winning Miss Korea USA, Kim planned to participate in the Miss Korea pageant in Seoul, Korea on July 4, but her study abroad program at Seoul National University conflicted with the pageant. She said she had to drop out of the pageant in order to continue her studies during the summer. However, her experience with the USA leg of the pageant helped her reconnect with her Korean culture, Kim said.
"I was born and raised in Korea but I had moved to the United States when I was small, so I definitely forgot about what it means to actually be a Korean," Kim said. "Having the title of Miss Korea definitely gives me a little bit more Korean pride."
Kim began preparing for the Miss Korea USA pageant two months before the competition. To get in shape for the pageant, she said her adviser placed her on a diet of salad, chicken and eggs, telling her to go to the gym every morning and night. To get ready for the bikini walk, gown walk and talent portion, Kim took classes in posture, walking, makeup and dance. Kim also said she had never given presentations or interviews in Korean before so it was important of her to take a Korean speech class.
Although Kim decided to drop out of the Korean leg of the pageant in favor of her studies, she said walking the ramp also gave her useful life skills. The pageant taught Kim confidence, she said. During the bikini and gown walks, competitors fought against one another to show the most confidence, so participating in the pageant encouraged her to become assured in herself. Kim also said one of her greatest challenges was learning to manage her time, as each day was packed with the different aspects of preparation for the pageant.
"When I decided to run for this Miss Korea pageant I didn't realize how much time or how much effort (it would take)," Kim said. "I got to learn so much from this pageant, this whole Miss Korea experience, that I definitely would do it all over again if I had to."
Kim said her most memorable moments involved working with her friends during the preparation process. Lily Kim's friend Michael Kim, a rising second-year design media arts student, helped Lily Kim promote herself on social media and provided feedback as Kim and her close friend, Carisse (CJ) Zepeda, a rising third-year design media arts student, planned out the swimsuit design for the bikini walk.
"(Kim) and (Zepeda), they're both really out there, so they would come up with all of these crazy ideas and this was one of them," Michael Kim said.
It only took two days for Zepeda to design Kim's swimsuit for the Miss Korea USA pageant.
Zepeda said Kim's bikini design was her first experience designing for a pageant. Most of Zepeda's previous projects involved designing large-scale children's toys such as a wooden cart to ride in. By challenging herself to design Kim's swimsuit for the pageant, she said she was able to test her skills as an artist.
Zepeda said she strives to create designs that are larger than life, taking inspiration from drag clothing as well as Mesoamerican folklore, influenced by her Mexican culture, for the swimsuit design. The golden crystal bikini weighs around 30 pounds and is made out of gold ribbons and gold-colored crystal jewels. The crystals line the sides of the bikini bottom to accentuate Kim's legs, Zepeda said.
"I liked the idea of this Aztec goddess being dripped in gold (and) the very extravagant things that drag offers," Zepeda said. "So I wanted a way to combine the two for this Korean pageant that I had no idea what kind of culture I was going into."
Zepeda said drag inspired her because the clothing emphasizes certain parts of the body to create a specific silhouette shape. She also said she finds the brightly textured designs and inclusion of multimedia aspects very eye-catching, such as components that spin or light up.
During the design process, Zepeda consulted with Israel Gutierrez, the print lab supervisor of the Design Media Arts program at UCLA. He showed her different artists to pull ideas from, specifically transgender men and their swimsuit designs.
"She wanted to do something big. … Usually when you look at Miss America, they're kind of tamed down," Gutierrez said. "We started looking at ideas, exploring drag shows and places that normal people may not be looking at."
Zepeda said her greatest challenge during the process was creating a design that would be considered beautiful from a Korean perspective. Because Zepeda does not come from a Korean culture, she said she was worried about unintentionally imposing ideas about what Korean beauty should be. Kim encouraged her to go with the design, Zepeda said, and the judges ended up being blown away. Along with gasping as Kim walked out on the stage, the judges pulled her aside in order to ask about who the designer of the swimsuit was, Zepeda said.
"(Kim) is from Korea and she really embraced my culture…the idea of this Aztec goddess on stage," Zepeda said. "I think (Kim's) level of confidence that (the swimsuit) brought made (my design) come to life and stop the show."