The Quad: The student's guide to summertime sightseeing in Los Angeles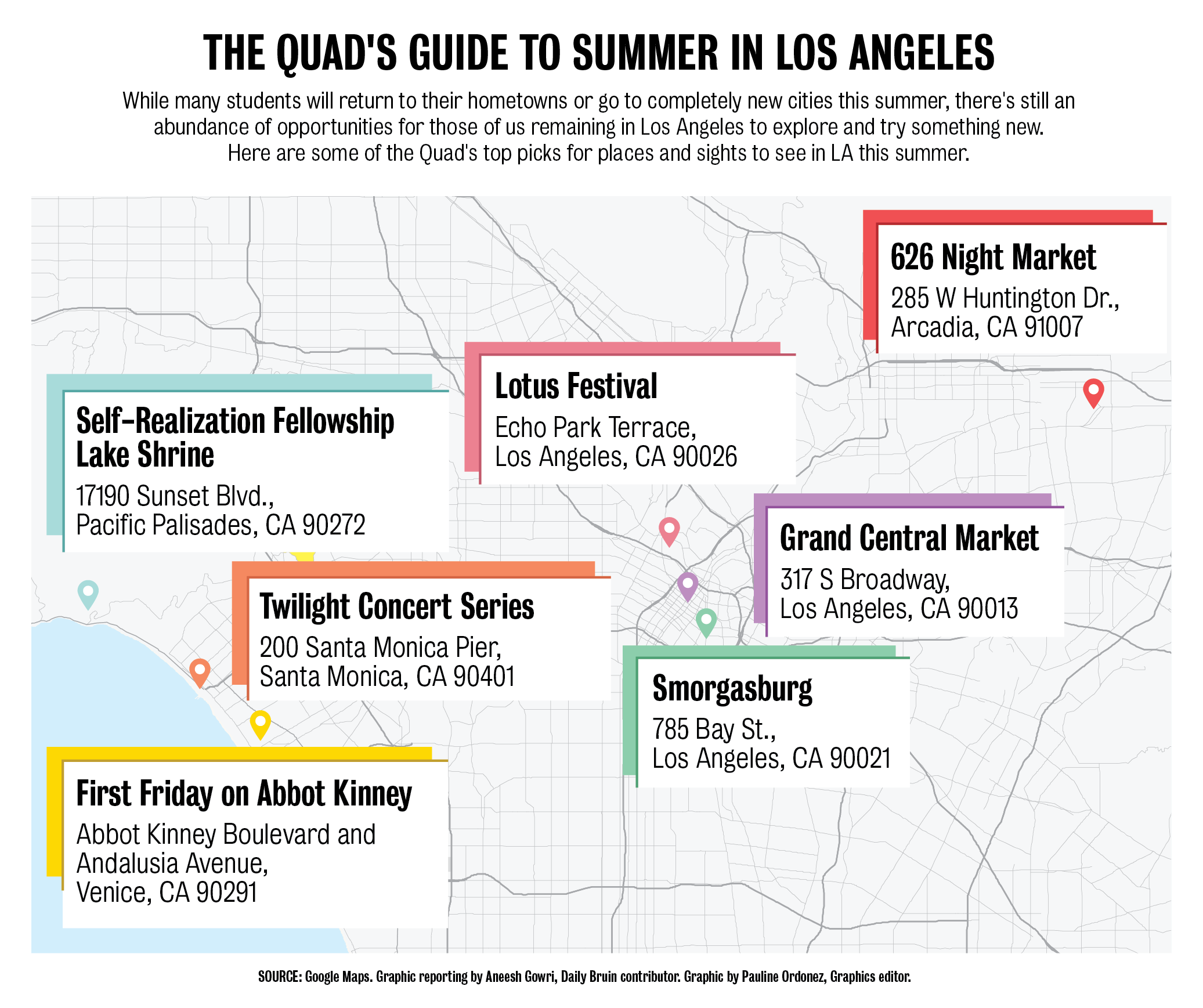 It can be tough to explore Los Angeles in the middle of the school year when you constantly have the ghost of upcoming finals looming over you.
So that's exactly what summer's for – while some students might be returning to their hometowns, studying abroad or doing an internship in a completely new place, many of us are stuck in Westwood, with plenty of free time to explore the City of Angels. Here are the Quad's top picks for events and places to check out throughout the LA area this summer.
Food
Students looking for some high-quality and authentic Asian and Asian-inspired foods can make the about 30-mile trek out to the San Gabriel Valley for the 626 Night Market. The market features plenty of vendors for a handful of select dates, serving some of the most innovative and delicious dishes in LA. Hungry students can grab some spicy and hearty drunken noodles or creamy, saccharine ube milkshakes while listening to the various musical artists performing.
If you're looking for something a bit closer to campus, the open-air market Smorgasburg is a lovely Sunday brunch spot located in Downtown LA. Smorgasburg, which originated in Brooklyn and expanded to LA in 2016, offers a wide range of cuisines from French-and-Vietnamese fusion at Banh Oui to fluffy fried treats at Donut Friend and has become a hub for innovative LA food. One of my favorite dishes there is the mac 'n' cheese pizza, with its gooey and velveteen pasta nicely complementing the warm, crispy pizza crust.
Students looking for a more low-key outing can take a quick trip to Abbot Kinney Boulevard for the Venice neighborhood's "First Friday on Abbot Kinney" food truck festival. The lineup of trucks changes every month and the food is always perfectly indulgent – the last time I went, they had tater tot nachos; need I say more?
Also, don't miss Grand Central Market – the iconic train station-turned-food hall – which offers a diverse selection of some of the best food in LA. Devour an egg sandwich from Eggslut or try some vegan ramen from Ramen Hood – pretty much everything there is worth the trip.
Arts and entertainment
It's no secret that LA is the hub of the arts and entertainment world. But when you've got midterms and finals and papers coming at you nonstop, it can be tough finding the time to be entertained.
Every summer, the city of Santa Monica hosts a series of outdoor concerts on the pier. They host several trending artists – last year I saw Khalid – and the best part is that the concerts are completely free.
With the recent cancellation of FYF Fest, HARD has become the most prominent LA summer music festival. This year the festival will take place on Aug. 4-5 in Fontana, just about two hours away from UCLA. Headliners include Marshmello, Travis Scott, Dillon Francis and other mostly EDM artists, with two-day tickets currently starting at $179.
Students looking to explore cultural events can head out to the Lotus Festival in Echo Park, which takes place every year when the lotus flowers bloom there. In my opinion, it's one of LA's most overlooked events – especially given that it's free. This year, the City of Los Angeles is honoring the People's Republic of China with a weekend of food, art and entertainment. Students can visit one of the many vendors, watch Asian-inspired cultural performances and compete in dragon boat races.
Outdoor activities
Summer is the best month to spend outdoors, especially in LA where the weather is perfect and the attractions are often free.
From July 28 to Aug. 5, Vans will host the US Open of Surfing in Huntington Beach. Admission is free and attendees will have the opportunity to relax on the beach and watch some of the best surfers in the world compete.
If watching movies and eating good food sounds more appealing, Eat See Hear is LA's best outdoor movie series. Hosted by Showtime, the multidate event changes locations each week. Featuring a wide range of movies, from "Lady Bird" to "The Warriors," the festival lasts through mid-July. Attendees can stay for the movie, or go just for the food trucks and live musical performances.
Students who are more interested in delving into their spirituality may be interested in visiting the Self-Realization Fellowship Lake Shrine in Pacific Palisades. Entry is free and you can join a meditation session in the Meditation Garden or just walk around the beautiful grounds. If you've never been, it's definitely worth a visit.
Happy exploring!