The Year in Protest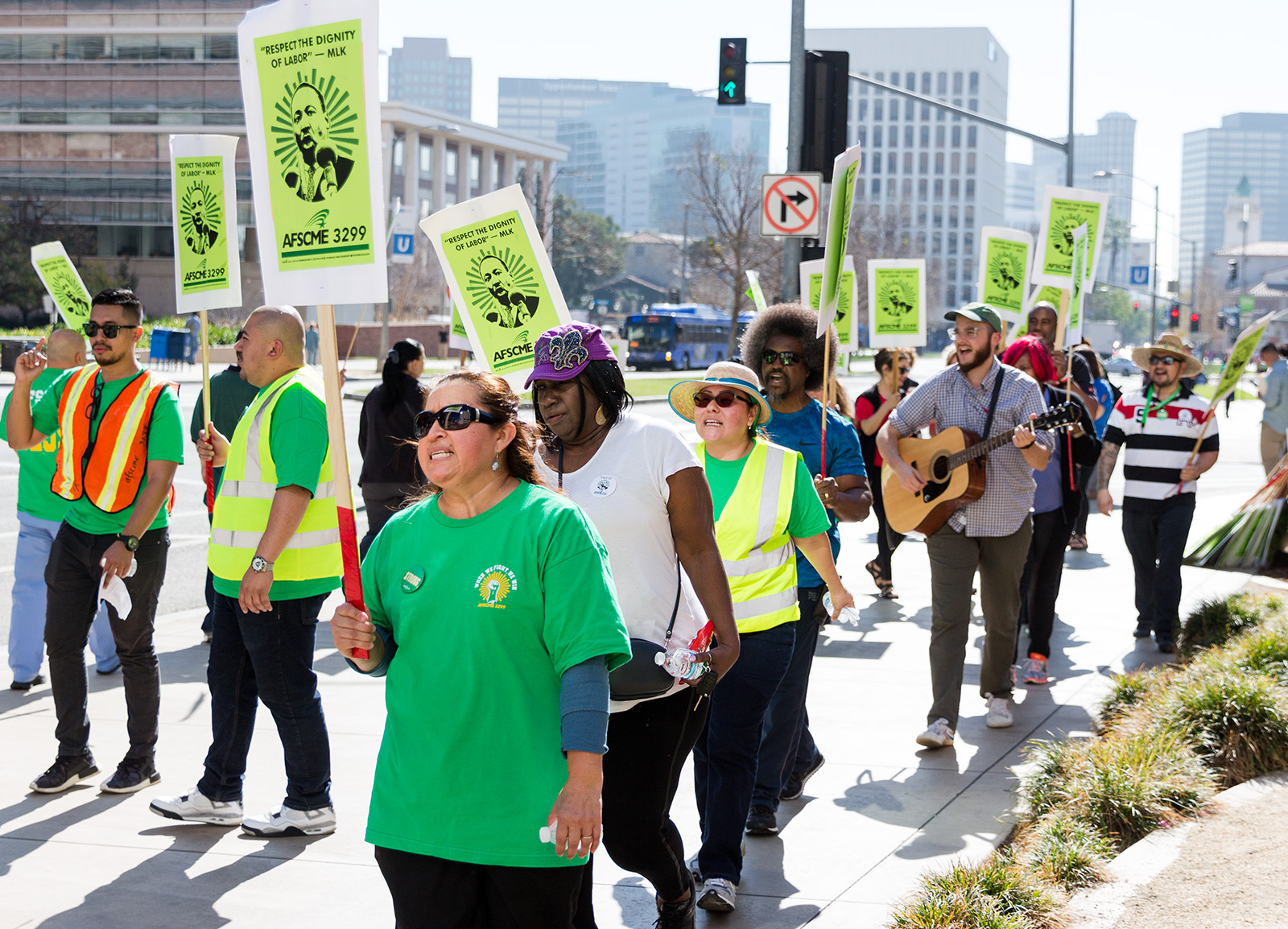 AFSCME Local 3299, the UC service workers' union, held a three-day strike in May after negotiations with the University of California stalled. (Jenna Nicole Smith/Daily Bruin)
UCLA has had nearly a century of student activism, and this year is no exception.
Here is an overview of demonstrations that happened this year, how their respective movements have progressed and where people think the movements are going.
AFSCME Strike
Then:
Unionized service workers went on a three-day strike in May after negotiations with the University of California stalled.
John de los Angeles, a spokesperson for American Federation of State, County and Municipal Employees Local 3299, said the union wants the UC to acknowledge inequality between workers of different races and genders and between workers and high-ranking administrative officials. AFSCME is the UC service workers' union.
"Point blank, we need UC to acknowledge and address inequality at University and outsourcing activities that drive that inequality," de los Angeles said.
UC Office of the President spokesperson Stephanie Beechem said the UC has been engaged in contract negotiations with AFSCME Local 3299 for more than a year.
Now:
No settlement has been reached.
Beechem said the UC believes it has offered fair terms to the workers.
"We have repeatedly offered what we believe are fair and reasonable proposals, which included guaranteed wage increases along with excellent health and retirement benefits for our service employees," Beechem said.
De los Angeles said he thinks the offered terms were tone deaf because the UC emphasized accountability to taxpayers while simultaneously giving UC chancellors a 3 percent raise.
"UC likes to say anything outside what they offer is just not responsible to taxpayers, but if we want to talk about responsibility and accountability, we need to take a look at spending on (the) top end of the UC," de los Angeles said.
Tobias Higbie, faculty chair of the Labor and Workplace Studies program, said he thinks it is not in the workers' best interest to accept a hybridized pension plan, which combines a traditional pension plan with individual contribution to a savings account.
"The university is proposing a move into (a) more hybrid pension retirement account. The faculty senate did a project and said the new tiers of pension are not as beneficial for employees, and they'll have to work more years and save more money to have the same amount," Higbie said. "It's not really in … workers' interest to accept (an) agreement like that."
Future:
De los Angeles said he hopes the UC will return to negotiations willing to compromise.
"We are hoping UC comes back to the table ready to make movement for our service workers," de los Angeles said. "I believe they have invited us back just recently, but I think it's just picking up that conversation."
Higbie said it is not clear that the hybridized pension policy will save the state or University money in the long run.
"It will (save money) in the short term, but long term, citizens don't have as much money in retirement, which has economic effects," Higbie said.
Gun Reform
Then:
Roughly 20 students held a demonstration in March to raise awareness for mass school shootings in response to a shooting at Marjory Stoneman Douglas High School in Parkland, Florida.
Sydney Freeman Sacker, a fourth-year communication and sociology student who organized the protest, said she wanted the event to bring students together and to inspire students at other universities to organize.
Now:
Adam Winkler, a law professor, said there has been a lack of progress in gun law reform because of gun advocacy organizations such as the National Rifle Association.
"I've got three letters for you; I'll let you guess what they are," Winkler said. "N-R-A. The NRA is deeply opposed to reform and aggressive in pushing (President) Donald Trump and Congress not to enact new reforms."
Louis Madrid, a third-year history student, said he thinks tight gun laws do not resolve problems.
"There are already plenty of gun control laws on the books," Madrid said. "There's significant evidence to show that when gun control is enacted heavily, in cities like Chicago, for example, there's still high gun violence."
Future:
Sacker said she does not think UCLA organizing will change the gun reform debate.
"I am graduating and hate to admit that I do not see UCLA doing anything in the future," Sacker said. "I hope I am proven wrong."
Winkler said that he does not foresee any drastic changes in U.S. gun policy.
"The NRA has proven itself very strong right now," he said. "They have a lock on enough senators to filibuster any significant reform."
Jamie Kennerk, the Undergraduate Students Association Council external vice president, said her office's gun reform advocacy is in its preliminary planning stages, but will focus on legislation and education.
"We're going to reassess at the end of summer when we know where (in the legislative process) bills are going to be," Kennerk said.
Tuition Increase
Then:
Students protested outside the University of California Regents meeting in March to express opposition to an increase in nonresident tuition.
Chloe Pan, the outgoing Undergraduate Students Association Council external vice president and a leader in the Shut Down the Vote campaign, said the campaign used several different tactics to combat the tuition increase vote.
"It wasn't just having people turn up at the protests," Pan said. "There was advocacy behind the scenes in Sacramento and (Oakland, California,) and across the UC we gathered more than 6,000 student stories to share with officials."
Now:
Tuition for nonresident students was increased by $978 on March 15.
"It's disappointing that student stories weren't enough to convince the regents," Pan said.
A second vote to increase in-state tuition in May was tabled following a statement from UC President Janet Napolitano and chair of the Board of Regents George Kieffer that said the University will instead advocate for additional funding from the California State Legislature.
Gov. Jerry Brown announced in his budget plan May 11 that he plans to allocate millions of dollars to the UC to incentivize it not to raise in-state tuition.
"Now, we see the state assembly and state senate passing budgets we've been fighting for for the last six months," Pan said.
The California State Legislature will vote to approve its new budget by June 15.
Future:
USAC External Vice President Jamie Kennerk said once the budget is passed, her office will re-evaluate what steps it will take, including how it will lobby Brown.
"Once we know how the budget goes, then we'll determine the next steps. I just met with Janet Napolitano last week, and she would not commit to not raising tuition," Kennerk said. "But if the budget gets passed, there probably won't be talk at the July (UC Regents) meeting of a tuition hike."
Danielle Smith, a spokesperson for UC Office of the President, said the UC strives to incorporate student input in tuition-related decisions.
"We will continue to work with the legislature and the governor to reach a final budget agreement that supports UC's contributions to the state and the people of California," Smith said.
Ben Shapiro
Then:
The Bruin Republicans, a conservative student group, invited conservative commentator Ben Shapiro to speak on campus in November, drawing about 150 protesters.
Several student groups, including Socialist Students UCLA and the Young Democratic Socialists at UCLA, organized the protest in response to a lecture by Ben Shapiro at Ackerman Union. Shapiro, who was invited to campus by the Bruin Republicans, graduated from UCLA in 2004 and is the editor-in-chief of The Daily Wire, a conservative news and opinion website.
Now:
A new UCLA policy requires the university to pay security costs for major events on campus.
Jordan Sadlier, Bruin Republicans' former president and a fourth-year political science student, said the Bruin Republicans sent a letter to the university demanding it change its security cost policy to prevent viewpoint discrimination.
"The implementation of Policy 862 ensures better protection of all student groups' First Amendment right to freedom of speech," Sadlier said. "No campus organization will be forced to succumb to the will of a heckler's veto."
UCLA Administrative Vice Chancellor Michael Beck announced the change to Policy 862 in an emailed statement May 21. He said the policy is meant to uphold UCLA's commitment to free speech.
"Policy 862 is intended to support the ability of event organizers to host major events on campus and will be applied without regard for perspectives or positions expressed in connection with those events," Beck said.
Matt Benowitz, Bruin Democrats' external vice president and a first-year political science and classical civilization student, said he thinks speaker fees do not unilaterally limit rights.
"The influx of nonstudent, 'MAGA'-hat sporting confrontationists makes students feel threatened on the basis of their beliefs," Benowitz said. "It's a hypocritical hallmark of a club, Bruin Republicans, that would like you to erroneously believe that standard speaker fees and 'political correctness' unilaterally stifle their rights."
Future:
Sadlier said protests will not deter Bruin Republicans from holding more events in the future.
"The protests will not change the Bruin Republicans' calculus of which speakers we choose to bring in the future," Sadlier said. "Although it's never our intent to incite a protest, I assure you we will never let unrest intimidate us from fostering discussions on campus."
Israel/Palestine
Then:
Students held several events addressing Israeli and Palestinian issues, including sovereignty, pride and injustice throughout the year.
Eric Bordenkircher, a researcher at UCLA and an expert in the Israeli-Palestinian conflict, said President Donald Trump's administration's decision to recognize Jerusalem as the capital of the State of Israel has made the situation in the region all the more volatile.
Trump's decision was a break from decades of U.S. policy, which withheld recognition of Jerusalem as Israel's capital until the status of the city was finalized in a peace agreement between Israelis and Palestinians.
Hirmand Daniel Sarafian, a member of Students Supporting Israel at UCLA and a second-year neuroscience student, said he thinks the move reflects the reality of the situation.
"The State of Israel is a recognized sovereign nation, and like every sovereign nation, it has the absolute right to determine its own capital," Sarafian said.
Now:
May 14 marked the 70th anniversary of the creation of the state of Israel and of Nakba, an event in which more than 700,000 Palestinian Arabs were removed from their land.
"That kind of celebration or travesty, depending on which perspective you want to look at it from, is somewhat responsible for escalation of violence between Gaza and Israel," Bordenkircher said.
Robert Gardner, the former external vice president of Students for Justice in Palestine at UCLA and a fourth-year African American studies and political science student, said the violence at the barrier between Israel and Palestine has affected him emotionally.
"A lot of us were emotionally traumatized at the images of women and children being shot down like animals for no reason other than being Palestinian," Gardner said.
Sarafian said he thinks an on-campus event hosted by SSI on May 17 was violently disrupted by students from SJP.
"Every student has a right to celebrate who they are and express their First Amendment freedoms in a safe environment. On May 17, SJP robbed students of that right," Sarafian said. "If the disruption and its participants are not dealt the appropriate punishments in response to their violent and illegal activity, this type of anti-Semitic and Zionophobic harassment will only continue on campus."
Future:
Gardner said he worries that there will be future attempts to pressure the UCLA administration to restrict SJP activism.
"A persistent conflict we face is the ongoing attempt to silence SJP and even downright ban us from campus," Gardner said. "Many Israel advocacy organizations and individuals threaten to pull funding or stop donating to the university unless our events are shut down or we are banned."
Bordenkircher said the conflict between Israel and Palestine is becoming increasingly polarized.
"Chasms that separate these groups are becoming increasingly deeper and broader and bridges between these communities seem to be increasingly weaker or no longer present," Bordenkircher said.
Deferred Action for Childhood Arrivals program
Then:
President Donald Trump announced on Twitter in September that he would end the Deferred Action for Childhood Arrivals program, which was created in 2012 by former President Barack Obama. It delayed the deportation of undocumented immigrants brought to the U.S. as children.
Justino Mora, a 2015 UCLA alumnus and immigrant rights activist, said it was clear from then-candidate Trump's campaign rhetoric that he would rescind the program.
"The announcement didn't come as much of a surprise, but the delivery dehumanized the immigrant community while announcing the rescission of DACA," Mora said.
The rescission sparked protests in Downtown Los Angeles and on campus.
Now:
The United States District Court for the District of Columbia ruled in April that the federal government must resume new applications for the DACA program. The ruling also provided the Trump administration with a 90-day window to provide justification for ending the program.
Mora said that this decision is positive but does not address the root of the issue.
"DACA is only a Band-Aid, a temporary solution. We want a permanent solution," he said. "The minimum thing (Congress) can pass is the DREAM Act."
The UCLA Undocumented Student Program currently supports undocumented students by offering personalized services and resources to increase educational equity, such as a textbook lending library, meal vouchers and transportation subsidies.
Future:
Mora said future efforts will stress the importance of civic engagement.
"We must be strategic," Mora said. "We need to get people registered to vote, not only in national elections, but also (in) state and and local elections."
Abel Valenzuela, special advisor to the chancellor on immigration policy, said he will encourage eligible students to enroll in the DACA program beginning in July.
Contributing reports from Wendy Li, Daily Bruin contributor.
Morris was previously the 2020-2021 Editor in chief. She was also the 2019-2020 assistant Enterprise editor as well as the 2018-2019 assistant News editor for the campus politics beat.
Morris was previously the 2020-2021 Editor in chief. She was also the 2019-2020 assistant Enterprise editor as well as the 2018-2019 assistant News editor for the campus politics beat.