Student enhances vision for film by incorporating English, premedical experience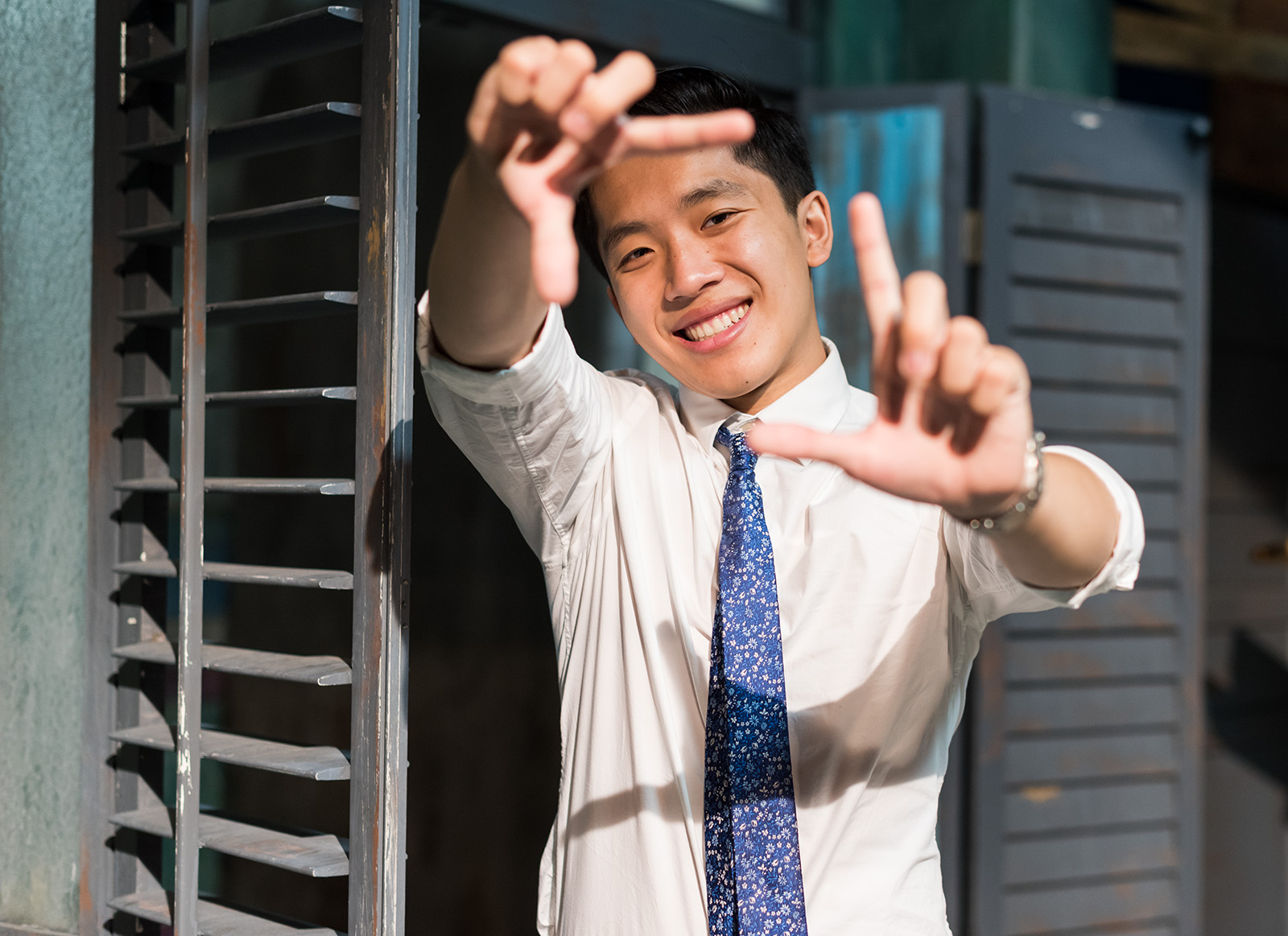 Fourth-year English student Derek Nguyen incorporated his research of the human eye in his short film "Dilation," which follows a vigilante who targets sexual predators. (Daniel Leibowitz/Daily Bruin staff)
Derek Nguyen's research into human eyes taught him that dilation of the pupils occurs from fear, excitement and sexual attraction.
The knowledge he acquired culminated in his short film "Dilation," which involves a vigilante who assassinates sexual predators.
The fourth-year English student writes, produces and directs short films, commercials and music videos. However, Nguyen has never stepped foot inside the UCLA School of Theater, Film and Television and instead spends much of his time taking preparatory courses for medical school. Coming into UCLA, Nguyen intended on receiving a well-rounded education, and he said his diverse academic background has affected his experience as a filmmaker by exposing him to more unique stories.
"I grew up with film, but at the same time I grew up with a family of doctors," Nguyen said. "I don't need any more medicine stuff to make (my) resume, so I want to try something artistic. I want to try … one of my passions."
Nguyen will send "Dilation" to upcoming film festivals such as the HollyShorts Film Festival and the LA Film Festival following his graduation, but also hopes the project will help him pitch a future movie or series. The film's vigilante assassin is known as a "mantis" and targets sexual predators, practicing a twisted type of assassination called "dilation," in which the targets die feeling both fear and arousal, he said.
The script was inspired by Nguyen's medical research on eyes, but he added a sinister spin, ultimately creating a psychological thriller borrowing from various contemporary noir films, such as "Blade Runner 2049." In "Dilation," the protagonist delivers a monologue explaining that no one can lie with their eyes, as dilation is part of the autonomic nervous system, Nguyen said.
Nguyen first fell in love with filmmaking when interning during high school for a professional screenwriter, but he still elected to take premedical classes when he arrived at UCLA. Nguyen decided on an English major to accompany his science and math classes, as he wanted to immerse himself in his passion for storytelling, which he said he employs in all of his endeavors – from theater to creative writing to short films and music videos.
"Doing an English major got me introduced to a variety of stories that I wouldn't have seen if I just did the stereotypical film major and watched 'Citizen Kane,'" Nguyen said. "If I just watched Western films all the time, I think my voice would be a lot different."
By studying Jorge Luis Borges in his English classes, Nguyen said he learned different and innovative ways to tell stories. In Borges' collection "Ficciones," for instance, the author writes a review of an imaginary book, and uses this technique to tell an original story. When Nguyen began writing short films, he said he looked to Borges for examples of using different perspectives and mediums to tell stories in more intriguing ways. For an upcoming music video Nguyen worked on, he used a medley of mirrors and green screen to show the story of a multiple-year relationship in a steady 30-second shot.
Nguyen's filmmaking is partially aided by his blind confidence, said Angel Herrera, a second-year theater student and the director of photography for "Dilation." Nguyen's ambition can be seen in the size and scope of "Dilation," Herrera said, which is over 20 minutes long. The film also required numerous pieces of equipment, such as dollies and camera stabilizers, that Herrera and Nguyen partially paid for themselves. Nguyen enjoys problem-solving and trying to find out-of-the-box solutions, a trait that Herrera said likely stems from Nguyen's background in premedical studies.
"I think he dissects sets sometimes," Herrera said. "He diagnoses sets and is like, 'This is what we need.' And then he knows what medicine to get it working again."
The lack of a formal education in film also has its disadvantages, however, as Nguyen said he has to find or create work for himself on top of other studies, said Allen Chen, Nguyen's longtime friend. Chen said he has acted as Nguyen's unofficial agent and also helps with the occasional odd job, such as scouting a shooting location in Downtown Los Angeles with Nguyen for "Dilation." As a friend, Chen said he knows it has been difficult for Nguyen to balance his school, social and film lives.
"Not a lot of people can invest so much in their hobby while maintaining two different types of course loads, whether you're writing a 36-page paper or memorizing for an (organic chemistry) test," Chen said. "I think someone has to be really passionate about what they're doing in order to strive for that."
Nguyen said he may eventually take the MCAT and attend medical school, but he doesn't want to spend the majority of his most formative years in school. Both filmmaking and medicine are intellectually stimulating, Nguyen said, but film allows an outlet for creativity that he could not access as a physician.
"If being a full-time director didn't work out, I think I'd be one of those guys that worked as a doctor during the day, and then I'd probably end up shooting short films and trying to write scripts … during the nights and the weekends," Nguyen said. "I see some type of art form … in my life no matter what."