Senior signoffs: Kelli Hayes reflects on basketball and her humanitarian growth along the way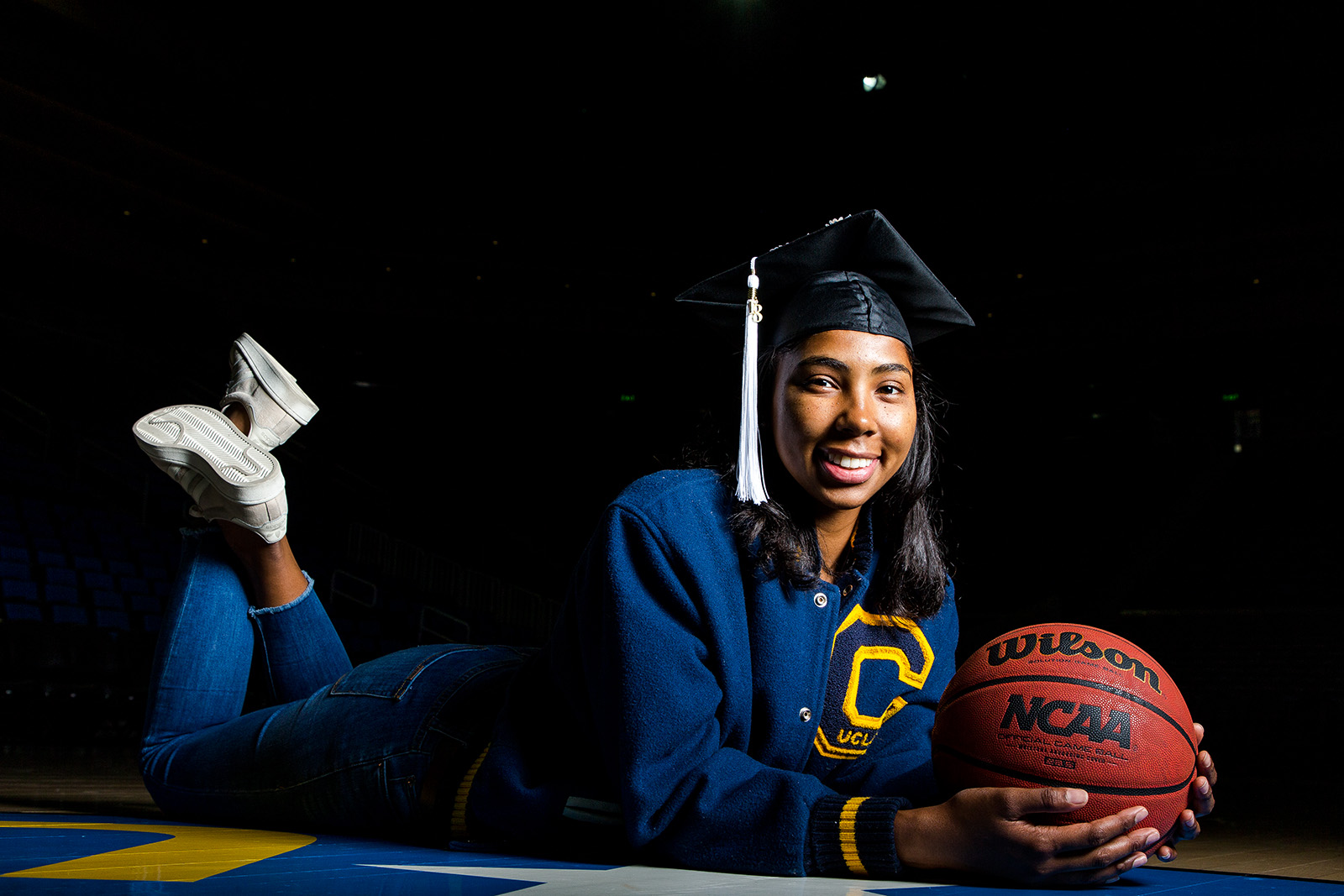 Graduating UCLA women's basketball guard Kelli Hayes helped lead the Bruins to their first Elite Eight appearance since 1999 during her senior season. Hayes is one of three seniors who will be graduating this year. (Kristie-Valerie Hoang/Daily Bruin senior staff)
As a student-athlete, UCLA has opened my eyes and given me experiences that I could only dream of before arriving on campus.
I was fortunate to receive the opportunity to have my senses awakened by the pothole-filled streets of Westwood that wrecked my Jetta's tires, to expand my knowledge through the gender studies department, to develop leadership skills on and off the court, and lastly, to gain perspective, giving way to a constant desire for finding the commonalities among things seen as different and to hold a relentless pursuit for saving the world one person at a time.
That all sounds like a lot, I'm sure.
But from my time as an 18-year-old taking my first steps into a top-university classroom in June 2014 in Kaufman Hall, to my last trek to class at a No. 1 public university as a 22-year-old in June 2018 in Broad Art Center, I grew.
I grew from a teenager who was externally pressured to be successful with unrealistic expectations, to an adult who was inspired by a passion that has been cultivated with the help of a life that has been filled with experiences.
Without UCLA and the women's basketball program, without my teammates and friends, and without my family, the progression of my ultimate passion to save the world one person at a time would not be where it is today.
UCLA has given me a resourceful bank of opportunities to network, and it was a privilege that will last a lifetime. UCLA is the place where I learned to speak freely with respect, understand with empathy and smile with joy – all while playing the game of basketball.
My freshman year I was part of the No. 1 recruiting class but played the least amount of minutes among the five of us (I averaged 12 minutes a game). We went on to win the Women's National Invitational Tournament after we begged our coaches to not make us play.
We worked to get better. I worked to improve my game.
Then we made back-to-back Sweet 16 appearances in my sophomore and junior years. I increased my playing minutes to 20 per game by my sophomore year. By my junior year, I had my first starting season in which opponents guarded me like I was actually a basketball player.
Lastly, I concluded my collegiate career in Kansas City, Mo. at the Elite Eight. By my senior year, opponents had to finally respect me on the perimeter, where I nearly tripled the amount of 3-pointers I had made in the past three years combined.
What I learned along the way is that I am not, and will not, be defined as a basketball player, but rather a person who played basketball and used it as a means of setting up my life.
From tenuous decisions made in parts of games that I did not play, to missing shots I knew I could make, to getting blown by while on defense because I reached or was off balance or to calling out my teammates when they made a mistake, all of these things taught me that I needed to work harder and smarter with a purpose – that I was not focused on the right things, and that I blamed everyone else without accepting responsibility.
Playing basketball not only taught me about the game, but also about my true self. I gained the importance of thinking of others before myself, communicating with a purpose and bonding with others naturally. Through basketball, I found my true value and learned to become a dynamic leader and humanitarian who unifies people through the power of connection.
I have learned over the past four years that life isn't about statistics, winning or losing, awards or championships, but about finding a passion and a true sense of self.
It is fitting now that I have taken off my UCLA jersey and am getting ready to walk across the stage to receive my diploma in the very same building where I have cried, laughed, grown, bled, pulled my hamstring several times and where I have smiled: Edwin W. Pauley Pavilion.
The best and even worst experiences of my life, thus far, have made my adventure here at UCLA one that I will always appreciate. The person I have become and the person I continue to grow into, along with the people I have impacted along the way, have impressed upon my heart. And for that, I am most grateful.
Hayes was a guard for UCLA women's basketball team from 2014-2018.