Photographer showcases graduates' personalities to make shoots memorable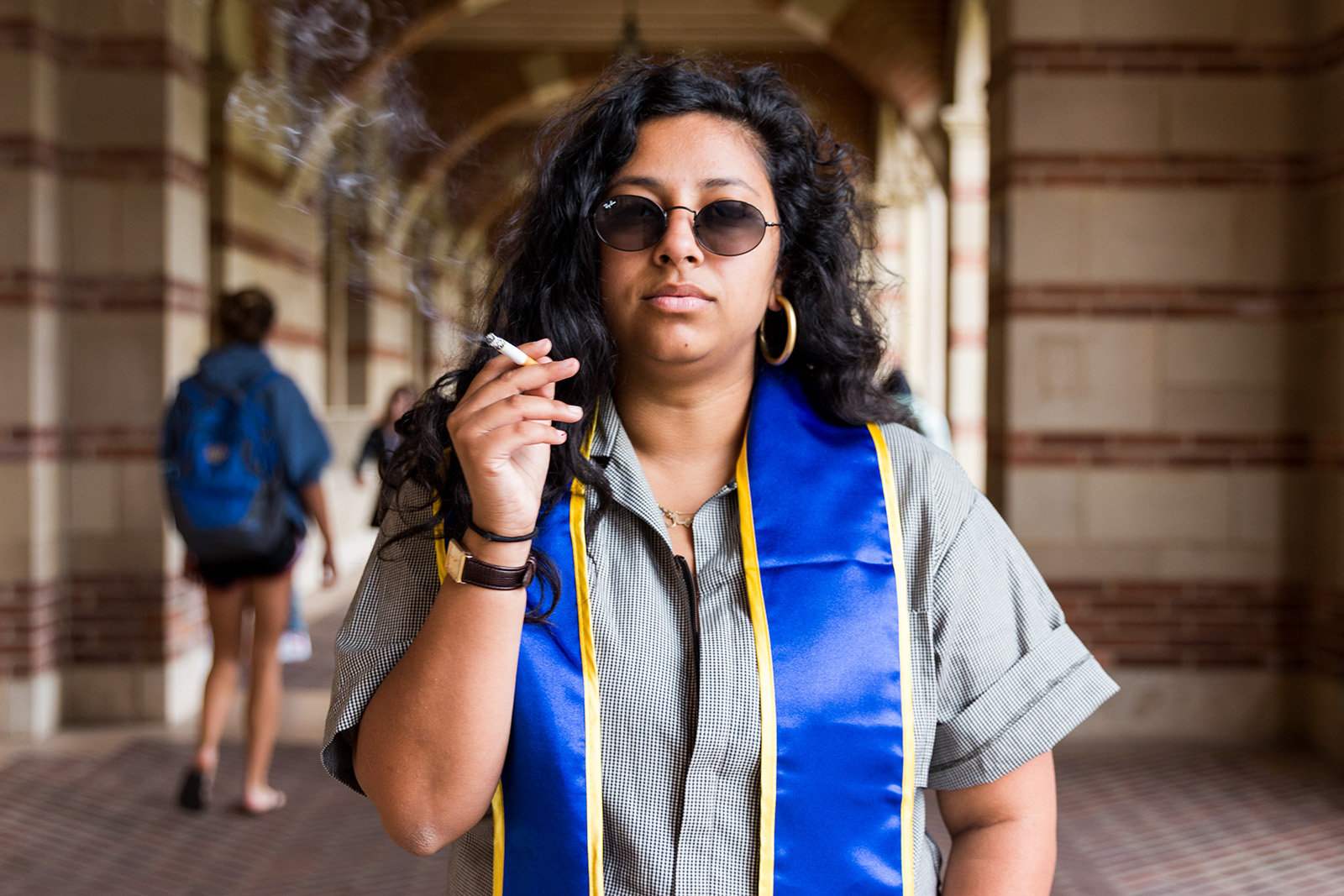 Taj Shaikh takes photos of graduating UCLA students, experimenting with both traditional graduation photography, such as simple-posed smiling portraits, and more eccentric, edgy photos of her clients. (Jenna Nicole Smith/Daily Bruin)
Taj Shaikh's photography portfolio features graduating students playing with fidget spinners, shotgunning beers and posing nude.
Shaikh began taking photos at UC Santa Barbara before moving to Los Angeles and snapping shots of her graduating UCLA friends. With her portfolio, she soon began posting on the UCLA Free & For Sale Facebook page in search of new clients. She said she experiments with both traditional graduation photography, such as smiling portraits with simple poses, and more eccentric, edgy photos of her clients. Shaikh wants to use her photography to help clients remember specific quirks or memories that made their college years special.
"I love capturing intimate moments because it's cool to look down the road 20 years from now and at photos and be like, 'Wow, this was a moment in time that was captured,'" she said.
Shaikh said she works toward learning about her clients' personalities before and during shoots. She reaches out to clients through emails or text messages, inviting them to bring whimsical, memorable objects of their choice as props, she said. Shaikh said she then meets up with clients at the Bruin Bear and strategizes photo ideas based on what they brought.
"I kind of ask people, … 'What do you want to be portrayed as?'" Shaikh said. "'What do you remember from your four years in college besides staying awake all night studying?'"
Fourth-year communication student Renata Narvaez said she found Shaikh through the UCLA Free & For Sale page and felt very comfortable around her because Shaikh's friendly personality let her relax. To find out more about her, Shaikh asked Narvaez and her group questions about their favorite places on campus and what they study, Narvaez said. Then, during the shoot, Shaikh played off their different energies by observing the ways they were interacting and catering to what they wanted while staying true to her style. Narvaez said that, during the shoot, Shaikh was open to trying poses Narvaez and her friends suggested, and Shaikh would add candid shots, making the poses feel less artificial.
Shaikh's editing style also complements her candid photography, Narvaez said, since her edits accentuated what was already in the photo. Shaikh has created more than 100 different custom color profiles, which function like filters, on Adobe Lightroom CC. To create a color profile, Shaikh manipulates the tinting of highlights and shadows to play with the color and tone before transferring the profile to her photos. She said her custom filters complement the genuine pigments of the photos, making them appear natural, but warmer.
"(The editing) just enhanced the fact that all the photos felt very real and it felt like you could … just jump into that moment," Narvaez said.
To personalize her portraits, Shaikh said she encourages the use of meaningful items and attire. For example, in a recent shoot, she photographed a client who said she remembers spending her gaps of free time reaching for her laptop to binge-watch Netflix. To portray this, her client brought her laptop decorated with a Netflix logo to the shoot. In another shoot, Shaikh photographed a client in a traditional Indian dress, which signified the importance of her Indian heritage and culture in her life, she said.
Fourth-year psychobiology student Sasha Polovneff and her friends brought items that defined their friendship during their undergraduate years. Shaikh photographed the group in front of Royce Hall wearing fur coats. She said her friend group often wears fur coats as a joke and the photo encapsulated their antics well.
"We could do more than just the traditional spraying champagne or (photo) with our sashes, so it was nice to do something a little bit different (and) fun," Polovneff said.
One of Shaikh's favorite graduation photo shoots involved four of her friends stripping down in a secluded part of campus for a nude photo, Shaikh said. The girls wore nothing more than their blue and gold graduation stoles for the front-facing photo to cover themselves, and turned around for another shot with only the graduation stole around their waists. Shaikh said the photo became very popular on social media and was featured without photo credit on various Instagram accounts that spotlight college students, such as I'm Shmacked, where the photo garnered more than 20,000 likes.
Shaikh said her photographs are inspired by vintage Playboy magazines for their outgoing, retro-film appearance and activist photographers because they capture the reality of a moment. Shaikh works in graphic design on weekdays and focuses on photography during the weekends for various brands, but she plans to continue taking graduation photos next year.
"(The graduation photos I take are) different because I feel like a lot of people just do the standard smiling and very proper, parent-appropriate photo, which is totally cool and I do those too, but I think mine are different because I encourage people to do some weird shit and just be kind of crazy and out there," Shaikh said.