Theaterfest plays to feature immigrant stories, nature's revenge against humans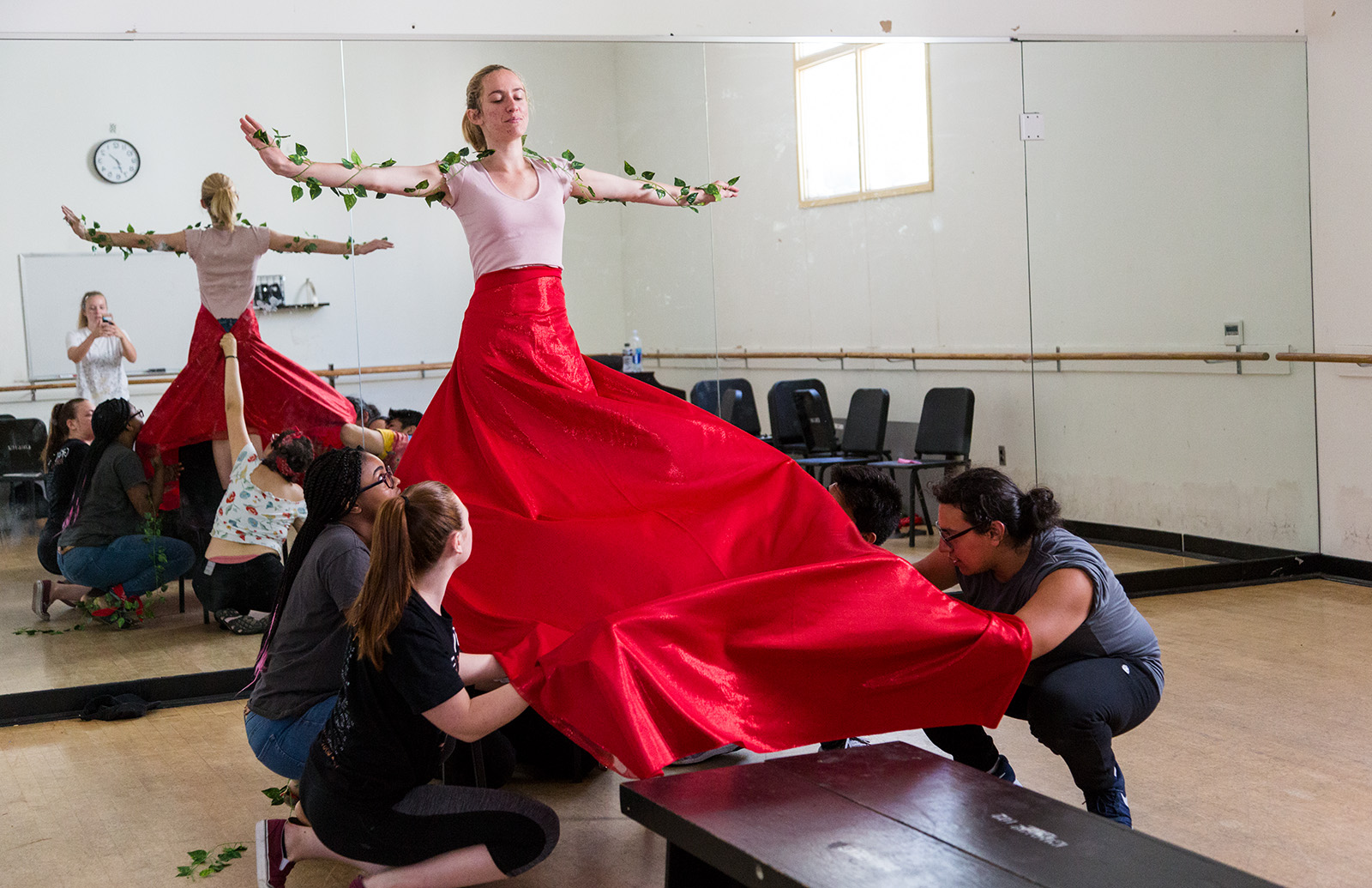 Beatrice Brown, a first-year theater student, performs in "Teenage American Nightmare." The original play depicts a dystopian version of the year 2017 in which plants come alive and attack humans. (Amy Dixon/Assistant Photo editor)
Just Like Usp>
1350 Macgowan Hall
June 8-9
Free
Teenage American Nightmarep>
1330 Macgowan Hall
June 8-10
Free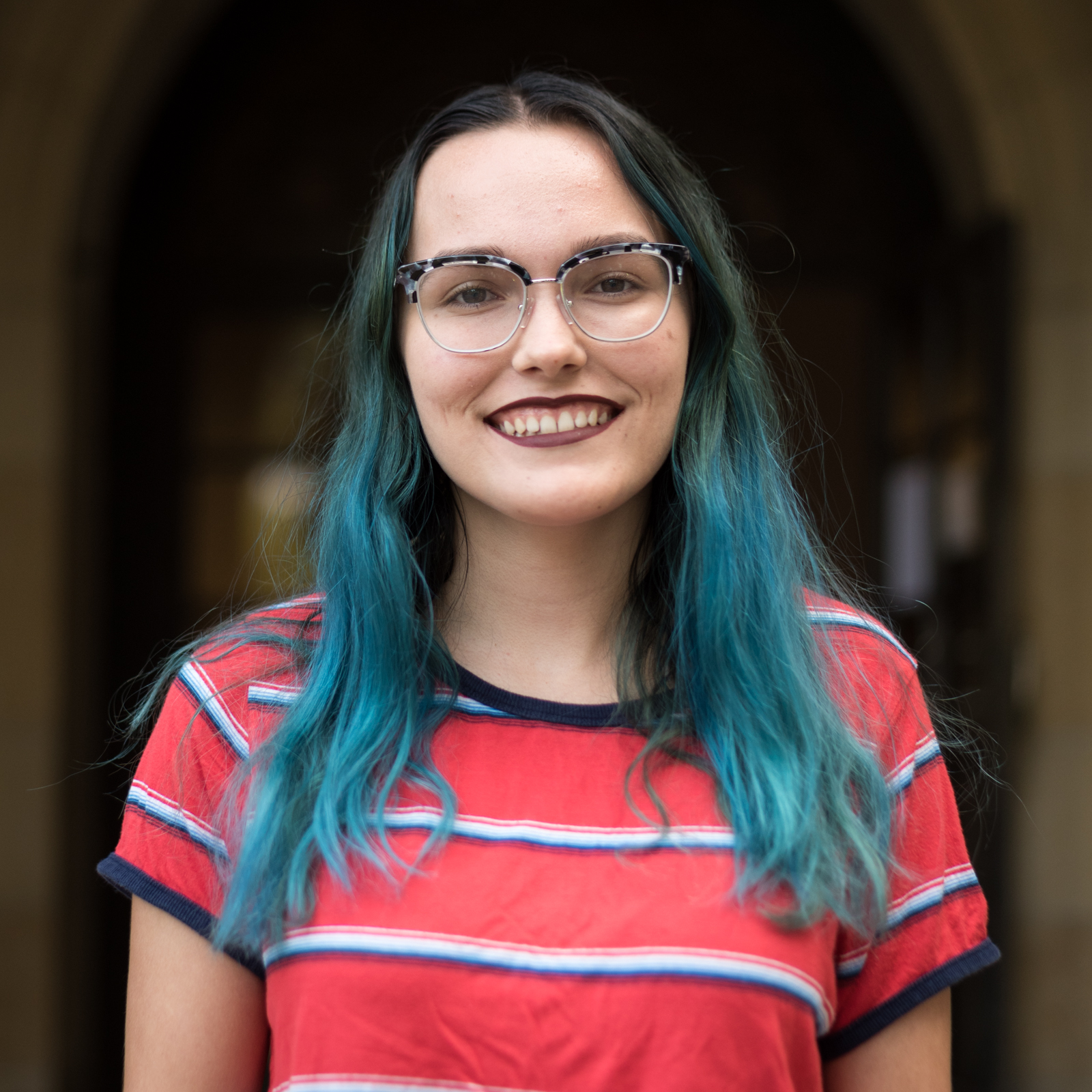 Undocumented students' experiences and jungle war zones will be featured in this year's UCLA Theaterfest.
"Just Like Us" and "Teenage American Nightmare" focus on elements of American society. Undergraduate actors, directors and playwrights will present these passion projects at the student-run festival.
"Just Like Us"
Playwright Karen Zacarías compressed 400 pages of a nonfiction book into a two-act documentary play.
"Just Like Us," based on the book of the same name by journalist Helen Thorpe, follows four young immigrant girls – two of whom are undocumented – as they transition from high school into college. Zacarías said she aimed to capture the voices of the real people from the story.
Zacarías optioned the rights to the play after the Trump administration announced the end of the DACA program in September – she no longer receives royalties from the productions. Since then, about 95 universities and theaters have performed readings of the script, she said. The free productions provide a space for those who relate to the story to discuss the topic and share it with others, she said.
"It's a great way to channel activism and bring people into a deeper discussion that will hopefully encourage more people to vote, more people to be active, more people to care about this issue," Zacarías said.
The four girls balance light conversations about telenovela heartthrobs with more difficult topics such as their parents being deported. The mixing of tones prevents them from being solely defined by their struggles, Zacarías said – something she hopes other undocumented people will be able to experience.
"It's about not being condescending, and valuing what they're going through and what they have to say," Zacarías said. "The girls have to speak (the) way real 17-year-old girls speak."
First-year theater student Camila Rozo plays Marisela, an undocumented immigrant from Mexico. An immigrant herself, Rozo said she can relate to many of Marisela's fears, such as wariness around police officers, because she said many immigrants are unsure of who their allies are.
The play also presents the pressure for immigrants to assimilate into American culture, an experience Rozo said she has grappled with herself. She said she did not want to speak Spanish when she first arrived in the U.S., and did her best to suppress her Colombian accent for the sake of fitting in.
"It's this erasure of who you are and your culture for survival. Something that the girls deal with and that I deal with is whether we rebel and lead this revolution, or do we assimilate for our own safety," Rozo said. "(Not assimilating is) important and powerful, but there's a safety that comes with assimilation that so many people in different communities have to go through."
"Teenage American Nightmare"
Humans fight foliage in a dystopian depiction of the year 2017.
Writer Chloe Xtina, a first-year theater student, based the original play "Teenage American Nightmare" on her hometown of Oakland, California. The story takes place in an alternate version of the present in which nature comes to life and fights against humanity. A group of teenagers are forced to enter the fight but question their motives. The play features disco music and nature components to reflect the solitude many experienced in 2017, Xtina said.
"(The play) speaks to the level of isolation … that no one is really there to help or support you," Xtina said. "Everything you do, you have to do on your own."
Plants, such as jasmine bushes and redwood trees, retaliate against the effects of climate change caused by humans, Xtina said. The teenagers forced to join the fight are split between those who are swept up in nationalist sentiments and those who question their reasons for fighting, Xtina said. While some of the characters are enthralled by the violence, she said others refuse to blindly support the cause, creating feelings of isolation. The character frequently uses disco music to silence the chaos surrounding them, as they find joy in the upbeat tunes, Xtina said.
The heavy use of disco music also creates an accessible environment for the audience because it incorporates more recognizable elements into the play, Xtina said. However, the music can also serve to isolate the audience. The seemingly random dance numbers in the middle of a scene make the audience uncomfortable, much like how the characters feel distanced from their peers who engage in combat, she said.
Director Mary Alex Daniels, a first-year theater student, said she incorporated components of nature to juxtapose with the disco elements. She had actors choose an animal and an element of nature that they felt represented their characters. One actress chose a jaguar to represent her character, showing the animal through her movements by leading with her shoulders or hips, Daniels said. In focusing on subtly portraying such characteristics in humans, Daniels said she aimed to create a surrealist effect meant to reflect how she felt people acted in a bestial way during the political chaos many experienced in 2017.
"I think we've seen that a lot of people really act very animalistic towards each other and very violently. It's so easy in your everyday life to dismiss the chaos that's going around in other parts of the world," Daniels said. "It's easy to forget about them because we're so isolated."
Snyder is the Arts & Entertainment editor. She was previously the Theater|Film|Television editor.
Snyder is the Arts & Entertainment editor. She was previously the Theater|Film|Television editor.