UCLA alumna's paintings of everyday life featured in San Antonio gallery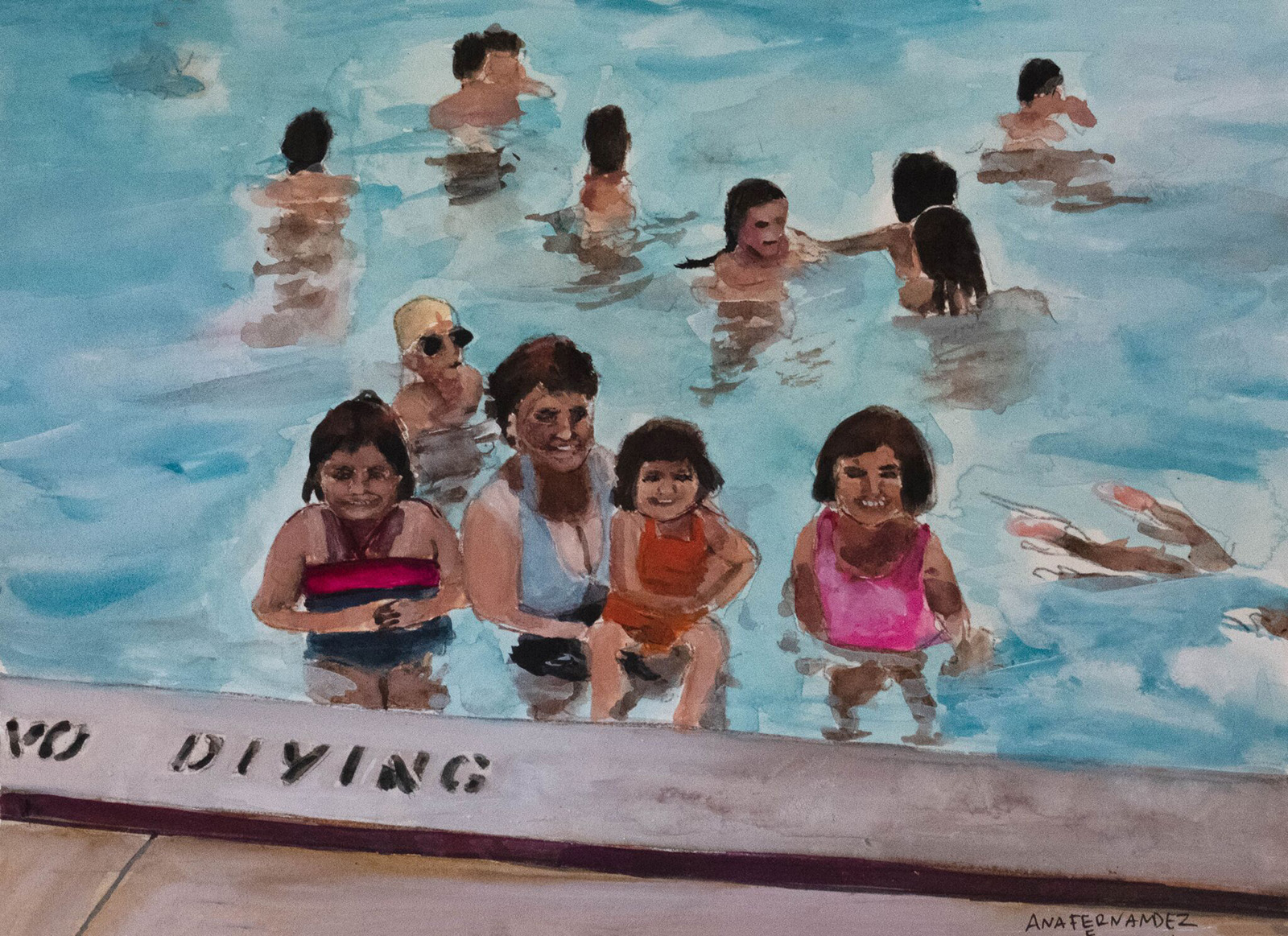 Alumna Ana Fernandez paints everyday scenes from around San Antonio. In "Collier Pool," she captures a Latino family going for a swim in a public pool. (Courtesy of Ana Fernandez)
Ana Fernandez and her "chili queens" dish out Tex-Mex food from her San Antonio food truck, Chamoy City Limits.
The truck has also become a source of inspiration for Fernandez's paintings.
Although Chamoy City Limits initially began as a simple business venture for Fernandez, the artist and alumna said she eventually began to see a connection between her art and the culinary heritage she's upheld with her food truck. By selling food and documenting culture, Fernandez said she feels her business creates relationships with others while also operating as an art form – she paints sights specific to her hometown of San Antonio, Texas. Fernandez is exhibiting her artwork at Cinnabar Gallery in San Antonio until June 17, and will also participate in an international artists' residency program at Artpace, a San Antonio art gallery, in the fall.
"I feel like it's really entrenched in my culture, in that I'm providing the food and I'm photographing people having it," Fernandez said. "I'm painting the customers who come to my truck and eat my food, so it all comes full circle."
When Fernandez returned to San Antonio after living in Los Angeles for 10 years, she said she realized the drastic underrepresentation of small-town sights in the arts. Fernandez said the landscapes she painted in LA all seemed familiar, largely because the city appears as a popular backdrop for Hollywood productions. In San Antonio, she found a rarer beauty in the hand-painted signs of the mom-and-pop shops lining the streets.
Consequently, Fernandez has shifted her focus to painting small Latino-owned businesses like her own. The subject matter has allowed Fernandez to achieve a level of intimacy in her art that her cityscape portraiture could not provide, she said.
"Some people read my art wrong and think it's about gentrification or things that are disappearing," Fernandez said. "I see it as more of a celebration capturing something in full bloom, like a business that's thriving."
Fernandez's painting "Raspa Kids," currently on display at Cinnabar Gallery, depicts neighborhood kids savoring raspas, or snow cones, Fernandez sold to them from her food truck. After asking their mothers for permission, Fernandez took photographs of the children and later referenced them for her painting, which is how she said she typically begins her work. The painting uses an unposed picture of the children zoning out while eating their raspas as a reference. The way the light plays about the figures creates a Caravaggio-esque feel, she said.
Fernandez said she applies different symbolic levels to her paintings: an accessible level that requires only an understanding of the literal and a more symbolic level that painters can appreciate. Veronique Le Melle, former executive director of Artpace, said Fernandez subtly embeds aspects of her underrepresented background in her work.
"One of my favorite pieces of hers ("Collier Pool") shows a family in a community swimming pool, and when you look at the painting, you know immediately that one of the little girls is actually (Fernandez)," Le Melle said. "She has such an ability to take themes that are local and important to her culturally and elevate the work in a way that it truly becomes commentary."
The vivid realism of Fernandez's work easily allows the viewer to understand the neighborhoods she chronicles, Le Melle said. In Fernandez's painting "La Gardenia," two people in a restaurant drink from plastic foam cups, sitting in a cramped booth with a gray cityscape reflected in the window.
"Even though her subject matter is currently about San Antonio, these sort of relationships are happening all over the world," said Susan Heard, who owns Cinnabar Gallery. "You don't have to be in San Antonio to relate to 'La Gardenia,' because it's just two people relating over a plate of food."
Ultimately, Fernandez said she aims to paint scenes from the everyday lives of people who seldom see themselves depicted in art or media. In 2012, Fernandez went to a street in her neighborhood and created a series of watercolor paintings based on the houses and cars she saw. Later, at the gallery, she said she watched a young man standing in awe when he realized Fernandez had painted his own house on Banks Street.
Fernandez said she aims to evoke a feeling of amazement in all her viewers simply by painting the places she eats at and the backyard parties she attends. Fernandez said that for many, her paintings provide a window into their own lives, which seldom appear on the walls of museums.
"Art can make people feel a little bit differently about their house or restaurant because it's now the subject of a painting," said Fernandez. "It says we have something of value in our community that somebody sees the beauty in, even if it's just a hand-painted sign."