First-year duo wins Spring Sing 2018 top prize, two other awards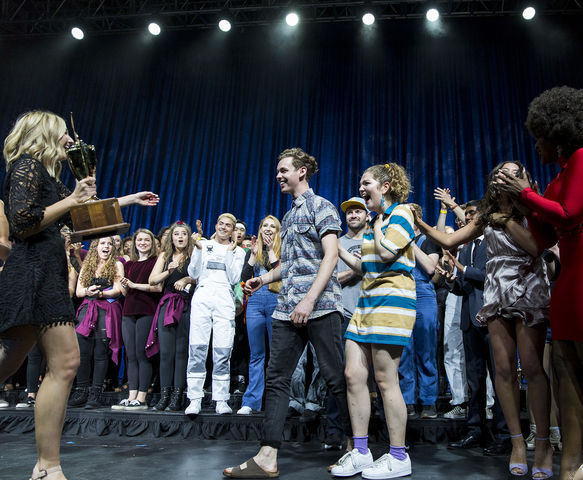 Hayden Everett and Caroline Pernick won three Spring Sing awards for performance of their original folk-influenced song "For I Fear." This was the duo's first year performing in the competition, garnering them the Bruin Choice Award, the award for best duet and the the award for best overall performance. (Michael Zshornack/Photo editor)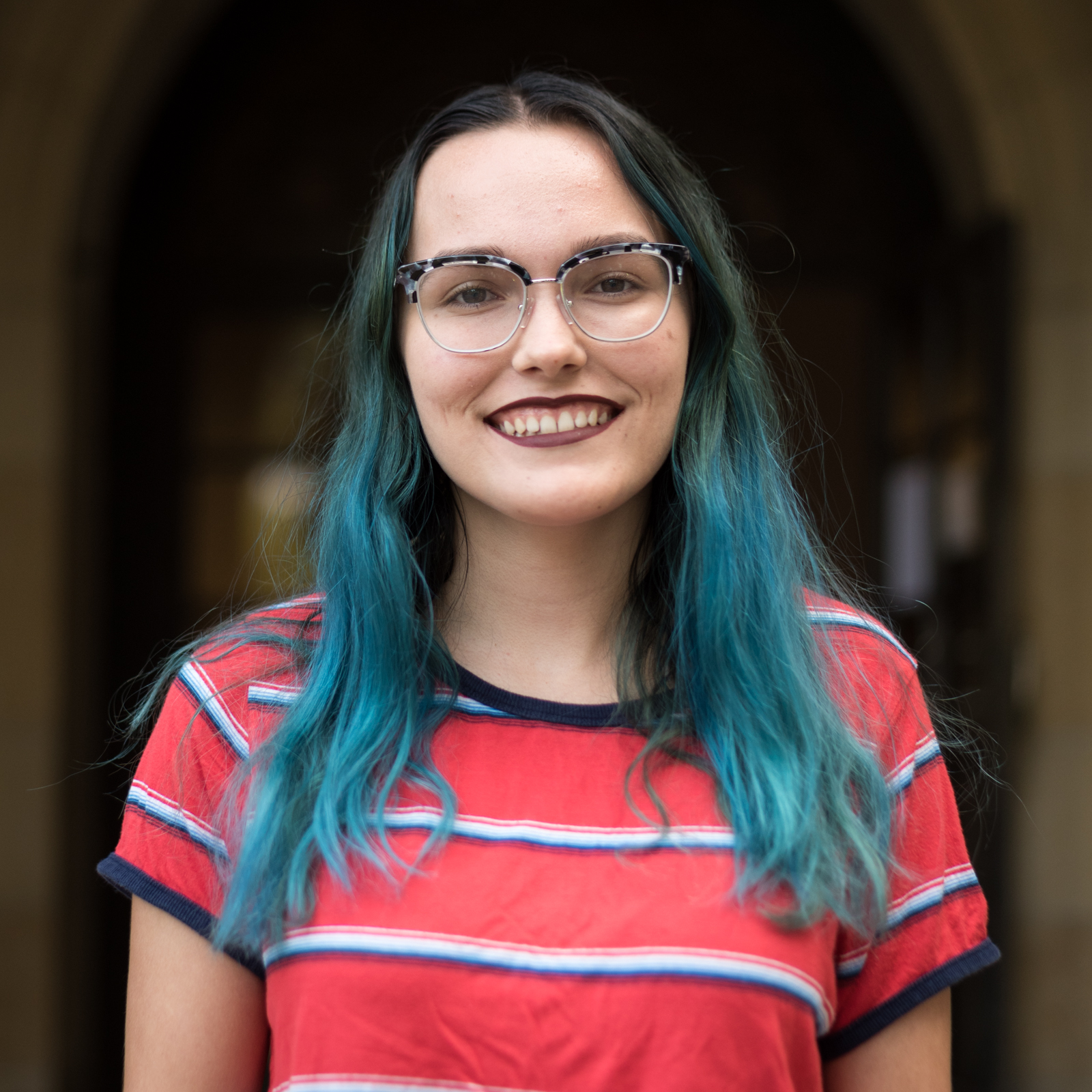 First-year students Hayden Everett's and Caroline Pernick's late-night jam sessions in Hedrick Hall paid off Friday night in their first Spring Sing performance.
The duet received the Northern California Alumni Grand Sweepstakes Award, Spring Sing's top prize, along with the award for Best Duet and the Bruin Choice Award. They competed alongside 14 other performers at the Student Alumni Association's annual talent competition in front of 10 celebrity judges, including Emily Osment of "Hannah Montana," Corbin Bleu of "High School Musical" and alumna India Carney of "The Voice."
"It was really incredible to share (Everett's) music and see it affect so many people," Pernick said. "There's something about going on stage and hearing our voices and seeing the crowd that's absolutely unreal."
Everett, a first-year jazz and piano performance student, and Pernick, a first-year musical theater student, bonded over their love for folk music, leading to the creation of their original song "For I Fear." During their performance, audience members waved their phone flashlights as Everett and Pernick harmonized to soft guitar strumming with lengthy humming that allowed their vocals to shine.
First-year English student Emily Dieffenbach, who performs under the name Emily James, won the Best Solo award for her performance of her original song "If Walls Could Talk." James accompanied herself on the keyboard, while members of the audience waved their phones to the rhythm of the tune.
The award for Best Band went to Jaded, an eight-person band led by third-year psychology student Jada Banks-Mace. The band's jazzy and upbeat song "Dancing Around" featured a short flute solo and a lengthy guitar solo.
The all-male a cappella group Bruin Harmony, dressed in black and purple, received a standing ovation from a few of the judges as they ended their slow performance of "Creep" with deep harmonizing. Osment presented them the award for Best A Cappella group and said, "I wish I could kiss all of you."
Sofie Sheldon, a second-year world arts and cultures student, opened the night with her song "Mama Says," which she wrote for the class World Arts and Cultures 160: "Performing Sexual Health: UCLA Sex Squad." Sheldon's ukulele strumming left the audience bursting in sporadic cheers while she sang about gender inequality and sexual harassment and assault.
Company's "Stranger Things"-inspired filmed skit won the Sasan Ahoraian Company award for best comedy sketch, which featured USC as the "Upside Down" complete with a Tommy the Trojan Demogorgon. The group also filmed a skit likening the climb up the Hill's notorious "death stairs" to mountain climbing and performed a Westwood-themed edition of the opening song from "Beauty and the Beast."
Rock band Linkin Park was awarded the George and Ira Gershwin Award for Lifetime Achievement, which was first established in 1988. Lead guitarist and UCLA alumnus Brad Delson reminisced on the band's formative years at UCLA, including being rejected from Spring Sing in 1997. The band joins Frank Sinatra and Julie Andrews as recipients of the award.
"Apparently for some it's more difficult to get into Spring Sing than win this outrageously prestigious award," Delson said. "Or maybe we just bloomed late."
But Everett and Pernick seemed to bloom right on time and will go home with not just one but three Spring Sing trophies.
"The only thing I can take away from our awards is not that we were the best performance but that it was so special that we were able to impact people in the way that we did," Pernick said. "I will remember people putting their phone lights up way more than I will remember winning the awards."
Snyder was previously the 2019-2020 Arts editor as well as the 2018-2019 Theater | Film | Television editor.
Snyder was previously the 2019-2020 Arts editor as well as the 2018-2019 Theater | Film | Television editor.