Global Melodies: Music of African Americans Ensemble draws inspiration from history of gospel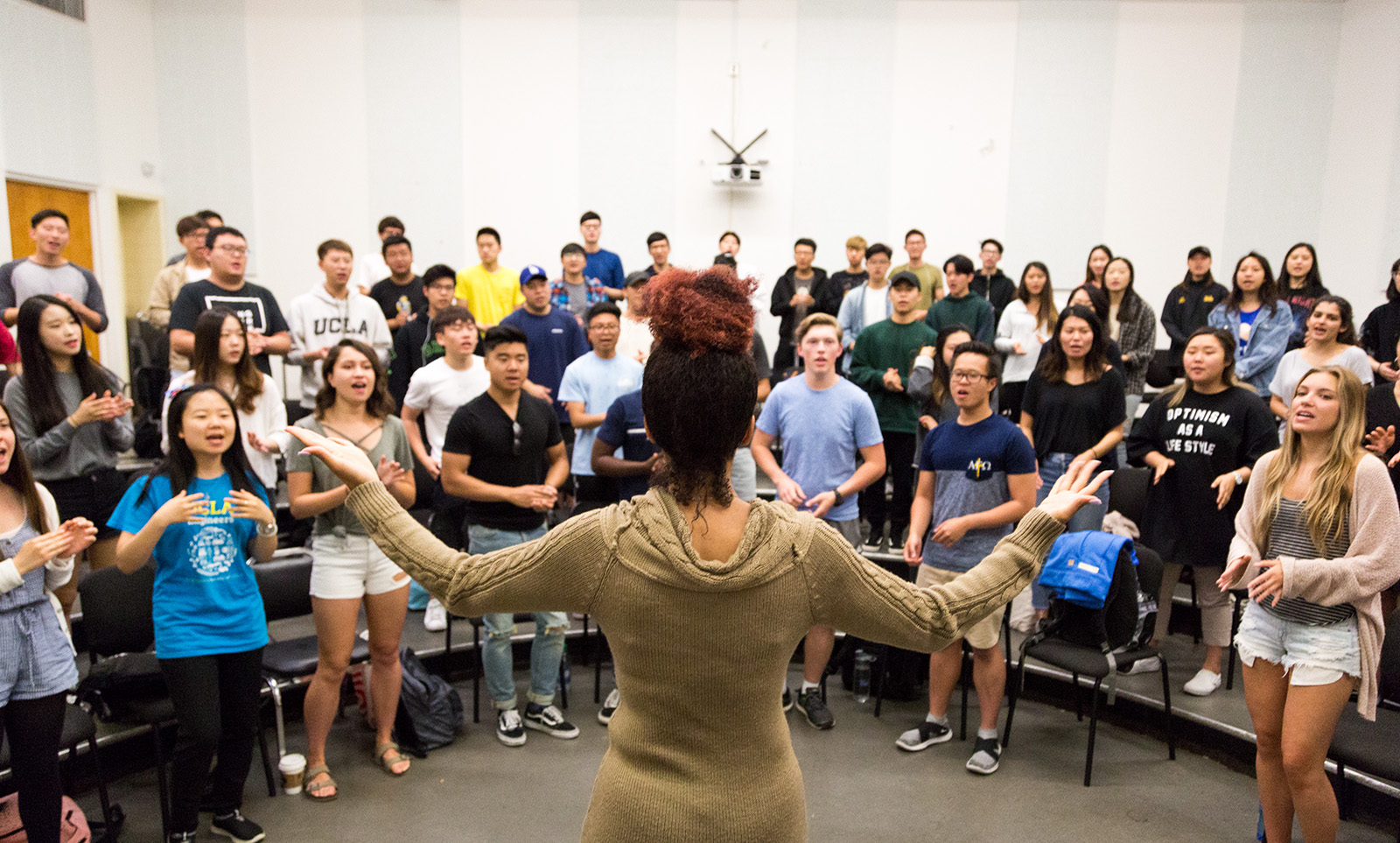 The Music of African Americans Ensemble is an ethnomusicology performance class in which students rehearse contemporary gospel music while learning the history of the genre. (Amy Dixon/Assistant Photo editor)
The UCLA Herb Alpert School of Music's department of ethnomusicology offers a range of different ensembles spanning multiple regions throughout the world, each with a rich musical dynamic and sound. In "Global Melodies," the Daily Bruin will feature various world music ensembles in an effort to showcase the diversity of music within the department.
Traditional forms of gospel music – much like various popular music genres such as blues and rock – are rooted in the history of slavery.
Gospel music is the focus of the Music of African Americans Ensemble, a performance class named Ethnomusicology 91P for lower-division credit and Ethnomusicology 161P for upper-division credit. Adjunct assistant professor of ethnomusicology James Roberson, the current director of the ensemble, said while the class is geared toward teaching students the fundamentals of gospel music performance, students also learn about the genre's contextual history of Negro spiritual music.
"The class is a … holistic, comprehensive class that includes learning how to perform different styles of black music as well as the history of it," Roberson said.
Roberson said approximately 400 students auditioned for a spot in the ensemble this quarter. Due to the limited capacity of the designated classroom, only about 125 students were selected. The class is diverse in nature, Roberson said, and is composed of music majors, non-music majors and students who join because of religious ties.
Roberson said the class rehearses weekly, often opening with him briefly describing the historical context of the day's songs, followed by actual practice. Although the class is performance-based and diverges from traditional lecture style, Roberson said lessons about the history and contextual relevance of the songs are still interspersed in rehearsals. For example, the Negro spiritual "Down by the Riverside," a song written by slaves, is about awaiting freedom from slavery and crafting an escape plan by a river at nightfall.
Gaining historical context enriches students' performance, Roberson said. As a professor at an educational institution, he said he is interested in exposing his students to diverse cultures instead of only teaching students the fundamentals of music performance.
Gospel music originates in Jamestown, Virginia, in 1619 with the beginnings of the African slave trade in America, Roberson said. Slaves began singing to pass the time and escape the monotony of their lengthy days spent working on plantations. The songs were eventually named Negro spirituals, and were sometimes referred to as work songs or field hollers, he said.
"Slaves from West Africa who were brought to a new land were separated from their language, from their culture, from their homeland and many times from their family," Roberson said. "This music became a music of hope … people trying to make sense of the very dire situation they were in."
Initially, African slaves would communicate between various plantations by using drums. Slave traders, however, then banned the use of drums, afraid that slaves were using the instruments to exchange escape plans, which, in turn, gave rise to the exclusively vocal style of gospel music, Roberson said.
Teresé Haley, a third-year sociology student and ensemble member, said gospel songs often tie back to times when slaves had to use African music to communicate without explicitly saying what they were doing on plantations.
"Music was (their) way of saying what was going on, but also their way of healing, a way of letting out emotion, a way of connecting with each other and praising and expressing how they were feeling," Haley said.
The ensemble often learns through replies and repetition, mimicking Roberson's words instead of reading off sheet music. Slaves would use call-and-response communication styles between various plantations to console each other, creating the spirituals' emblems of hope, Roberson said. Similarly, most gospel melodies sung by church choirs today are still taught in the oral tradition.
Brian Kohan, a fourth-year sociology student and ensemble member, said Roberson often teaches the class line by line, with the ensemble repeating each line about four times during the song. Students clap and sway to showcase the uplifting, joyous nature of the music, Kohan said.
Roberson said the Music of African Americans Ensemble rehearses across a spectrum of music styles to encompass the theme of contemporary gospel music. Some tunes are layered with brass instruments and dancing, while others are more traditional in their lack of instruments. The ensemble is currently rehearsing Negro spirituals as well as songs with beats often found in nightclubs and music popular today, Roberson said.
"Gospel music is an interesting form of music because it's constantly evolving," Roberson said. "It's evolving with the experiences of the people, from the slaves … all the way up to today's time."
Beyond the church, Roberson said gospel music has served as the foundation for multiple prevailing music styles. The majority of reputed African-American singers, such as Aretha Franklin, Mary J. Blige and Alicia Keys, grew up surrounded by gospel music in black church communities – it is ubiquitous in American music, and its elements are found in rock 'n' roll, blues and pop, Roberson said.
"Gospel means good news, so it's just telling the good news about trying to give people hope in whatever situation they're in, whether it's slavery or the civil rights movement," Roberson said. "Gospel music has been a music of hope for people all over the world."
Jain is the 2018-2019 assistant editor for the Lifestyle beat of A&E. She was previously an A&E reporter.
Jain is the 2018-2019 assistant editor for the Lifestyle beat of A&E. She was previously an A&E reporter.