Student-led clothing company Vespucci goes green with hemp-based streetwear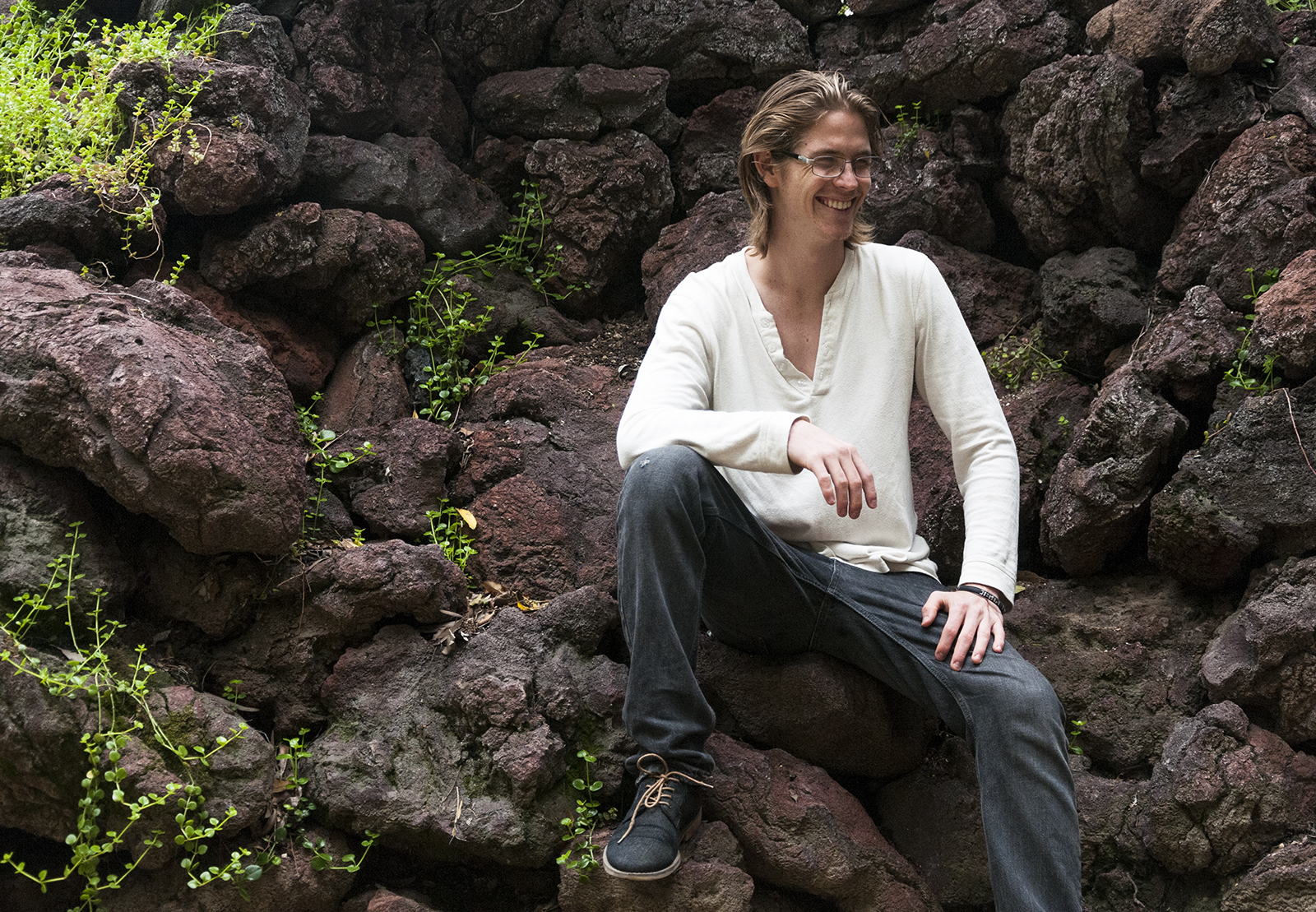 Third-year sociology student John Pirl dons a henley shirt from Vespucci, a sustainable clothing brand he co-founded. The company creates streetwear from eco-friendly fabric such as hemp-based material. (Liz Ketcham/Daily Bruin)
Three of Vespucci's founders had similar reactions when they first moved from the pristine beaches and lush hills of Oahu to the concrete jungle of the U.S. mainland: "Yuck."
Their response was to the unavoidable pollution that filled the sidewalks, highways and skylines of the West Coast cities they'd moved to after high school – namely, Los Angeles, Irvine and Portland, Oregon.
"Especially in LA, you walk around and see the amount of damage that pollution has on the ecosystem, and it's really ubiquitous to the point where it's in your face and you couldn't not see it if you wanted to," said Jon Pirl, a third-year sociology student and co-founder of Vespucci.
Vespucci emerged out of the founders' desire to help remedy the pollution epidemic through sustainable fashion, Pirl said. The company, first incorporated in 2016, creates streetwear made from eco-friendly materials such as hemp as a means of promoting environmentally conscious consumerism.
The roots of Vespucci extend back to Hawaii – Pirl and fellow co-founders Grant Overton and Kino Carrillo lived close to one another on Oahu and enjoyed childhoods replete with hiking, surfing and other outdoor activities. Pirl said he thinks the three of them completed every hike available on the island growing up, forming the basis for their desire to create a company aimed at preserving nature.
The three went in separate directions for college – Pirl to UCLA, Overton to UC Irvine and Carrillo to Le Cordon Bleu in Portland – but visited one another when they could. Though they often met outdoors like they had growing up, the scenery itself was hardly the same: Walking along a beach in Malibu, California, two years ago, they discovered that the fragments of piercing blue they saw in the sand were actually bits of man-made plastic rather than shells, Pirl said.
"Seeing that just kind of got the pot stirring, and it was 2016 that we really got together and said, 'Why don't we do something?'" Pirl said.
The company's primary mission is summarized in all caps on the Instagram post advertising Vespucci's first launch: #KILLCOTTON. Cotton requires about twice the land and more than twice the water as hemp to grow, leading Vespucci's founders to focus on developing hemp-based clothing as a means of conservation, Pirl said.
Vespucci's founding team was complete when Overton met Chris Naguit, now the company's chief financial officer, as his first-year roommate at UC Irvine. Overton, who left the university about a year and a half ago to work as CEO for the company full time, said the brand derives its name from the 15th century Italian cartographer Amerigo Vespucci, whose sails and ropes were also made from hemp.
The name is also a nod to the modern Vespucci's American-made clothing, given that America was also named for the explorer, Overton said. Fabric for Vespucci's first 50 shirts, which dropped April 20, came from suppliers based in Colorado and Pennsylvania, and was manufactured in Downtown Los Angeles.
But to gain even more autonomy over its sourcing of material, Vespucci is applying to become one of Hawaii's first licensed industrial hemp growers, Overton said. The team is seeking to use five acres of unused land on the island that belong to Carrillo's grandmother to grow their own hemp. Companies that want to grow hemp in Hawaii must apply through the state's Industrial Hemp Pilot Program, which defines industrial hemp as cannabis with a THC concentration at or less than 0.3 percent – too little to achieve a chemical high.
"It is in fact possible to make clothing out of a fabric that is stereotyped to be very, very rough and associated with psychoactive cannabis," Overton said. "We're trying to change everyone's opinion on it one mind at a time. … There is huge promise for this crop."
The plant's durability was also a major selling point for the team, Pirl said. Pirl, who has washed his Vespucci shirt more than 40 times in an effort to test the lifespan of the garment, said he knew they'd made a product worth sharing when one of the prototypes withstood a major foul during a pickup game of soccer.
"I reached down and grabbed (Overton's) shirt, and he went, 'No, not the Vespucci!'" Pirl said. "He took it off immediately and we looked at it and we said, 'It's fine.' It was completely untouched."
In a society where the average consumer throws away about 70 pounds of clothing annually, Pirl said the Vespucci team wanted to make apparel that would withstand both wear and tear as well as the ephemerality of fashion trends. That's one of the reasons they chose basic streetwear – such as their signature sleek T-shirts – for Vespucci's aesthetic.
"Fast fashion is just completely killing the environment: It's increasing trends and decreasing season time," Pirl said. "It shouldn't have to be a separation between fashion and sustainability."
Tim Connors, a fourth-year cognitive science student and Pirl's roommate, was among the first to purchase a shirt from Vespucci's initial drop last month. Inspired by the brand's sustainable mission, Connors has since partnered with Vespucci to give away tie-dyed headbands made from leftover shirt scraps as part of a fundraising campaign for Connors' own venture, the student-run music festival Westwoodstock.
"It's time for us as a society to put our money where our mouth is and … support sustainable culture and really take a vote with our money," Connors said.
Since the brand's first drop, Vespucci has completed research and development for a total of eight apparel items, including sweatshirts, joggers and duffel bags, all within the company's streetwear theme, Overton said. As the company continues to grow, Vespucci's roots remain at the intersection of sustainability and homegrown fashion, Pirl said.
"'Seed to street' is what we call it, where literally you know from the basics of where your stuff is grown to where it's manufactured to when it's put on your body," Pirl said.
McCormick was the 2017-2018 Digital Managing Editor for the Daily Bruin. She was previously an assistant editor of the A&E section, overseeing the Music | Arts beat.
McCormick was the 2017-2018 Digital Managing Editor for the Daily Bruin. She was previously an assistant editor of the A&E section, overseeing the Music | Arts beat.