Interdisciplinary art installation displays symbiosis of people, nature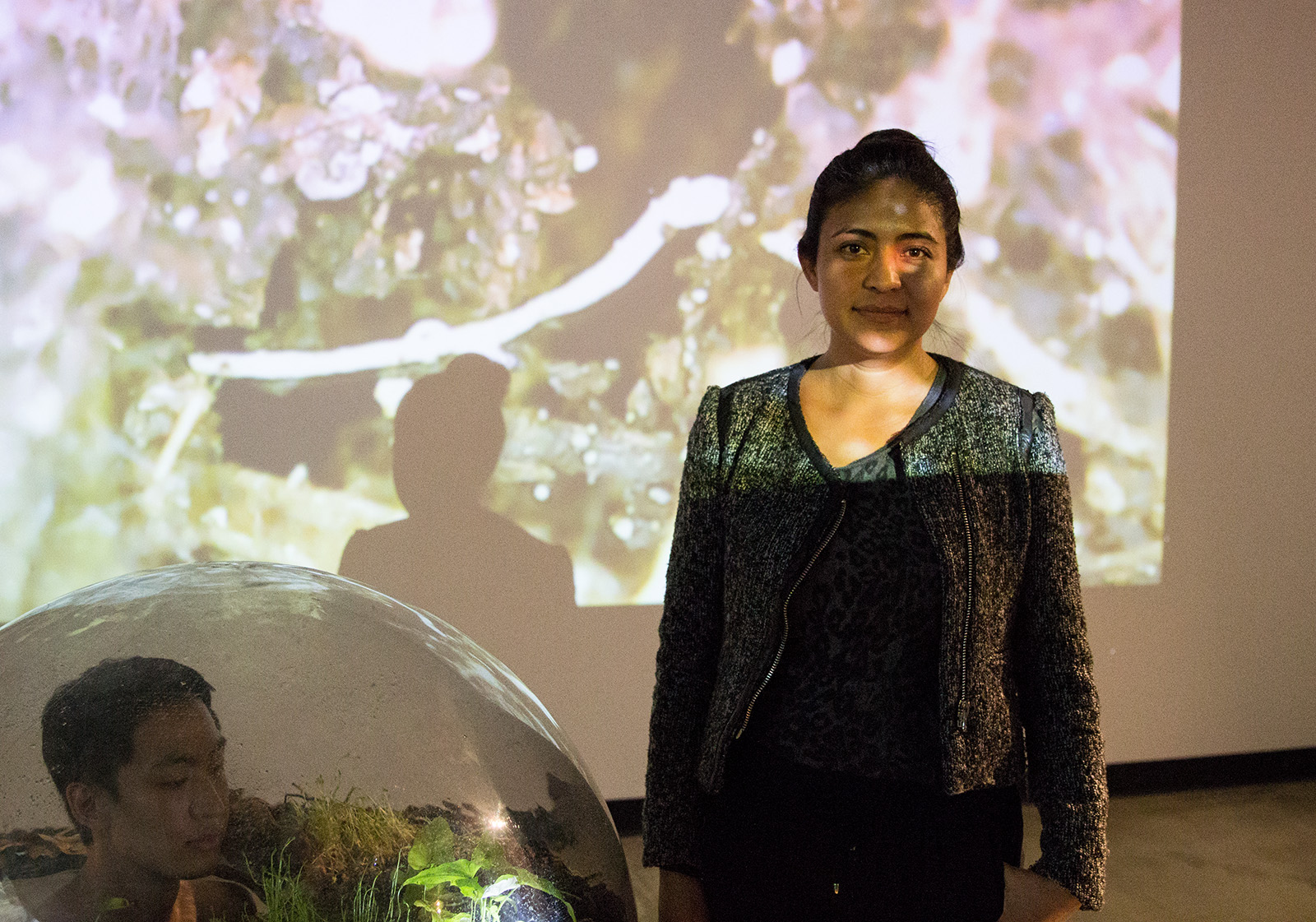 Graduate student Maru García put on "Vivarium: A Place of Life," an installation featuring various plant life. The installation also featured a performer interacting with the plants' environment. (Jenna Nicole Smith/Daily Bruin)
The Art | Sci Center gallery replaced paintings and sculptures with mosses, plants and mushrooms Thursday.
The UCLA gallery housed "Vivarium: A Place of Life," an art installation by graduate design media arts student Maru García. It consisted of two biospheres – one filled with plants and other natural organisms, such as mushrooms and mosses, and another featuring a performer interacting with the ecosystem, demonstrating activities such as drinking water and eating seeds. García said she wanted visitors at the exhibition to gauge the interconnectedness of humanity and the natural world as they walk through.
"I hope (the audience) can start thinking about our place in nature and how we can relate to it in a better way," García said. "I have this interest in how we can be a part of nature instead of being opposites from nature."
Unlike most other art installations, the mediums used in "Vivarium" consisted entirely of living organisms. García used biota like mushrooms and mosses to create artificial ecosystems that could continue to develop after their initial creation. The self-sustainability of the ecosystems was an important component of the installation's message, which emphasizes the world's network of plants and animals and the continuous flow of matter in and out of ecosystems, she said.
Using a living medium as opposed to more traditional art materials proved to be challenging, García said. A typical gallery space is not well-suited to provide the correct conditions for plant life, such as natural light, so García had to bring in special botanical lights, known as grow lights, to allow a sufficient amount of ultraviolet rays to reach the plants.
Prior to her work on "Vivarium," García studied lentil seeds, which required high levels of care and attention. She grew the seeds at her house and would return home multiple times throughout the day to water them. Rebecca Méndez, a design media arts professor who also worked on "Vivarium," said tending to the seeds caused García to develop an emotional connection to them. Forming a bond between human and plant presented a solution to the disconnect many people may feel from the natural world, Méndez said.
"She began to be so attached to them, she would have conversations with them … when they were dying, she was distraught by it," Méndez said. "There was something very interesting about entering a (relationship with) a plant."
Méndez said García approaches all her work in a scientific way, and that her bachelor's degree in chemistry and master's degree in biotechnology allows her to incorporate scientific knowledge in her artwork. The hybridization of art and science that García applies is also a recent and increasingly relevant phenomenon, said Victoria Vesna, a professor of design and the director of the Art | Sci Center.
"Her efforts (are) to see how she can connect our humanity to look outside the anthropocentric viewpoint of nature," Vesna said.
García said she derives much of the inspiration for her work from the intersection of art and science, so she wanted to promote more dialogue between the two disciplines. She said she also wanted to share the idea that humans are not separate from the natural world, but rather a part of it.
The placement of a live human performer inside the dense ecosystem highlighted the importance of shared space, García said. The performer engaged with the exhibit, physically touching and interacting with the environment, symbolizing a connection with nature.
Vesna said the installation fit particularly well within the context of rising anxiety surrounding environmental issues like climate change. "Vivarium" educated people about their inherent connection to nature and natural systems in a way that encouraged them to help address environmental crises, Vesna said.
"The point of view of humans (that they're) somehow … in charge of nature is very arrogant and has garnered a real environmental crisis," Vesna said. "We live on one planet and share the water and the air and the earth – and it's as simple as that."