Student-designed video games explore themes of identity, decisions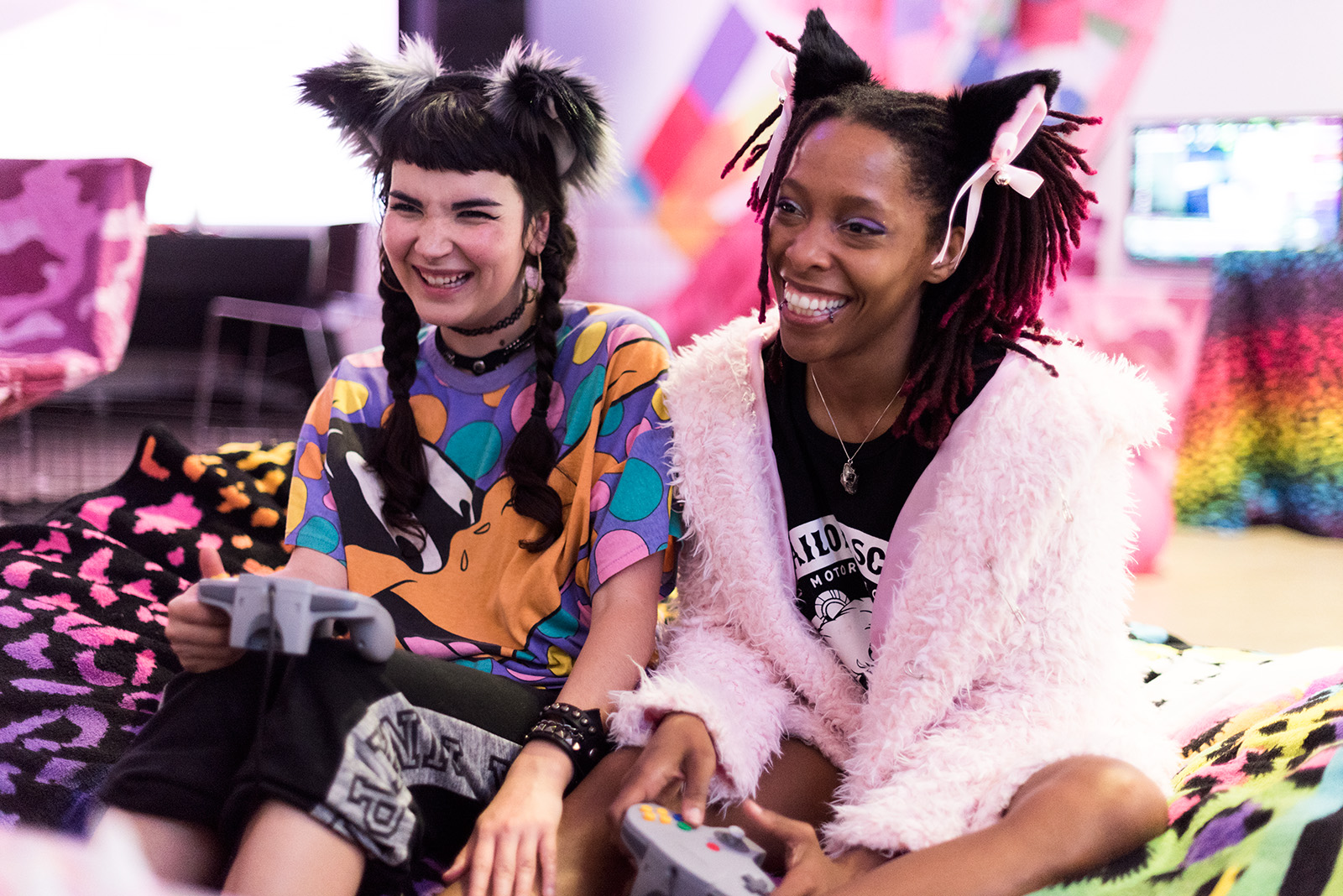 Graduate students in design media arts Lena NW and Christina Curlee, who also goes by PhaZero, both designed video games they will showcase Tuesday in Broad Art Center. (Daniel Leibowitz/Daily Bruin staff)
Lena NW & Phazero Solo Exhibition
Broad Art Center
May 8
Free
Editor's note: Daily Bruin replaced Lena NW's full name with their artist name because of concerns about their safety.
This post was updated May 8 at 1:20 p.m.
Players can relive high school – and all the angst that comes with it – in an alternate reality within the video game "Super Super Rap Battle Temptation Nightmare Academy."
Students can play the game, along with another student-designed game, "Artifacts II," in an exhibition Tuesday at Broad Art Center. Lena NW, a graduate student in design media arts, designed "Super Super Rap Battle Temptation Nightmare Academy." She said her game is decision-based, allowing the player to decide what the main character will do, while exploring themes like identity in high school.
Lena NW said she designed "Super Super Rap Battle Temptation Nightmare Academy" with another designer, who goes by costcodreamgurl. The game features side-scrolling mechanics and takes place in a universe where everyone is a rapper.
Players control a female character and can make her interact with other characters at the click of a button. For example, the main character has a crush on one character named Chad, and players can choose to accept the fact that their love is requited or hassle Chad. Depending on decisions the players make, the narrative of the game changes, Lena NW said.
"It's like a high school story in a parallel, end-of-the-world cyber universe," Lena NW said.
As with Lena NW's game, the gameplay of "Artifacts II" also changes depending on players' decisions. Created by Christina Curlee, who also goes by the name PhaZero, the first-person role-playing game "Artifacts II" is a sequel to her earlier game "Artifacts."
Curlee, a graduate student in design media arts, said the game is based off their own life experiences and the experiences of people they knew. Curlee said they grew up in an emotionally abusive home and turned to the internet as an escape and place to develop an identity. They said the game also discusses parental love, while considering concepts from "Artifacts" such as imagining the internet as a physical space filled with creativity and corporate advertisements.
In the game, Curlee said players navigate the character Nyota through an empty dollhouse while a bar that measures love and validation slowly drains away. As the bar decreases, the players have a harder time controlling Nyota. Eventually, the bar freezes after an encounter with a demon orb, which prompts the player to choose between desirable options, such as love and food, that can restore the game's meter bar. However, to receive the desirable options, the character must also choose to sacrifice aspects of the character such as identity, which can make controlling Nyota even more difficult.
In the second half of the game, players explore an island called Artifacts. Curlee said the goal of the second half is to explore the island to bring up the love and validation meter while also avoiding enemies to maintain a second mental health meter.
"I want it to be in an adventure (role-playing game) format. It's not only fun, because I think it lends itself to the complications of the issues," Curlee said. "From there, there's more to stepping into someone's shoes when you're in that genre."
Lauren McCarthy, an assistant professor in design media arts who advised the two graduate students as they created their games, said the exhibition will serve as an opportunity for the two students to share their work and the process behind making games.
McCarthy said the games are part of larger projects both artists are continuing to develop. The students have had to break down their more long-term games into smaller pieces, such as the ones shown in the exhibition.
Despite the game being a work in progress, Curlee said they hope people will see personality traits and desires as a gradient, rather than just good or bad. Players should think about where certain traits, such as anxiety, come from and not simply shrug them off, they said.
"Listen to yourself and also think about how you interact with other people and what they may be going through or what they've lived with," Curlee said. "I hope people understand themselves more deeply."