Alumni band highlights youth-led activism, plays at social outreach events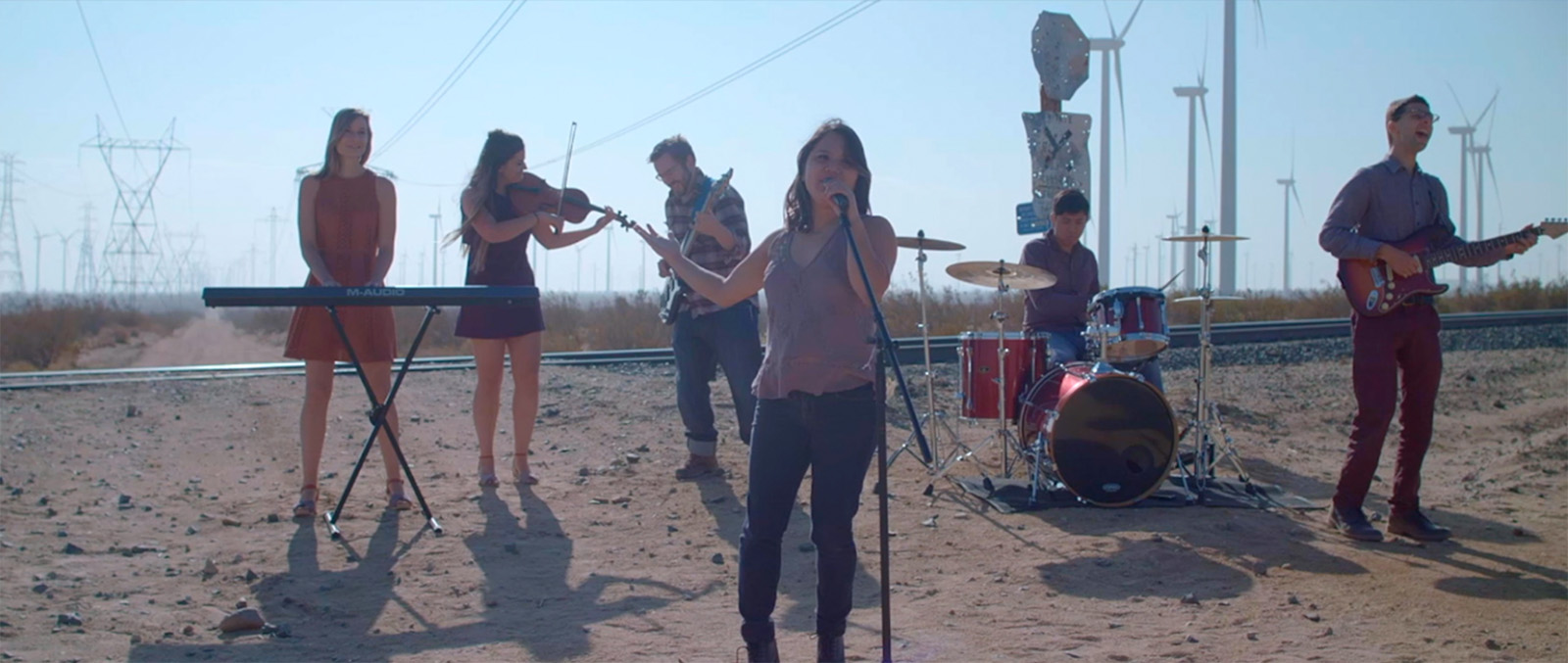 Members of the band Hello Noon aim to combat pessimism in the media through their music. Stephen Spies, an alumnus and member of the band, said the band's upcoming performance at Pauley Pavilion for the Healthy Campus Initiative Revolution's event "Together We Thrive" aligns well with the band's mission. (Courtesy of Andre Misyutin)
Hello Noon is using music to promote social connectedness in a world wrought with pessimistic headlines and political division.
The pop-rock band of seven alumni – Stephen Spies, Danielle Castrence, Kyle Dombroski, Kate Bacich, Rebecca Bacich, Rory Snively and Austin Wilkins – will perform at the Healthy Campus Initiative Revolution's event "Together We Thrive" on Wednesday at Pauley Pavilion. Spies, a guitarist and singer in Hello Noon, said he thinks the band's mission to highlight positive, youth-led activism will land well with the young, diverse audience present at most Healthy Campus Initiative events.
"Even though there's a lot of crap happening in our world right now, there's a lot of really wonderful things that young people are doing to make a change," Spies said. "I want our music to communicate how hard our generation is working to change things and make things better."
Spies said the band prefers to perform at social outreach events, such as at cancer runs and events for homeless veterans, rather than on more prominent stages, because performances are more fun when they allow for interaction with the audience. Music has the greatest impact when it has the opportunity to inspire and evoke positive change, he said.
In the current political climate, focusing too much on conflicts, rather than positivity, does little to effect change, Spies said.
"We're all on a mission to unify people and I think it would be nice to just see, for example, news reporting something that's not sad for a change," he said. "Something that's not negative, but something positive that someone's doing in the world."
Alumna Dalida Arakelian, the founder and executive director of Mindful Music – a program developed by Healthy Campus Initiative – said she helped set up the collaboration between the organization and the band because she feels the ensemble's theme of social connectedness fits well with the organization's mission to connect students within a large and often overwhelming campus.
The Healthy Campus Initiative was founded at the UCLA Semel Institute for Neuroscience and Human Behavior in 2013, and uses the school's research to introduce innovative approaches to exercise, mental health and eating well. Hello Noon's uplifting music relates well to the Healthy Campus Initiative's audience because it touches on insecurities that many people face, Arakelian said.
"(The band's) music speaks so clearly and directly to people of all ages because it speaks to issues such as coming of age, the difficulties of growing up, the difficulties of becoming an adult and taking on new responsibilities," Arakelian said.
Castrence, the lead vocalist and occasional ukulele player for the band, said the band's diverse music tastes helped it create an album that caters to more than a single niche audience. Spies said one reason Hello Noon's music and messages reach diverse audiences is because of the different musical backgrounds of each of the band members. Its album spans multiple genres, such as indie-folk and contemporary pop, so the end product is an amalgamation of all the members' influences, which can be attributed to the band's open-mindedness, Spies said.
"Basically, whatever you want to add (to a song), you add and it's in there and there's kind of no criticism," he said. "We all just trust each other."
Spies said he and Castrence wrote the album's title song, "Into Place," in the middle of a casual jam session. Other songs on the album, such as "Run Free," focus on current youth-led movements, which Spies said are already enacting powerful change.
"It's not that we're ignorant to the negative things going on in the world but we want to, with our sound, just communicate the positive things we see happening in the world," Spies said.