Alum hopes to rebrand family-run restaurant through ramen dish with a twist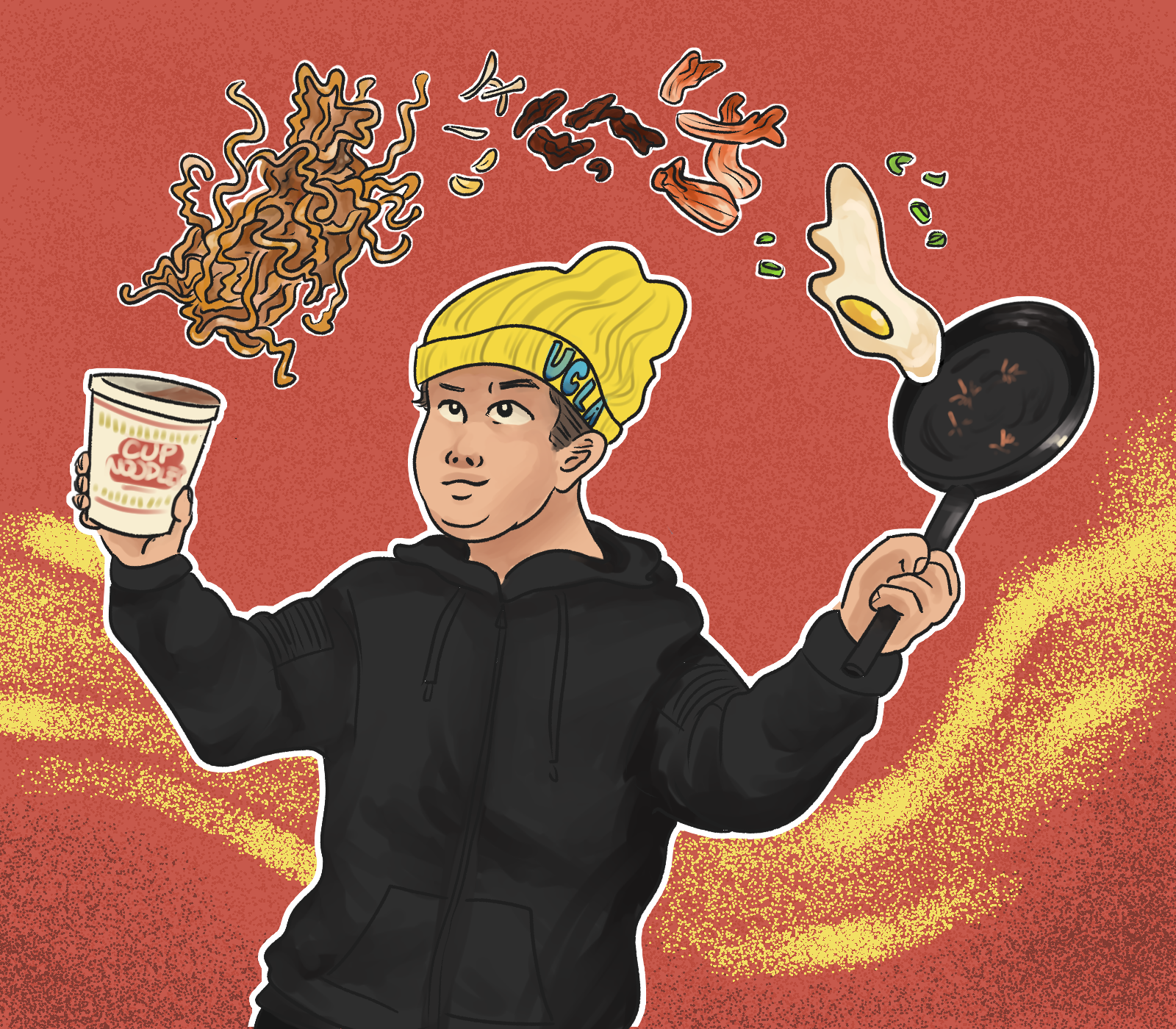 Charlie Kim's ramen-eating habits in college inspired him to add a new dish to his restaurant menu – the bulgogi stir-fry ramen.
The dish is a fan favorite and will be his first contribution to the menu at his family-owned Korean restaurant.
After graduating in 2014, the UCLA alumnus worked in the marketing industry for two years. But when his family's restaurant, Aria, began experiencing declining sales, Kim booked a flight from Los Angeles to San Francisco to help his parents rebrand the Tenderloin district eatery through menu changes, social media promotion and merchandising.
The menu features generations of Korean family cuisine with a street-style spin, something Kim said he has focused on highlighting to rework the restaurant's image to reach a more diverse customer base. His ultimate mission is to make the Korean food he grew up with accessible to all.
Assistant manager David Black said the food at Aria is great because it's for everyone. The restaurant encourages street-style dining, and since Black began posting pictures of ramen, fried chicken and kimbap displayed together on metal trays, those menu items have garnered attention on Instagram because of their photogenic appeal.
"The way that I see it is that Korean food isn't just for Koreans," Black said.
The menu, originally consisting of more than 40 Korean tapas, now mainly focuses on Korean fried chicken and kimbap, or Korean rolls, in a grab-and-go style, Black said. Kim said he removed more classic dishes, like the rice bowl bibimbap, so that the new menu would feature more popular dishes, which are casual and homey.
One of Aria's most popular dishes is its rendition of Korean fried chicken, Kim said. Kim's grandmother ran a Chinese restaurant in Korea, and when his family immigrated to the United States, she began making fried chicken at home, incorporating boneless and skinless chicken thighs with special spices.
Soon after, the dish found its place on Aria's menu. Kim recently learned the fried chicken recipe from his mother, and now, the two begin marinating the chicken every day at 5:30 a.m.
Another popular menu item is the kimbap, which Aria offers with bulgogi – or marinated beef – and vegetables. The kimbap recipe comes from Kim's mother, and is a childhood-favorite dish that he ate during middle school and high school, he said. At Aria, the family uses a rib eye roll, which is more tender than typical ground beef, for their bulgogi kimbap.
"The kimbap roll is really street food – it's not fancy, it's very home-style, but at the same time not many people offer that in the neighborhood with a reasonable price," Kim said.
For their noodle festival Noods Noods Noods on April 7, food news website Foodbeast reached out to Kim to create a new ramen dish. Kim said he was excited about the challenge, since he grew up eating ramen both at home and in college. He tested many different recipes, but landed on a recipe featuring ramen noodles topped with bulgogi, stir fry kimchi, mozzarella cheese and a fried egg.
Foodbeast co-founder Elie Ayrouth said people flooded Kim's booth, making his ramen one of the most popular dishes at the event. Ayrouth said he respected Kim's ability to appeal to a younger audience, particularly through social media, while maintaining his family-driven mentality.
"He had one of the most hyped items at the event," Ayrouth said. "(Seeing) people who have seen his food online, whether it was through Foodbeast promo, or the new fans that he garnered … I just saw the smile on his family's face and his mom and dad."
Kim said he decided to add the dish to Aria's menu in May or June after receiving feedback from people demanding it, although it's not a traditional Korean dish. He also tried to diversify the restaurant's image by selling streetwear-inspired merchandise to create a casual dining experience. The tops they sell in collaboration with Fade to Black feature a chicken sporting Nike high-tops on the front and fried chicken in a shoe box on the back.
Kim said the graffiti-painted exterior of the restaurant and its street-style vibe were inspired by the skaters and street artists who frequent the Tenderloin neighborhood and Aria. The restaurant often collaborates with local artists to create its merchandise and storefront artwork, which includes graffiti-painted chickens resembling Tupac and Biggie Smalls.
Kim said his goal with the restaurant's rebranding is to make Americans more familiar with the Korean food he grew up with. Everyone grows up with hamburgers and hotdogs, but not many people outside of Los Angeles or New York have much access to Korean food, and those who do often don't know much about it, he said.
"Our family goal is pretty much (to demonstrate that Korean food) is for everyone; you can eat it at any time, you can crave it anytime and if you want it you can have it," Kim said. "It's very ordinary and we want (people to think) that."